Featured Editorials Home Slider
Amaro Shows Growth, Maturation on and off Field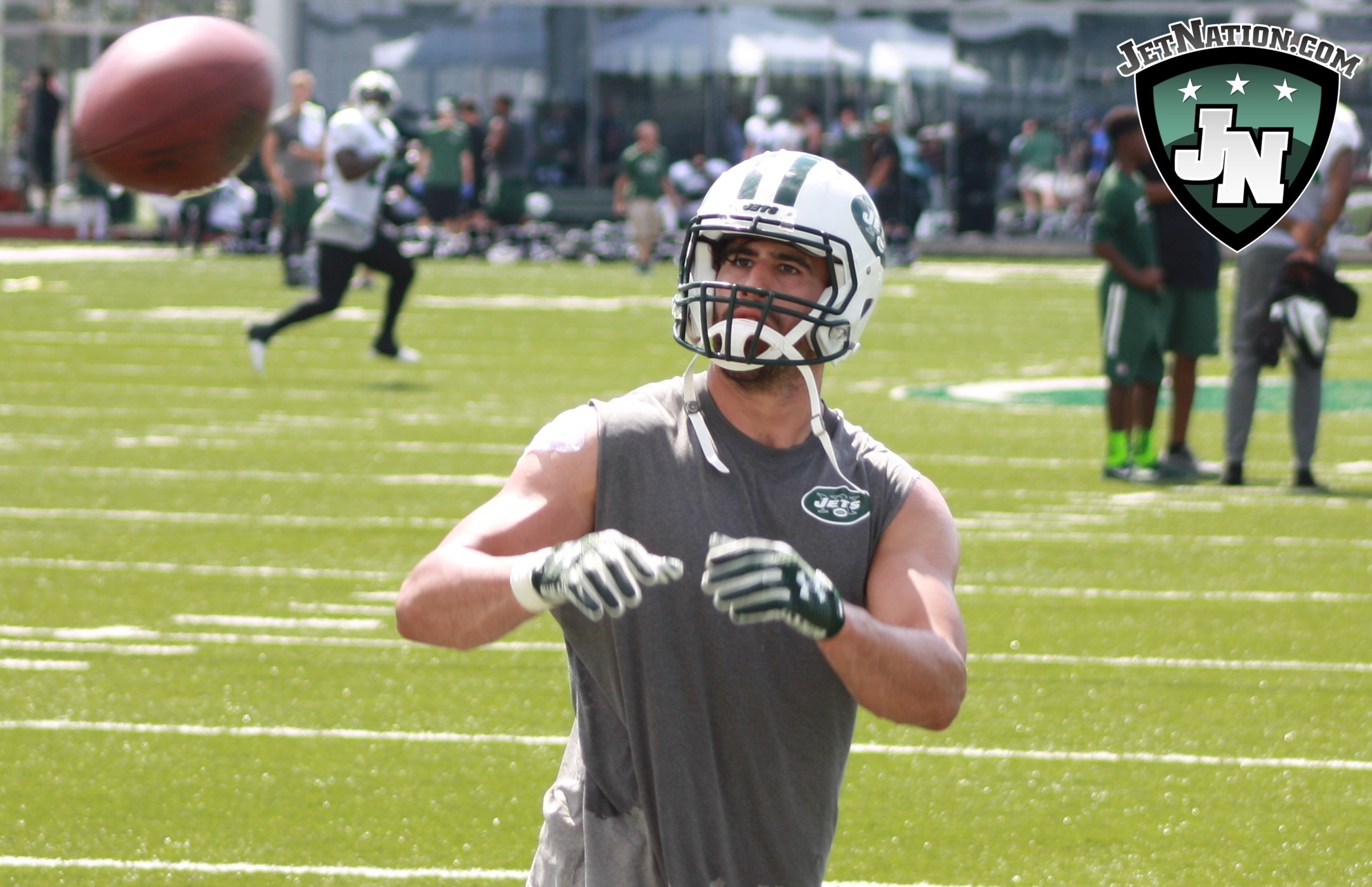 By Glenn Naughton
As the New York Jets prepare to kick off their 2016 exhibition season against the Jacksonville Jaguars this Thursday night, few players on the  roster have more to prove than third-year tight end/H-back Jace Amaro.
Amaro was chosen with the 17th pick in the second round (48th overall) of the 2014 NFL draft following a final season at Texas Tech that saw him pull in 106 balls for 1,352 yards and 7 touchdowns.  Production on that level would suggest little difficulty holding on to the ball, but that wasn't the case during his rookie season two years ago when he struggled with catching the ball consistently.
Outside of his best performance of the season, a 10 reception 68 yard effort against the Denver Broncos, Amaro managed just 28 catches in the remaining 13 games in which he appeared, or just over 2 catches per contest.  Hardly what you'd expect from a 6′ 5" target in the middle of the field for a team short on big play options.
Then, while trying to make a solid impression on a new coaching staff last season, Amaro landed on injured reserve with a torn labrum after playing in just one pre-season game.
Disappointing production as a rookie and on the shelf for the entirety of his sophomore campaign, Amaro had some work to while he recovered if he was going to re-establish himself as a young player with a high-ceiling who has the ability to cause match-up nightmares for opposing defenses.
The NFL is a "show me" league where words mean far less than actions, but in a recent interview with "Hahn and Humpty" on ESPN.com, Amaro gave some surprisingly candid answers pertaining to his first two pro seasons and how he has prepared for 2016.  His answers were about as honest as it gets this day in age, and will offer about as much hope to fans as one player can by virtue of simply sitting down to do pre-season press.
Amaro, who has clearly slimmed down since we last saw him, was asked how a season on injured reserve impacted him, and his answer was exceedingly positive and optimistic.  "Missing time helped me more than it hurt me" said Amaro, pointing out the fact that he used his time off the field to watch film while staying in his play book to better learn Chan Gailey's offense.
The time off Amaro said, also played a role in him embracing a new level of dedication toward his craft, saying that his season on the shelf went so fast that it made him realize he's about to enter his third year in the league despite the draft feeling like it was yesterday.  It "put things in perspective" said Amaro, "how quickly the time goes".
As a result, Amaro says he put an end to his late nights out and his drinking, while, for the first time in his life, watching what he eats.  Social media, he says, has made him keenly aware of what's being said about expectations for 2016, and he knows it's  a big season for him, and time to produce.
The 24-year old Texas native also took a moment to shine some light on his struggles as a rookie when he had, as he put it "more dropped passes than I did in my entire career".  Part of which he attributes to his "head spinning" as he made the transition from college to the pro's while learning a new play book.  A play book that had him lining up more at the tight end position than he had at Texas Tech where he spent a great deal of time in the slot. Proving to be one of his harshest critics at this point, Amaro continued "I felt embarrassed about the way I played, I was lost out there and played like it".
Aside from what appears to be a great deal of personal growth, Amaro has also flashed in training camp in the early going, becoming a reliable target up the seam for Ryan Fitzpatrick. Amaro can be seen regularly hauling in passes from any number of Jets quarterbacks with his drops coming few and far between during practice.
Once things wrap up in Florham Park, he sheds the pads and heads for the Juggs machine to continue working on his hands.  With some added quickness thanks to the fact that he's managed to drop close to 20 pounds, Amaro's stock seems to be heading back to where it was before so many onlookers wrote him off.
Now, with year three on the verge of kicking off, and the Jets having a dire need to establish a third receiver in their passing attack, hopes are high that a more mature Amaro, who was once lost, will soon be found.
To hear the interview in full, just click here.
Videos
Aaron Rodgers Injury Fallout & Jets/Bills Recap