Featured Editorials Home Slider Player interviews
Former Jet, SNY Studio Analsyt Chad Cascadden Talks Jets Strengths, Weaknesses and Quarterbacks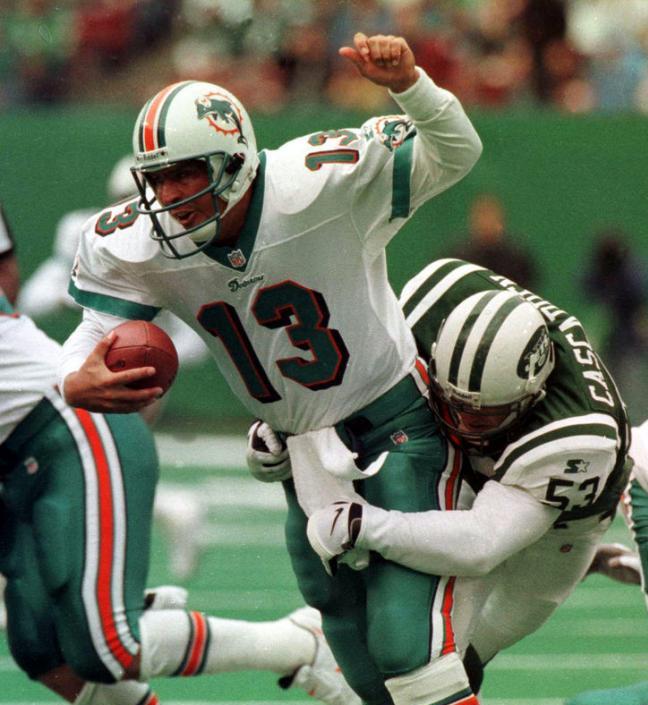 By Glenn Naughton
As a former Jets linebacker who played under head coach Bill Parcells and then-defensive coordinator Bill Belichick, former New York Jet Chad Cascadden knows a thing or two about what to look for at the position, so that's where we started when he took the time to cover a wide variety of topics with JetNation.com on the eve of their pre-season home opener against the Jacksonville Jaguars.
Entering his third season as a Jets studio analyst for SNY on Jets Nation, Cascadden has covered the team along with former special teams coach Mike Westhoff, former Jets Eric Coleman and Ray Lucas and Jeane Coakley.
The following interview was conducted one day prior to the Jets/Jaguars pre-season that took place this past Thursday.
Glenn Naughton: Chad, I know you recent had the opportunity to attend one of the Jets training sessions up in Florham Park, so thanks so much for joining us.
Chad Cascadden: No problem, Glenn.  My pleasure.
GN: So Chad, having played in the NFL at linebacker, what were your thoughts on some of the young guys like Darron Lee, Jordan Jenkins and Lorenzo Mauldin as he enters year two, and with the Jets' stated off-season goal of getting faster?
CC: Fortunately as a former player, Coach Bowles is very liberal about allowing us on the field so I was able to see quite a bit but you hit the nail on the head.  This linebacking corps is significantly different than last year.  Last season they looked old, big and slow and you could tell. Teams game-planned that using wheel routes.  We saw Harris miss on one, we saw DeMario Davis miss on one.
You saw that they were lacking in ability to cover backs and tight ends as well as those speedy pass-rushers.  Now, you add Darron Lee who is much faster, Jenkins who I thought looked fast as well, and as you mentioned, Mauldin who played well last year coming in to his second season.
I think what we'll see this year is more ability to disguise coverages and better blitz packages and I really wouldn't be surprised to see Darron Lee have a very good year sack-wise and putting pressure on the quarterback as well as covering backs out of the backfield.
GN: By and large Jets fans seem to like the Lee pick, but some skeptics question his size and ability to play the position.  One Todd Bowles said Lee would be a back-up, there were a few people up in arms.  However, given the frequency with which we see teams in their sub packages in such a pass-heavy league, I think you're absolutely right about the impact he can have early on.
CC: Just for some perspective, 21 years ago a 6′ 1" 235-pound linebacker out of the University of Wisconsin ran a 4.46 40 and teams didn't know what to do with him so they put him on special teams and nickel and dime linebacker and that was me.
Twenty years ago the league set up the pass using the run and used tons of play-action.  Your linebackers were 6′ 4", 250-260 pound thumpers.  When the Jets started to see my versatility on nickel, on dime, as a defensive end and a blitz linebacker who could cover out of the backfield, you saw Belichick start using guys in spots like that.  Now we see so much speed coming out of college and things are more open.
You look at teams like Tampa Bay who have always liked those fast, physical, quick linebackers who can hit and blitz.  With Darron Lee, I would say fans need to give him some time.  He's going to need time.  It's a different game now, and I know he's fast but the game is fast too so he'll need that natural adjustment time.  I think he's a really good pick.  Now, is he worth a first-round pick?  We'll need some time to find out.
GN: Taking some of the focus off of specific players for a moment, what was your overall impression of the team after spending some time
out at practice the other day?  Did anything in particular stand out?
CC: I saw receivers competing and I think that receiving corps looks really good.  I think the defensive backs looked good with nice depth and good speed and execution.  The linebackers are much improved and the defensive line is as good as its been.  Losing "snacks" (Damon Harrison) can hurt but they brought in some guys to help make up for that.
My biggest worry is the offensive line and it really concerns me.  When  you lose a guy like Ivory who's gonna' get you three yards no matter who your lineman are, and to replace him with more of a pass catcher who I'm not saying isn't tough but he's certainly not Ivory, then instead of playing the 31st ranked schedule, you're playing the 7th strongest schedule, it's concerning.
I think Fitzpatrick did a great job last year in managing the offense, but if he doesn't have a thumper in there, I don't know what Chan Gailey is going to have up his sleeve because he also doesn't have a tight end because I don't know about Jace Amaro.  Things like that make it hard to win in this league.
GN: Let's talk about Amaro for a second.  Of course last  year when that first depth chart was released and Jace Amaro was listed as the third or fourth tight end, Chan Gailey said it was because Jace is the starting H-back.  Then this season, just by chance when I went out to Florham Park, the first player I saw was Jace Amaro and I was blown away by how much weight he seemed to have lost.  Is this a guy they plan on using as an in-line tight end at all, or might we see him get moved around a lot and play the slot where he spent so much of his time in college?
CC: That's an exceptional question because I was thinking the exact same thing.  I played golf with Chan Gailey this summer, who by the way is a single-digit handicap golfer and a very funny guy to boot.  He's also the perfect guy to be the Jets offensive coordinator.  So I asked him at one point who his tight end was going to be with Enunwa being more of an H-back, Amaro who isn't a true tight end.  Chan just kinda smirked and looked at me and just said "Oh, ya' know, we've got some things planned" so we'll have to wait and see what he meant by that. What I do know is, they don't have a player on this roster who is a true tight end, and I'm surprised Maccagnan didn't go out and do something about.
I just think that when you're going against really good defenses who are going to put eight men in the box and try to force Fitzpatrick to throw outside because that's something he's not good at, a tight end really loosens that up and I just don't know that they have that in Amaro, especially as you said, with him having lost 20 pounds.
GN: What do you think when we hear the analysts who say Chan just doesn't like using a tight end, especially when he used Scott Chandler up in Buffalo when he had him.  Isn't it really just Chan using what he has at his disposal?
CC: (laughing) Exactly…do you mean to tell me that if you gave Chan a guy like Rob Gronkowski, he wouldn't use him because he's a tight end?  Are you kidding me?
GN: Now, in regards to the quarterbacks, now that everything is done and Fitz is the starter, what did you think of how the contract situation was handled by the front office?  Was handing the job to Fitz immediately after the Buffalo loss the right thing to do, or should they have said "Geno was the starter before the IK incident, Fitz played well, they're gonna' have a head-to-head battle in camp"?  Would that have made more sense, especially given what Geno has had to work with in terms of a lack of talent at receiver and questionable coaching?
CC: That's a good question.  Is it unfair that Fitz was named the starter right away or unfair to Geno that they kinda' dangled him as the starter then they signed Fitz?  Yeah, probably a little bit.  However, it is the NFL and sometimes that's how things happen.  I do think the team is better with Fitzpatrick under center and I don't think that's even arguable.
I've been watching Geno for the past couple of years.  I like the guy, I think he's personable.  He's good at times, I think he's inaccurate at
other times and I think most people would agree, sometimes his processing is a shade slow; he's just a shade slow.  Whereas what you saw with Fitzpatrick last year was an ability to get the ball out very quickly and accurately to the right person was really why the offense clicked.
I don't think we've seen that with Geno.  I don't expect Geno to come back next year, I think he'll be a nice backup somewhere else.  I don't think this coaching staff has the confidence in him to be a full-time starter and they don't see him as their franchise quarterback and I don't think they would have picked Hackenberg if they believed in Geno.
GN:  I don't necessarily disagree, but in all honesty I was surprised there wasn't a competition to decide on the starter.
CC: I can understand that, but I think this is a win-now team with a lot of veterans on the older side, and it's time to win.  The Jets have a tough schedule and I don't think Geno is ready.  One may argue that Geno has been emotionally damaged by getting thrown in too fast, too much too quick.  Maybe a little bit of time to sit on the sidelines and watch is not such a bad thing for him long-term.
Quarterbacks take time.  Rarely do you see them do well early on and continue to play well.  For some guys it takes years.  It can take some time to sit back and take it in like Aaron Rodgers who sat behind Brett Favre.  I hope Geno says "here's  a chance for me to sit behind a 10-year vet and learn from this guy and watch without having to go out there and get my head beat in".  I think perhaps he's in a better situation than he realizes he's in.
GN: That was going to be my next question.  Do you think Geno sees the opportunity here?
CC: I think he wants to be the starting quarterback but I don't think he should be the starting quarterback.  I don't think he's proven it.  It's not just about "can he make the throw" but it's about "can he make the throws consistently, week in and week out".  Some people may say "how will we know if he's not out there" and that's fair, but there's also practice to watch him in.  When I've seen him in practice, he's very erratic.  He's good on some plays and not very good on other plays.  When you want to get to that level, you have to make throws in practice and on game day.  I've seen him miss throws in practice that I could make, (laughing), and I'm terrible.  He's inaccurate and he just spaces out at times.
GN: It's interesting that you make that point about consistency as well as your earlier comments about processing.  It seemed that camp reports a few days ago were that Geno was absolutely lighting it up.  From those covering practices, the fans were seeing one tweet after another raving about Geno's performance.  Then towards the end of practice, the team sped things up a little bit and ran their two-minute offense, and Geno reportedly took 3 sacks with his possession.
CC: That's true, but in fairness to Geno, that Jets front-seven is pretty good, but that offensive line was not.  I like Manglold, I think he's still one of the best in the league.  I like Carpenter who was an excellent addition last year who brings toughness.  I think Clady's still working his way back.  Giacomini wasn't in there, Winters has a chip on his shoulder but he's been a revolving door at times.  Really, right now you've got two out of five guys.  I think Geno should actually be happy he's not behind that offensive line.  Those guys better be ready for the Jaguars to start that game.
GN: It should be interesting against the Jaguars because I think we finally get an extended look at Brent Qvale who the staff says they really like.  Then of course Ben Ijalana who, depending on your perspective, has had the best or worst job in football for the last few years playing behind D'Brickashaw Ferguson where he was never going to get on the field.
GN: As an undrafted free agent yourself, did any of those undrafted guys stick out to you and make an impression at camp?
CC: The guy who stuck out to me was Jalin Marshall but when I'm looking at these young guys, the number one thing I want to know is, can you play special teams?  Special teams were a huge issue for them last year, especially on punt returns.  They were awful.
Field position is going to be even more critical for them this year because they don't have that Chris Ivory-type back on offense.
I think they have a lot of added some nice weapons in Marshall and Peake who seems to be coming around and there are a lot of weapons there.
Against Jacksonville, I don't think we'll see much of Hackenberg.  I think we'll see Geno pretty early, and a boatload of Bryce Petty because I don't see them carrying 4 quarterbacks.  I think it's just too much to give up a roster spot for a number 4 quarterback.  It's too much to ask for a staff to coach 4 quarterbacks.  I think Geno is gone next year, I think Fitzpatrick may be gone depending on Hackenberg who I think is the future, and I think they're going to give Petty a ton of reps during the pre-season to see if he's progressing.  If they don't see that progress, don't be surprised if he gets cut or traded.  Otherwise he's gotta' play so well that it forces them to keep him.
GN: Chad, as always, it's a pleasure to have you join us for some commentary and insight.  Thanks so much.
CC: My pleasure, Glenn.  Take care.
Videos
Aaron Rodgers Injury Fallout & Jets/Bills Recap