Home Slider NY Jets Training Camp
Young Receivers Continue to Shine in Jets Camp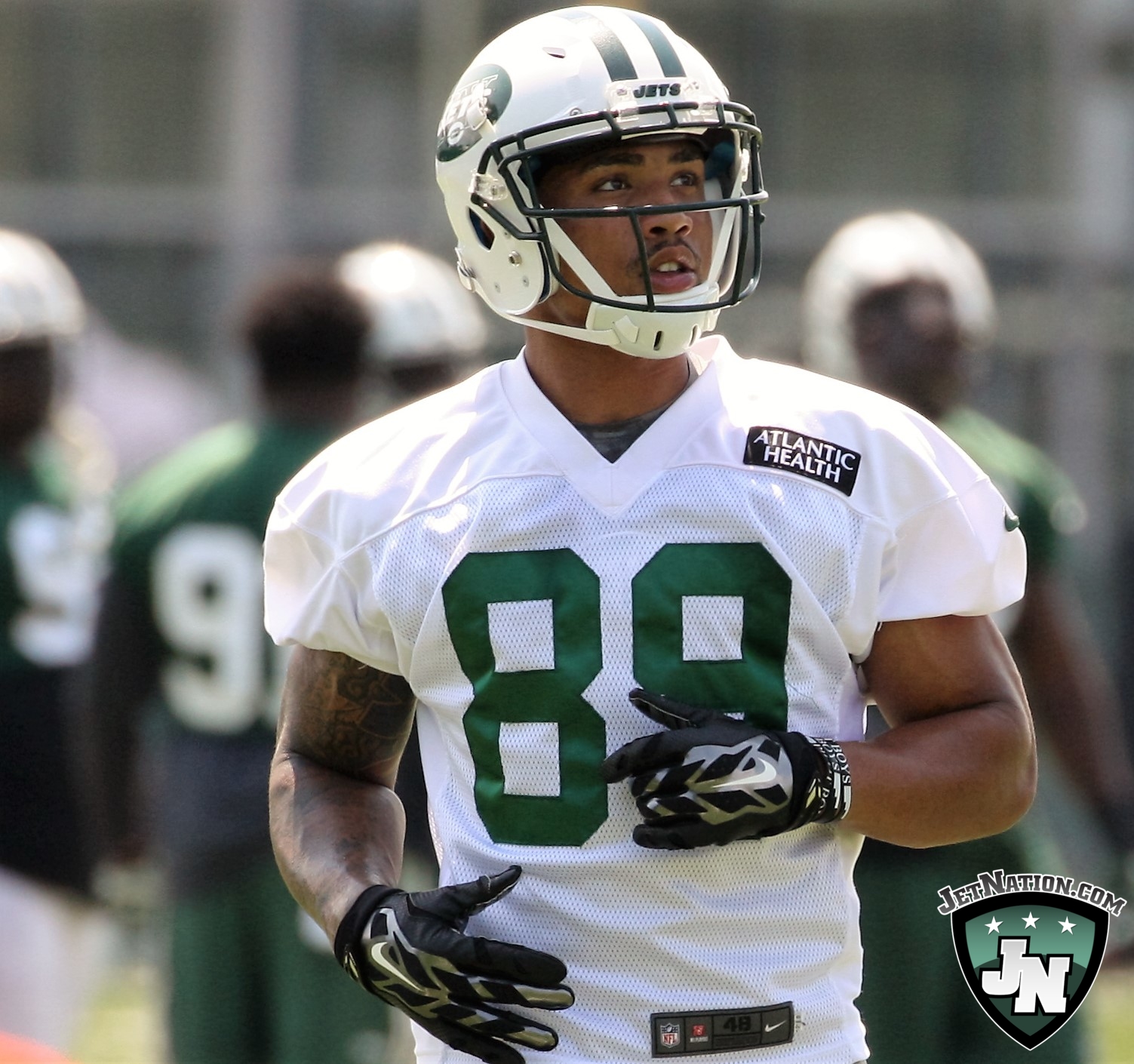 By Glenn Naughton
Another day of training camp in Florham Park for the New York Jets, and another day filled with outstanding catches from several young receivers which has been the case from the outset for Gang Green.
No matter which Jets signal caller was under center today, very few passes hit the turf and some highlight reel grabs drew resounding applause from onlookers.
First up was Jalin Marshall who continues to make play after play, on a go route down the right sideline during one-on-one drills when Bryce Petty lofted up a deep ball.  Initially it looked like the pass would be overthrown, then it looked like Marshall may have a chance, before he reached out with his right hand to pluck the pass out of the air and pull it in to his body.  It went unnoticed by some onlookers as it happened while many fans were focused on Matt Forte and the running backs, but it was easily the best catch of the day.
Later on it was another undrafted rookie free agent in Temple's Robby Anderson who was on the receiving end of a Christian Hackenberg bomb down the left sideline.  A questionable call from the camp official saying Anderson was out-of-bounds nullified the play but the call was borderline.  Either way, coming up with a spectacular one-handed grab of his own drew cheers from fans stationed in the tents behind the media along that same sideline.
Finally, the forgotten man in the receiver competition, Kenbrell Thompkins, ran a shallow comeback route along the right sideline where Ryan Ftizpatrick unleashed a pass that was wide to Thompkins' left.  He quickly left his feet and went horizontal, hauling in a diving grab for yet another eye-popping catch.
While there weren't any acrobatic grabs out of the running backs on Wednesday, that doesn't mean there wasn't any buzz surrounding the position.
The debut of former Chicago Bears running back Matt Forte created a stir as he graduated from positional drills each of the past two days, to getting reps during the team period today.
It didn't take long before fans got a glimpse at what Forte can offer as he pulled down passes out of the backfield as well as a solid grab over the middle when split out as a receiver.  Forte should be exactly what the Jets are looking for in an experienced check-down option.
It wasn't just the offense that had noteworthy performances either, as Darron Lee was all over the field once again, breaking up a Fitzpatrick pass down the middle of the field and coming up with a tackle on a screen pass that he identified immediately.  Safety Ronald Martin also had a pair of interceptions after dropping one from Geno Smith in the end zone yesterday.
Rookie quarterback Christian Hackenberg saw increased reps for the second day in a row, leading to speculation he'll make his debut against the Redskins on Friday night.  When asked about the probability of the Penn State product getting some reps under center, Head Coach Todd Bowles said "That's the plan. We'll see how it works out".
Videos
New York Jets OTA Presser Takeaways, Aaron Rodgers' Impact and Summer Delusion