Featured Editorials Home Slider
Quartet of Jets QB's look good, bad and Ugly in Loss to Giants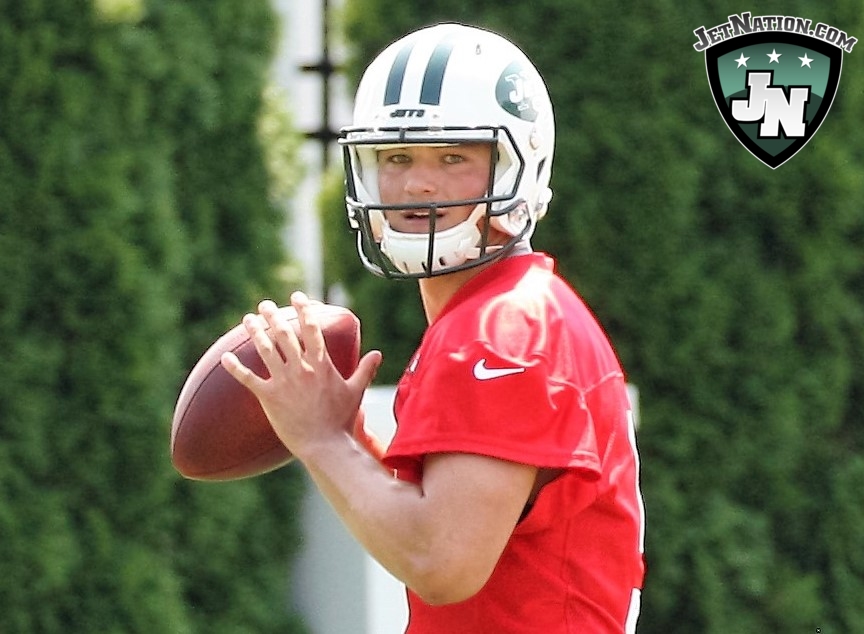 By Glenn Naughton
In the days leading up to last night's meeting with the New York Giants, Jets Head Coach Todd Bowles was peppered with questions in regards to which quarterbacks would play, when they would play and how much action they would see.  Bowles deflected, saying he would play starter Ryan Fitzpatrick and backup Geno Smith, but that it would be difficult to get three quarterbacks playing time with this being the team's dress rehearsal.  By the time all was said and done, Bowles used not just three, but all four of his quarterbacks and the reviews were mixed.
Things kicked off with starter Ryan Fitzpatrick whose final stat line was underwhelming with 9 completions on 16 attempts for 76 yards and a touchdown.  There were no interceptions from the Jets' unquestioned leader, but he did cough up a fumble when he held on to the ball too long on a play that saw former Jets defensive lineman Damon Harrison get the sack, forcing the Fitzpatrick fumble that was recovered by the Giants.
Best Play: Fitzpatrick's 22-yard scoring strike to Eric Decker was a perfectly placed ball to the left side that sneaked over the defensive back and in to the arms of Decker who took it the final few yards for a touchdown.
Worst Play: On a throw that was more indicative of a much younger/inexperienced quarterback, Fitzpatrick unleashed a wildly thrown incompletion when faced with heavy pressure from the Giants.  It was clearly a desperation throw from Fitz into no-man's-land that harmlessly hit the turf, but could have easily been a Giants interception.
Close but no Cigar: Fitzpatrick lofted a deep ball down the right sideline to pre-season sensation Robbie Anderson.  Coverage was tight from the Giants cornerback with the trailing safety not far behind.  Looking up to locate the ball, Anderson appeared to break stride and lose a step, resulting in a ball that fell wasn't caught, but likely would have been with a more experienced receiver on the other end of the Fitz pass.
Current back-up Geno Smith was up next, but trying to rate his brief outing isn't easy.  Smith threw only five passes on a pair of three-and-outs.
Best Play: After completing a pair of quick, short passes to Bilal Powell and Jeremy Ross on his first drive, Smith fired a completion to Robby Anderson on an out route toward the left sideline that saw Anderson tap his left foot to stay in bounds after slightly bobbling the bullet from Smith.
Worst Play: Again, with so few attempts and only two incomplete passes, Smith didn't have any particularly bad throws.  It was mostly check-downs and short stuff for Smith on this night.
Encouraging sign: One of Smith's incomplete passes came while under pressure rolling to his left.  Smith showed awareness in flipping the ball out-of-bounds while outside the tackle box to avoid a loss of yards.  In year's past, we've seen Smith take that type of play and run out-of-bounds and give away ground than getting rid of it.
Last week's standout, Bryce Petty got the call after Smith's five attempts and as with Fitzpatrick and Smith, it was a mixed bag.  Some very good, some not so good.  Petty's final stat line read 5-10 for 59 yards with no touchdowns and an interception that was taken back the other way for a Giants touchdown.
Best Play: Before the interception, Petty had put together a pair of solid throws, the best one being a completion to Zach Sudfeld for a first down.  The Giants were able to get pressure on Petty from the back side.  Feeling the pressure, Petty scrambled to the right, keeping his eyes down the field and hitting Sudfeld with a pair of defenders in the area.  It was a good display of awareness, mobility, focus and accuracy.
Worst Play: Just two throws after the aforementioned play, Petty took what should have been a golden opportunity for a big gain and his inexperience showed.  The Jets set up a screen with Dakota Dozier and Craig Watts out front to block and little presence from Giants defenders, but with heavy pressure coming, Petty panicked, made the throw too early, and missed fullback Tommy Bohannon by a wide margin.  Instead of a big play, Petty saw his pass batted by a Giants linebacker, popping it up in the air for defensive lineman Kerry Wynn picked it out of the air and ran it back 73-yards for the score.
Close but no Cigar II: As with Fitzpatrick, again it was Anderson on what could have been the receiving end of a big throw.  After managing to shake loose from a defender, Petty overthrew a wide open Anderson toward the left sideline on a throw that you just know he wanted back.  A completion in that spot would've been another chunk play for Petty, but the misfire won't go unnoticed by Jets coaches.
Finally, it was the long-awaited debut of second-round draft choice Christian Hackenberg who started out hot before cooling off.  His first drive was a seven-play series the culminated with a gorgeous touchdown pass to Robby Anderson.  As reflected by his final line, Hackenberg did cool off after the hot start.
Best Play: There were actually a few throws to choose from on Hackenberg's first drive, but the best would have to be his 16-yard completion to tight end Zach Sudfeld on a 3rd & 15.  Sudfeld was facing tight coverage over the middle but Hackenberg delivered a bullet where Sudfeld had to lay out to make the grab, but it wasn't a ball that the defender would have a chance at.  It was an excellent throw the kept the drive alive that would end with a touchdown.
Worst Play: Playing from deep inside Jets territory, Hackenberg failed to recognize Giants defensive lineman Davon Coleman dropping back in to coverage over the middle, resulting in a Coleman deflection that was intercepted by safety Andrew Adams.  The Giants made the most of the turnover, scoring a touchdown that ended up being the difference.
Encouraging Sign II: Let's face it, nobody knew if Hackenberg would see any reps at all in this game and his work in practice has been so limited that it would have been difficult to complain if he'd completely laid an egg.  As it turns out, he made a number of quality throws down the field and gave Jets fans a glimpse of some of the attributes that spurred Mike Maccagnan and company to make him their second-round choice in this year's draft.
It was more bad than good for Jets signal callers, and a rather underwhelming pre-season this far for the most part.  Through three pre-season contests, Jets quarterbacks ratings are as follows:
Bryce Petty- 86.6
Ryan Fitzpatrick- 85.8
Geno Smith- 62
Christian Hackenberg- 55.5
The Jets will close out the preseason this Thursday night against the Eagles at Lincoln Financial Field in Philadelphia.
Videos
Was Boomer Right to Blast Becton? Former Jets QB Sounds off Against Jets Tackle.