Featured Editorials Home Slider
Projecting the Jets Final 53 as Preseason Winds Down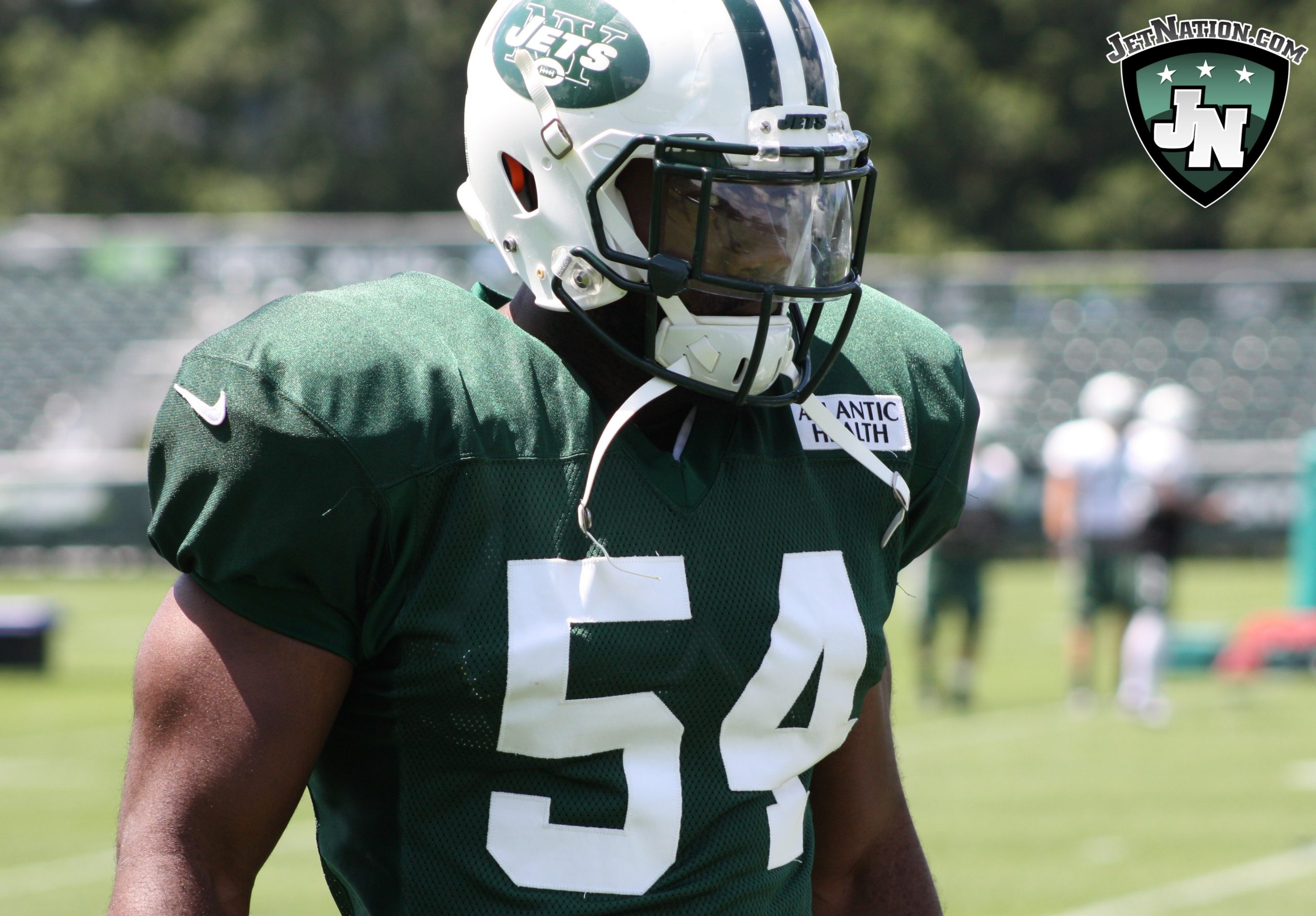 By Glenn Naughton
Well, it's about that time Jets fans.  With three weeks of pre-season football behind us, it seems like a good opportunity to take a stab at projecting the Jets' 53-man roster when they open up the 2016 season on September 11th at home against the Cincinnati Bengals.
There were some cuts announced yesterday, so while this may be "cheating" a day after the fact, there were only two names who would've garnered any real consideration to last through all of the cuts in offensive lineman Jarvis Harrison and outside linebacker Deion Barnes.  Harrison was the most likely player to make it, but him being bumped to the practice squad last season was not a good sign heading in to 2016.
Quarterbacks (3)- Ryan Fitzpatrick, Bryce Petty, Christian Hackenberg
Hard to imagine the Jets hanging on to Geno Smith at this point.  Of the four QB's on the roster, only rookie Christian Hackenberg has a lower QB rating than Smith, who has completed just over 53% of his passes this preseason.  His dreadful interception in to triple coverage against the Redskins was a reminder of what you get from Smith all too often and not what you'd expect to see from a three-year veteran with dozens of NFL starts under his belt while facing a second-team defense.
If Bryce Petty isn't on Smith's level right now, he can't be that far behind (can he?).  Getting no. 2 reps on a regular basis could have him on par with Smith by mid-season.  Perhaps the Jets keep Smith until then, but it's time for Geno and the Jets to part ways.
Update: A Fitzpatrick, Petty, Hackenberg depth chart may be even more likely now with rumors surfacing that teams are showing interest in Geno Smith via trade.
Running Backs (4)- Matt Forte, Bilal Powell, Khiry Robinson, Tommy Bohannon
This group has the ability to drive defenses crazy with so much diversity.  Not many teams have a pair of backs like Forte and Powell who can stay on the field regardless of down or distance, being able to run, catch and block out of the backfield, and doing all three very well.  Robinson is intriguing as the Jets are without a proven thumper given Chris Ivory's departure.  With a good size/speed ratio and excellent balance, Robinson might be that guy.
Wide Receivers (7)- Brandon Marshall, Eric Decker, Quincy Enunwa, Jeremy Ross, Robby Anderson, Charone Peake, Jalin Marshall
This is a talented group and a tough one to call.  Carrying 7 wide receivers seems like a lot, but when you consider Brandon Marshall's age
and Quincy Enunwa's versatility, meaning he may not see much time at WR, it makes more sense.  The Jets also like to run plenty of four and five receiver sets, so it's not as if some of the youngsters won't get a chance to contribute.
The wild card in the group is Jalin Marshall who narrowly edges out Kenbrell Thompkins in this projection.  There's something to be said for in-game experience and Thompkins has that.  Marshall was a training camp sensation who has had his share of drops in game action to go along with his fumble last week.
The Jets opt to stick with Marshall here because they have the luxury of developing a player who has only played the position for a couple of seasons, while he can still contribute on special teams as he hones his craft.
Tight Ends (2)- Zach Sudfeld, Kellen Davis
Given the Jets lack of production from the position last season, you have to want Jace Amaro to make the roster based on his physical make up and college production.  You also have to have a great deal of respect for all the work in put in this offseason.  That being said, already a poor blocker, Amaro isn't going to be any better after dropping over 20 pounds.  This regime didn't draft him and has missed plenty of time due to injury since their arrival.  Couple that with the fact that we've already seen multiple drops from Amaro this preseason, and it may lead to his dismissal.  Amaro could be playing for his job when the Jets take on the Eagles on Thursday night…if he's healthy.
As with some other spots, I'm going with the incumbent (Davis) but thinking Brandon Bostick could easily take that spot instead.
Offensive Line (9)- Ryan Clady, James Carpenter, Nick Mangold, Brian Winters, Ben Ijalana, Brent Qvale, Dakota Dozier, Craig Watts, Brandon Shell
With Ijalana and Qvale running a pretty even competition at right tackle and Breno Giacomini's return date unknown, the Jets could add him to the PUP list along with Devin Smith while they decide on his replacement in the meantime.
Dozier has seen a ton of action during the preseason and has experience at both center and guard.  While Watts has played almost exclusively at guard with the Jets, he did see some time at RT last preseason while with the San Diego Chargers so he too, could offer some versatility in a pinch.
Watts' film with the Chargers was impressive in the run game but his pass blocking needed some work.  So far this preseason, he has looked better in that area.  If Winters continues to get walked back in to the pocket as he has at times the preseason, don't be shocked if Watts gets some consideration to take over at right guard.
For more on Watts, here's an interview JetNation.com conducted with his college coach all the way back in June.
Defensive Line (5)- Muhammad Wilkerson, Leonard Williams, Steve McLendon, Jarvis Jenkins, Deon Simon.
Not much to say about one of the top D-lines in the NFL other than expectations are very high, and rightfully so.  Sheldon Richardson will be out for week one.  Simon will be a practice squad candidate Richardson returns.
Outside Linebackers (5)- Lorenzo Mauldin, Jordan Jenkins,  Mike Catapano, Trevor Reilly, Freddie Bishop
If Mauldin and Jenkins don't play well early on, this becomes an immediate area of concern without any veteran depth to turn to if the Jets need to stop the bleeding (Calvin Pace, anyone).  Mauldin has been a mild disappointment this preseason as he's had a few missed tackles that have led to big runs, but it is just the preseason, after all.
If the Jets opt to carry only 4 outside linebackers, look for Reilly to be sent packing.
Inside Linebackers (5)- David Harris, Erin Henderson, Darron Lee, Bruce Carter, Julian Stanford
This should be a very good group in 2016.  More athletic than in years past, the addition of Lee and Carter give the Jets a pair of inside linebackers who should be able to prevent some of the big gains teams have had from scrambling QB's or running backs getting wide open out of the backfield in recent years.
Todd Bowels' creativity combined with a dominant D-line could mean big things for rookie Darron Lee and his 4.47 speed getting after the passer.  Would anybody be stunned to see him post double-digit sacks?
Stanford was an afterthought not long ago, but he's had some strong performances in the preseason and flashed several times in practice following the Jacksonville game.  He also heard his name called plenty on defense and special teams against the Giants.
Cornerbacks (6)- Darrelle Revis, Buster Skrine, Marcus Williams, Dee Milliner, Juston Burris, Dexter McDougle
Revis isn't the Revis of old, but he's still among the best and will be better than he was last season if he can stay healthy.
Buster Skrine will play opposite Revis in the team's base package but will slide back in to the slot in sub packages.  Who plays outside in those situations is still up in the air.  Dee Milliner has looked very good in camp, but not so good in game action.  Marcus Williams has been picked on repeatedly by opposing offenses and was singled out by the Redskins on multiple big plays two weeks ago.
Rookie Juston Burris is worth keeping an eye on.  He's been inconsistent in camp, but has looked outstanding at times.  So much so that he began seeing regular reps with the starters while getting extensive looks in each of the past two weeks.  If Milliner and Williams continue to struggle, Todd Bowles is unlikely to hesitate to give Burris a shot.
Safety (4)- Marcus Gilchrist, Calvin Pryor, Rontez Miles, Ronald Martin
Gilchrist and Pryor are cemented in as starters and Miles has fast become a fan favorite due to his intensity and big hits.  The fourth spot is up in the air and while undrafted free agent Doug Middleton has had his moments, he could be a practice squad player with Dion Bailey and Ronald Martin vying for a spot. It's a coin flip, but I think the Jets go with the 6' 2'' Martin who had a strong finish over the last few practices of training camp.
Specialists (3): PK Nick Folk, P Lac Edwards, LS Tanner Purdum
As the only specialists at their respective positions on the current roster, I feel pretty strong about these picks.
Suspended: Sheldon Richardson
Physically Unable to Perform (PUP) List- WR Devin Smith, OT Breno Giacomini
Suspended list- DL Sheldon Richardson
Predicting the practice squad is a crap shoot as several low-level players will become available as other teams make their cuts, but as many teams tend to populate their squad primarily through players they're familiar with, here are eight predictions for the 10 possible spots.
S- Doug Middleton- One of the first UDFA signings of the off-season, Middleton could sneak on to the final roster.  If not, the PS is likely.
RB- Romar Morris- Elite speed and possible special teams gunner worth keeping around to develop.
DL- Lawrence Thomas- Rookie UDFA out of Michigan State has gotten some run with the starters.  Might even stick for week one before Sheldon Richardson returns.
CB- Kevin Short- Short hasn't shown much in camp this season, but a 6′ 2" CB could continue to be a work in progress of Bowles and co.
FB- Julian Howsare- Jets clearly like something they've seen in the converted college linebacker.
CB- Bryson Keeton- See Kevin Short
TE- Wes Saxton- At 235 lbs, Saxton is undersized to play TE, but the small-school prospect has good enough speed and hands to continue working with.
ILB- Taiwan Jones-  Expected Jones to push for a spot on the 53 this season but the emergence of the more experienced Carter moves him back to the practice squad.
Videos
Aaron Rodgers Injury Fallout & Jets/Bills Recap