Featured Editorials Home Slider
Amaro Confident He'll be one of Final 53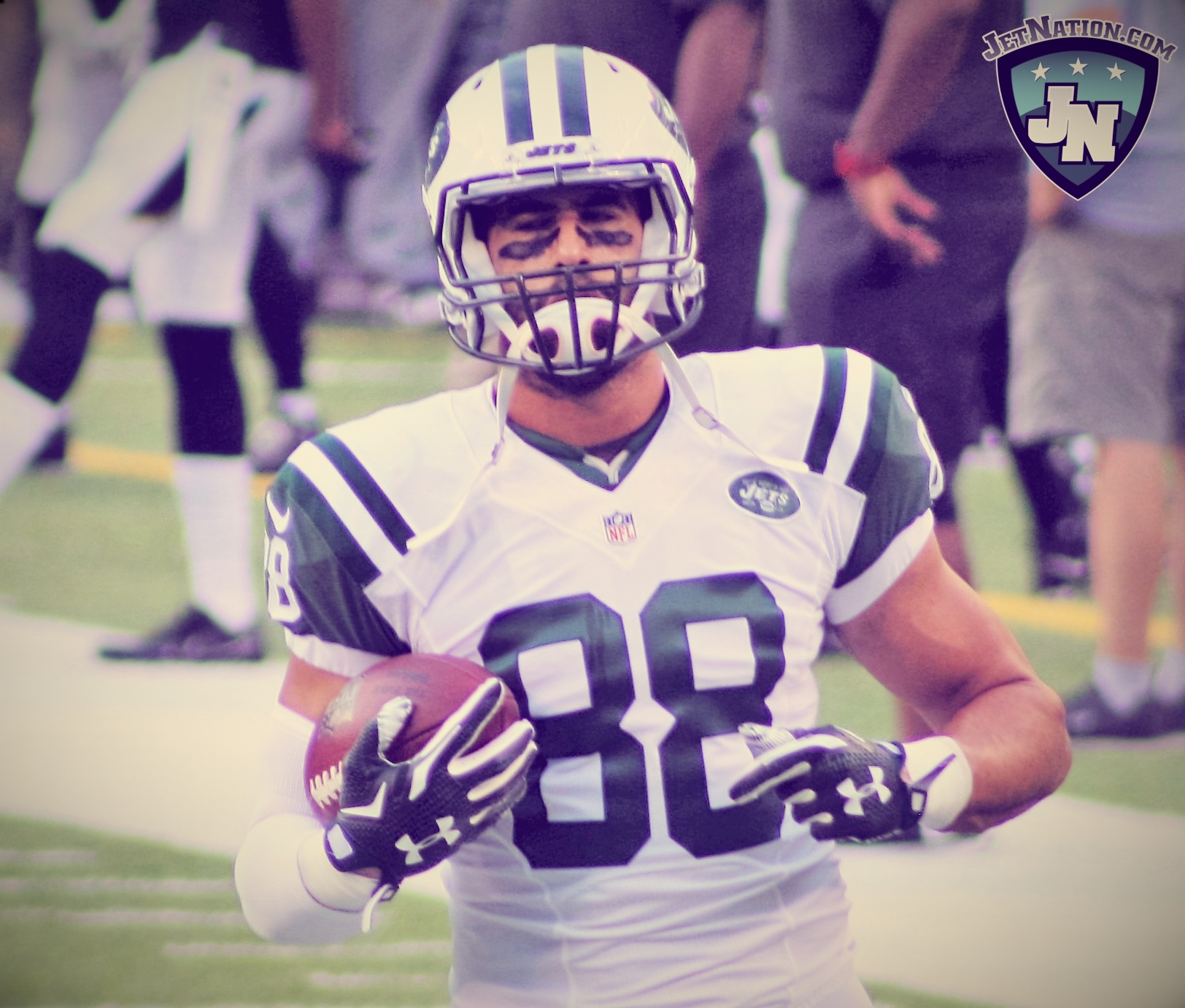 By Glenn Naughton
It was easily the strangest observation I made during last night's torturous 14-6 Jets loss to the Philadelphia Eagles in their final preseason game.   The only football game I've ever attended that was so horrendous, it had me heading for the exits early in the fourth quarter.
At some point, late in the third quarter, after watching yet another Christian Hackenberg pass land several feet in front of his targeted receiver, I glanced at the Jets sideline and said to the person sitting next to me, "Is it just me, or does Jace Amaro look like he's having the time of his life after that fumble earlier?"  as a smiling, laughing Amaro exchanged pleasantries with his teammates.
It seemed as if Amaro wasn't bothered by his sub-par play this preseason just a short while after he coughed up a fumble that was picked up by the Eagles, or he didn't realize he that even as a former second-round pick, he's planted firmly on the roster bubble.
There was only one of two possibilities.  Amaro didn't care, or he didn't realize his play could soon have him looking for work elsewhere in the very near future.
Amaro seemed exceedingly confident and his reported quotes by Kimberly Martin of Newsday indicate just that.
"I've done what they've asked me to do in the passing gm… I've never really been concerned re: making the roster." https://t.co/DYo4kAUk2z

— Kimberley A. Martin (@KMart_LI) September 2, 2016
"I've done what they've asked me to do in the passing game, I've never really been concerned" regarding a roster spot.
Surprising words from a player who missed all of last season due to injury, had dropped multiple passes this preseason to go along with last night's fumble, and wasn't drafted by the current head coach and GM.
The Jets have to have their roster trimmed to 53 players from 75 by 4pm on Saturday.  While many onlookers view Amaro as a possible cut, he doesn't seem worried at all.
Videos
NY Jets Phase 3 OTAs, Expectations and a Minor Calf Tweak with Greg Renoff