Featured Editorials Home Slider
Jets at Buffalo Preview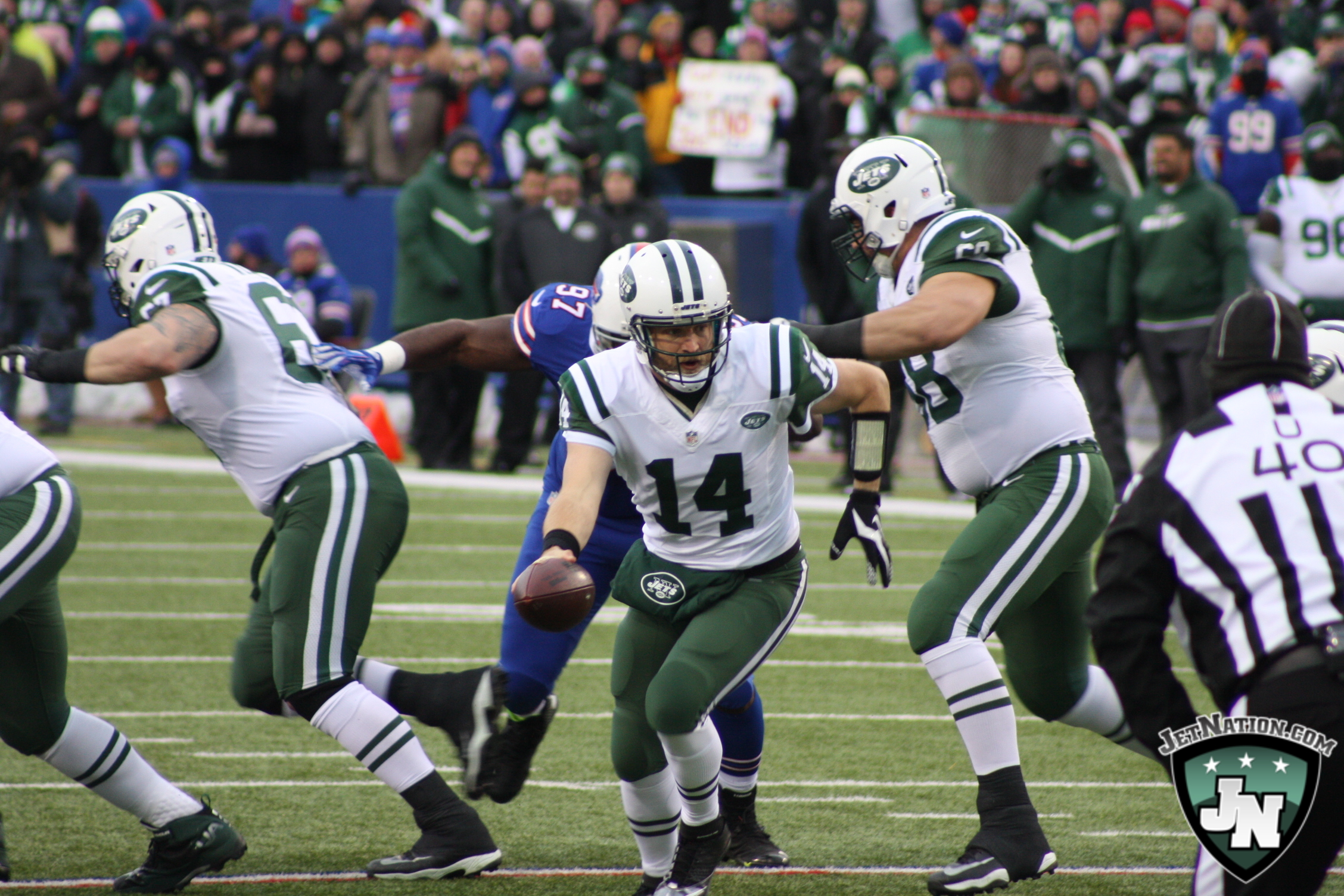 By Glenn Naughton
Playing on short rest, Todd Bowles and the New York Jets head up to Buffalo to take on Rex Ryan and the Bills in their first meeting since Gang Green's playoff hopes were dashed in their season-ending loss to the Bills to close out the 2015 season.
Hoping to avoid an 0-2 start, the Jets will look to correct some of the issues the led to their week one loss to the Cincinnati Bengals.  Here are a few key match-ups in the first of two meetings between the Bills and Jets this season.
The Game is afoot:  Bills wide receiver Sammy Watkins is expected to play, but just how effective he'll be will rely heavily on his surgically repaired  foot, and the play of Jets cornerback Darrelle Revis who is coming off of what was arguably his worst game as a pro last week against Bengals receiver A.J. Green
If healthy, Watkins is plenty capable of beating Revis deep as he has many times in the past.  It hasn't always been reflected in the box score as several errant passes have helped Revis out in this match-up, but the fact of that matter is that Watkins has managed to get behind Revis on a consistent basis.  If Watkins is healthy, the Jets can't have a third consecutive game, dating back to Watkins in week 17 last year, in which they're completely unable to stop an opponent's aerial attack despite having just one proven playmaker at wide receiver.  If Watkins is moving well, Revis is going to need help.
Slot Machines:  Despite Eric Decker coming down with one of quarterback Ryan Fitzpatrick's two touchdown passes, he and fellow receiver Brandon Marshall were largely invisible on Sunday.  If the Jets are going to continue having Fitzpatrick throw almost exclusively inside of 20 yards, they should do so with Decker and Marshall seeing significant time in the slot.  Moving the pair inside could lead to some favorable match-ups in the middle of the field if they opt not to stretch the field.
Get Robby some run:  As mentioned above, the Jets relied too heavily on the short passing game.  If they want to loosen things up, it'll be important to push the ball down the field to keep Buffalo honest if nothing else.
Getting preseason sensation Robby Anderson some reps on the outside would give Fitzpatrick a speedy, 6′ 3" receiver who showed plenty of ability in high-pointing the football.  It may be easier said than done as Buffalo has a very capable secondary, but just sprinkling in a deep ball or two won't be enough.
Anderson appears to be the obvious choice as a weapon to air things out, but regardless of the receiver, Chan Gailey has to dial up some deep balls at some point.
Jar up Clay: If Watkins is too banged up to have an impact, or if the Jets are doing a good job of containing him, Charles Clay will likely become the Bills' next best target.  An underrated player, Clay has had some success in the past when matched up against Jets safety Marcus Gilchrist.  Whether it's having a linebacker play him physically at the line of scrimmage or using one to team with Gilchrist in the defensive backfield, slowing down Buffalo's offense will be critical as the Jets face an opposing head coach who has beaten Ryan Fitzpatrick 8 times in 9 meetings.
Taylor Made Role for Lee: It's hard to imagine Todd Bowles not calling Mike Maccagnan immediately following the 2015 season finale and asking him to find a linebacker to contain running quarterbacks like Tyrod Taylor.   In both losses to the Bills last season, Taylor was able to get outside of containment and make a play to keep drives alive, allowing the Bills to chew up clock and keep the Jets offense off the field.  Lee was far from perfect in his rookie debut, but did flash his outstanding speed on a few occasions.
Be the Bullies, but be disciplined: When he arrived in Buffalo, Rex Ryan told Bills fans that he planned on "being the bullies", but in this meeting, the Jets are the one's in position to fill that role with a monster front-seven that racked up 7 sacks last week.  The Jets should be able to make life miserable for Taylor with the return of  defensive lineman Sheldon Richardson, while the Bills will be without injured left tackle Cordy Glenn.
Buffalo running back "Shady" McCoy is still one of the best cut-back runners in the NFL.  Should the Jets get too aggressive up front, he's the type of runner who can make them pay.
Conclusion: 
Jets win a close but ugly contest, 16-10.
Videos
New York Jets OTA Presser Takeaways, Aaron Rodgers' Impact and Summer Delusion