Featured Editorials Home Slider
O-Line Depth a Pleasant Surprise Early on For Gang Green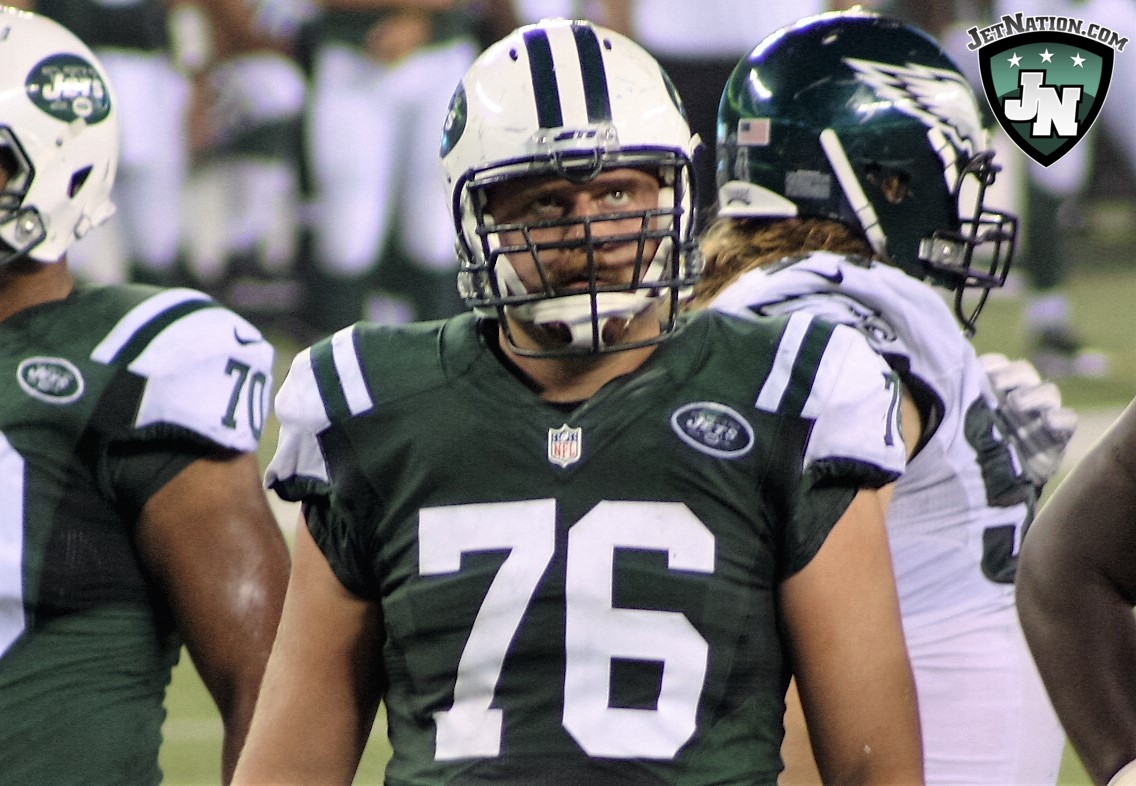 By Glenn Naughton
Fresh off the heels of a critical week two 37-31 victory, most Jets fans will spend a good portion of their day replaying last night's game in their heads.
A contest that saw quarterback  Ryan Fitzpatrick sling it for 374 yards and a touchdown to go along with Matt Forte's 33 carries for 100 yards and 3 scores on the ground.  However, none of that would have been possible without quality O-line play, something the Jets have gotten through the season's first two games under less than ideal circumstances.
It was impressive enough in week one against a stellar Cincinnati Bengals defense with veteran back-ups Ben Ijalana and Brent Qvale rotating out at right tackle for the injured Breno Giacomini.  The fact that starting left guard James Carpenter was lost to a calf injury early in the second quarter before being replaced by Wesley Johnson who may have played his best game as a Jet should bode well for the Jets moving forward.
One of the team's perceived weaknesses heading in to this season was the depth along the offensive line.  A unit that many felt the Jets had recklessly failed to address early in the draft or through free agency.  Nobody is sending anyone to Canton or the Pro Bowl just yet, but the possibility of having three quality reserves on the offensive line is something nobody anticipated going in to this season.
In fact, Johnson isn't even listed as the team's primary back up at left guard.  That title belongs to third-year pro, Dakota Dozier, who was inactive last night.  A decision that forced Johnson, currently listed as Nick Mangold's back-up at center, in to action.
With Johnson filling in, the unit was still plenty good against Rex Ryan's Bills, as Fitzpatrick was sacked just once, and the ground game churned out a total of 123 yards.  Most of the work came from Forte, who did his best work in the second half.  Prior to his final three clock-killing carries in the closing minutes that consisted of 3 runs for 5 yards, Forte ran the ball 13 times for 67 yards (4.92 YPC) in the second and third quarter.
This isn't to say the offensive line was perfect, because it wasn't.  Fitzpatrick was pressured on several occasions, once having the ball knocked out of his hand for a fumble that was recovered by the Jets, and a second instance in which it appeared to be a second forced fumble, but replays showed Fitzpatrick's arm to be moving forward on the pass.
All things considered, going to war without their best lineman in Carpenter for much of the night, and a pair of back-ups at right tackle, the results should put some fears to rest, at least for now, as far as the Jets offensive line is concerned.  Meanwhile, perhaps a bit of crow for those who blasted the Jets handling of the position in the off-season?
Videos
Aaron Rodgers Injury Fallout & Jets/Bills Recap