Featured Editorials Home Slider Jets Videos
JetNation Joins The Bacon Bonanza At The Institute of Culinary Education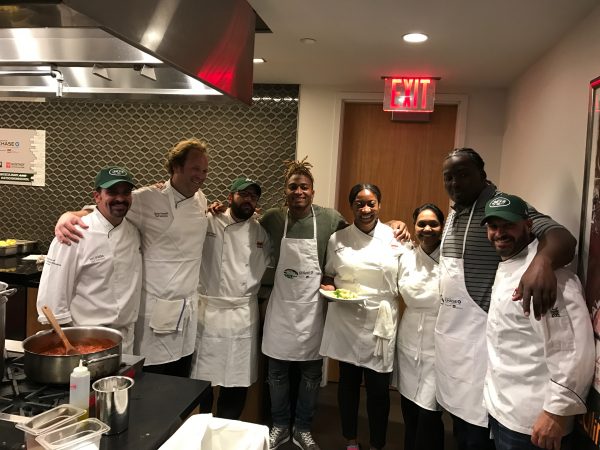 Football season has officially begun because we're back in the kitchen at the Institute of Culinary Education. JetNation was invited back to learn more cooking techniques, and mingle with New York Jets Fans and players.
ICE kicked off their season with Bacon Bonanza. Bacon was the main ingredient, and we were surprised how many meals are better with bacon! Prior to the main event, ICE students passed around hors d'oeuvres like BLT Bites and Devils on Horseback. Jets fans got to mingle with cornerback Buster Skrine and defensive tackle Steve McLendon. Both expressed their excitement about last week's win against Rex Ryan and the Buffalo Bills, and are looking forward to another road game win against the Kansas City Chiefs.
Everyone was split into four groups and started cooking in different kitchens (this space is HUGE!). A different meal was prepared in each respective kitchen, and groups rotated until everyone had a chance to cook the entire night's meal. On the menu was Grilled Shrimp with Bacon Butter, Bucatini all'Amatriciana (a delicious pasta with marinara), Broccoli & Pasta Salad with Bacon Vinaigrette, and Cheese Stuffed Bacon Wrapped Chicken Breast. We're getting hungry just typing this! Don't forget about dessert! Bourbon Bacon Doughnuts – our favorite! We washed all this bacon-goodness with PDT's Bacon-Infused Old Fashioned.
Everyone went home with a Premio Sausage bag of Wüsthof knives, Premio coupons, a Miller Lite tin cup, and an ICE gift certificate.
This event is always a good time for all. Don't miss their next class Monday, October 17th for their Tacos and Tequila Tailgate!  Check out more classes at ice.edu.

Videos
JetNation
4.6K
Subscribe
Broken Brains; Critics of Jets Quarterback Aaron Rodgers Begin Stirring up Conspiracy Theories