Featured Editorials Home Slider
Preview: Jets Head to Kansas City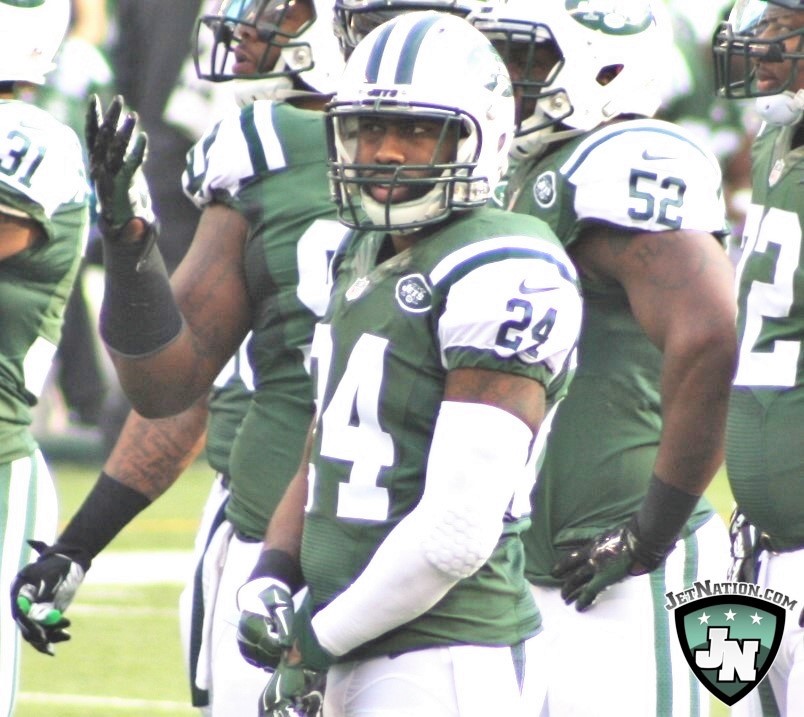 By Glenn Naughton
The 1-1 New York Jets head to Kansas City to take on the 1-1 Chiefs at Arrowhead Stadium, one of the league's most hostile environments to play in.  The fans in Kansas City were a legitimate "12th man" long before the Seattle Seahawks front office figured out a way to monetize the title not long ago.
With the Jets coming to town, the Chiefs will have their hands full after dropping a 19-12 contest to the Houston Texans on the road.  Let's take a quick peek at some of the key match-ups that Gang Green can look to exploit against Alex Smith and company.
Contain Conley:  If not for their porous secondary, the Jets would be sitting pretty at 2-0 with a pair of blowout victories.  As it stands however, the Jets dropped their opener and squeaked past the Bills on Thursday despite the shortcomings of the defensive backs, specifically, Darrelle Revis.
Revis allowed Marquis Goodwin, a virtual unknown, to haul in an 84-yard bomb from Tyrod Taylor on the Bills' first drive.  This week, it's another little-known receiver who may not be an Olympic sprinter as Goodwin once was, but second-year receiver Chris Conley is no slouch at 6′ 2", 215  and armed with the 4.35 40 he ran during the NFL combine.
As Jets Head Coach Todd Bowles has said on multiple occasions, the NFL is a copycat league, and until you prove you can "put out the fire", teams are going to keep testing you.  Alex Smith doesn't air it out very often, but look for the Chiefs to take a shot deep down the field to Conley, especially if he's one-on-one with Revis.
Let Leo Roar: The Jets saw a drop-off from week one to week two when their defensive line went from seven sacks to zero.  That should change this week as the Chiefs have had their share of struggles in the middle of their offensive line, especially at center and right guard.  The Jets have been moving their versatile group of defensive lineman up and down the formation thus far, but lining Williams up at nose tackle, where he has looked overpowering at times, could pay off big time against second-year center Mitch Morse.
While Williams is a prime candidate for a big game, it would really be silly to look past any of Gang Green's veteran linemen as the Chiefs had a very difficult time up front against a Texans defensive line that has looked nowhere near as good as the Jets up to this point.
Tood Bowles and Kacy Rodgers may also want to attack the A-gap to the right of the formation with speedy rookie Darron Lee who has the speed and burst to take advantage of the Chiefs' struggles.
Silence is Golden: As stated above, Arrowhead Stadium is one of the most difficult stadiums to have success in, due mostly in part to a rowdy crowd.
The Jets have spent a good portion of this week in practice pumping in crowd noise and using a silent count on offense as one would expect. AFC offensive player of the week, quarterback Ryan Fitzpatrick told reporters that the Jets would be using a silent count throughout the contest on third down.
Being able to maintain communication with his receivers at the line will be key in running an efficient offense, but the 11-year veteran should be just fine.
The "No Marshall" Plan: With star receiver Brandon Marshall looking like a game-time decision due to a banged up left knee, there's a chance the Jets will go with Eric Decker and Quincy Enunwa is their top two receivers, meaning they'll need Enunwa to perform with a bigger target on his back, and find a third option to step up and make some plays.
After fumbling his first-ever NFL reception, Jalin Marshall bounced back with a solid performance against the Bills last week (3 rec, 45 yards) and speedy pre-season standout, Robby Anderson has yet to see the ball come his way.  If Marshall can't go, that could all change this week.
Let Darron Do His Thing: We highlighted rookie linebacker Darron Lee as a key player in last week's meeting with the Bills as he was the obvious choice to spy the scrambling Tyrod Taylor for the Bills and it was an area in which he excelled.
Alex Smith is a classic pocket passer, but he too has the ability to make big plays with his legs. With that being the case, look for more of Lee hanging around the line of scrimmage to limit Smith's production.
Re-introduce AA:  Jeremy Maclin is the Chief's top weapon through the air but lacks the speed of Marquis Goodwin or the physicality of A.J. Green, who torched the Jets in week one.  Expect the Jets cornerbacks to do a solid job on Maclin.  With tight end Travis Kelce being Kansas City's next best option and Bowles having employed some 4-2-5 formations this season, getting the re-signed Antonio Allen back on the field to lend a hand with Kelce might not be a bad idea.
Conclusion:
Yes, Arrowhead is hostile, but the Chiefs struggles up front should prevent them from getting anything going on offense, while Ryan Fitzpatrick will look to stay hot after a 374 yard passing day on Thursday.
The game is close until the Jets run away with a couple of late scores.
Jets- 27
Chiefs- 13
Videos
Aaron Rodgers Injury Fallout & Jets/Bills Recap