Featured Editorials Home Slider Jets Report Card
New York Jets Report Card: Week 5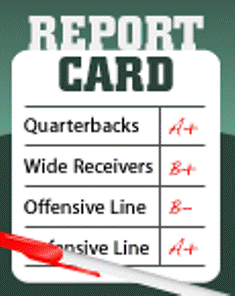 New York Jets Report Card
Week 5: New York Jets @ Pittsburgh Steelers
10/09/16
Quarterback:  B-
Fitzpatrick: 25/38, 255 yards, TD, 1 rush for 9 yards
For a change, Quarterback wasn't the problem. Unfortunately, it wasn't the solution, either – as the team put up just 13 points. They were shut out in the 2nd half and have still only put up 7 points in 3rd quarters this season. An inability to punch the ball into the end-zone continued today, and while Fitz was largely efficient on paper, avoided the costly turnover and can blame some of his troubles on his receivers, but a number of throws were well off line.
Running Backs: C+
The Jets finally ran Forte to the outside… and it resulted in a 28 yard rush. Why they insisted on pounding him up the middle for 4 straight games as if he was Chris Ivory, we may never know.
Forte: 12/53/0, 2 receptions for 7 yards
Powell: 4/10/0, 6 receptions for 41 yards
Wide Receivers/Tight Ends: B-
B. Marshall: 8/114/1
Enunwa: 4/51/0
Seferian-Jenkins: 2/17/0
Anderson: 1/10/0
Bostick: 1/9/0
Peake: 1/6/0
Marshall was his usual self: a few big plays, a few costly drops. 6 different receivers/tight ends caught a pass. That's right: tight ends. The Jets finally had a tight end catch a pass! In fact, they had two tight ends catch at least 1 pass: Seferian-Jenkins and Bostick.
Offensive Line:  C-
Brent Qvale struggled mightily, getting beaten on multiple plays. Mangold had some trouble with low snaps and later suffered a knee injury. Protection was adequate at times, but not often enough.
Defensive Line: C
Williams and Richardson combined to force and recover a Big Ben fumble, only the 3rd turnover the Jets D has forced this year. Apart from the Bengals game, where has this unit been all season? They should be dominant, but they're not taking over any games and they're not helping the secondary out, either.
Linebackers: C-
Teams don't try to run on the Jets but then again, why should they? Despite everything we've heard about added speed at the position, Jets linebackers still can't cover and still can't rush the passer.
Secondary: F
This was a dumpster fire before Revis was hurt, so it's certainly not going to get any better with him on the bench. Once again, an opponent beat the secondary deep early as Big Ben threw to Coates for a 72 yard TD. Poor tackling, broken coverage and miscommunications persist and there is no silver lining.
Special Teams: B-
Folk was 2/2, Edwards made several significant punts, though the Jets coverage team failed to down one of them within the 1 as they should have. The coverage team also gave up a big return, but fortunately Calvin Pryor finally managed to make a tackle and prevent a touchdown on that play.
Coaching: F
It's incredibly frustrating to watch the Jets kneel out every half, while trailing in the game and knowing that the opponent is set to receive the 2nd half kickoff. 40 seconds and 1 timeout is plenty of time to try to get yourself into field goal range. It's frustrating to watch them punt on a 4th & 2, down by 2 scores with less than 8 minutes to go. It's frustrating to see them burn timeout after timeout for reasons that have nothing to do with preserving the clock. And to do so in order to make a defensive stop… only to not make that defensive stop. But most of all, it's frustrating to watch coaching that believes you can beat Pittsburgh on the road without taking any chances or applying any creativity to your gameplan.
Videos
Aaron Rodgers Injury Fallout & Jets/Bills Recap