Featured Editorials Home Slider Jets Report Card
New York Jets Report Card: Week 7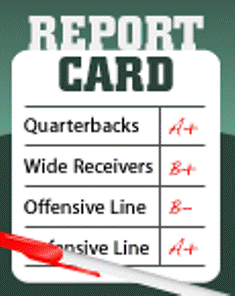 New York Jets Report Card
Week 7: Baltimore Ravens @ New York Jets
10/23/16
Quarterback: C
Smith: 4/8, 95 yards, 1 TD, 0 INT, 1 rush for 7 yards
Fitzpatrick: 9/14, 120 yards, 1 TD, 0 INT, 1 rush for -1 yards
Life in the NFL: Geno Smith waits more than a year for another opportunity under center only to be injured in the 1st half, but not before Quincy Enunwa took a short pass over the middle all the way down the field for a touchdown. Fitzpatrick came in and went 7/7 to start, only to fall off a little down the stretch. Nevertheless, Fitzpatrick did what he needed to do to secure the win and, more importantly, avoid the loss. It wouldn't be appropriate to say that he looked invigorated, but at the very least, a little more relaxed.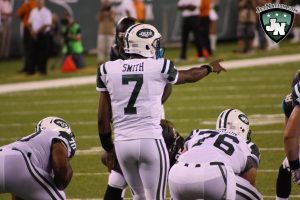 Running Backs: B

Forte: 30/100/1, 1 fumble lost, 4 receptions for 54 yards, 1 TD
Powell: 4/18/0
Pope: 1/1/0
Forte's fumble late almost cost the Jets, but fortunately, they were able to force another fumble immediately – setting up a 1 yard TD that put the Jets up 8. That mistake aside, Forte looked younger and sprier than he has in any game this season, making great contributions in both the passing and the running game.
Wide Receivers/Tight Ends: C-

B. Marshall: 3/39/0
Enunwa: 2/73/1
Anderson: 3/41/0, 1 rush for 30 yards
Peake: 1/8/0
Enunwa took an early pass from Geno Smith all the way down the field for a big touchdown, racking up massive yards after the catch. Apart from that and rookie Robby Anderson's 30 yard rush, there wasn't much to see. The Jets primarily stuck with the ground game and complemented it with quick hits to Forte out of the backfield.
Offensive Line: C-

Mangold left with an injury and didn't return – yikes. Jets quarterbacks were sacked 5 times for 26 yards – double yikes. Still, this was one of the more impressive efforts on the season for this unit in the run blocking game. They opened up what were at times massive holes for Matt Forte, finally enabling him to use his quickness to punish an opposing defense.
Defensive Line: B

Though the Jets only sacked Flacco once, he was under some pretty heavy pressure all day. The Jets once vaunted defensive line did a much better job at penetrating and eating up blockers.
Linebackers: B+

Erin Henderson and Darron Lee were out, but New York's linebackers still had one of the better outings of the season, limiting the Ravens to just 6 net rushing yards.
Secondary: B

Flacco threw for 248 yards, but was held without a touchdown and Skrine and Gilchrist each came down with interceptions. Mike Wallace burned the secondary with a 53 yard reception but other than that, this was the best kind of outing you could've hoped for.
Special Teams: F

Special Teams cost the Jets big this game, with a blocked field goal taking potential points off the board in the 4th and an early miscue on a punt snap led to an easy touchdown for the Ravens. The Special Teams have truly been atrocious this season, and have accounted for numerous scores going the other way.
Coaching: C+

The coaches stuck to the ground game on offense and ratcheted up the pressure on defense to secure a much needed home win.
Videos
NY Jets Phase 3 OTAs, Expectations and a Minor Calf Tweak with Greg Renoff