Featured Editorials Home Slider
Jets' Fitzpatrick Saves Worst for Last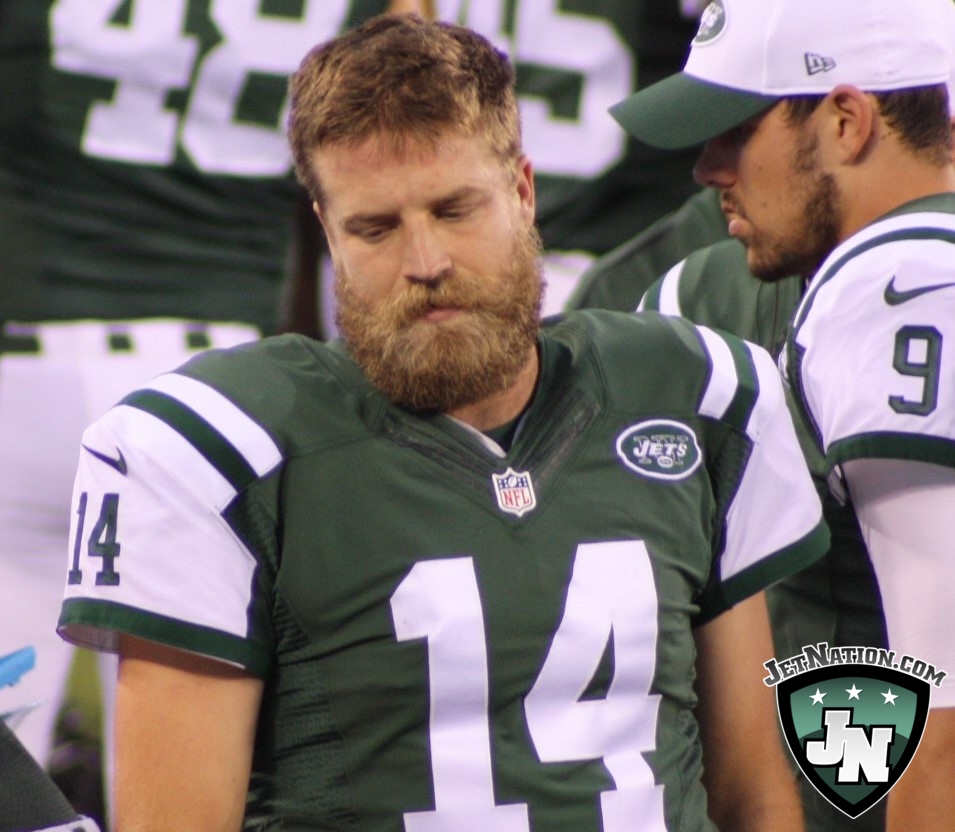 By Glenn Naughton
In a season marred by poor decisions, it appears New York Jets quarterback Ryan Fitzpatrick saved his biggest head-scratcher for last.
It's time.  It's time for somebody, anybody, in Ryan Fitzpatrick's life, somebody he respects (a former teammate perhaps), to pick up the phone and give the quarterback a quick phone call to offer a harsh reality check.  Bring the embattled Jets quarterback down to earth, because right now, Ryan Fitzpatrick looks like a guy who started a fire, then blamed the firemen who showed up to put it out.
Following his team's 24-18 victory over the Baltimore Ravens at MetLife Stadium, Fitzpatrick, who came on in relief of the injured Geno Smith, had some rather choice words regarding the organizations top decision makers.  While addressing the media, Fitzpatrick was asked about his confidence level, and his reply raised some eyebrows.
"The biggest thing in this game, to last…is to have belief in yourself," Fitzpatrick said. "Because when the owner stops believing in you and the GM stops believing in you and the coaches stop believing in you, sometimes all you have is yourself. That's kind of something I've dealt with before and something I'm dealing with now."
Yes folks, you read that right.  Ryan Fitzpatrick, the guy who is in the midst of one of the worst season's of quarterback play New York Jets fans have ever been subjected to, and there have been a lot, is now calling out the only head coach and front office that was willing to hand him a starting job after setting the Jets single-season record for touchdown passes just one year before.
It was a highly publicized off-season negotiation that gripped Jets fans for months.  The two sides seemingly far apart in negotiations in regards to number of years and total value.  Fans were torn between the front office and Fitzpatrick, who was right and who was wrong?  In reality, neither side was wrong.  The Jets needed a bridge to Bryce Petty or Christian Hackenberg, a job Fitzpatrick should have been ideal for.  Bringing him back to keep the offense afloat while the kids found their way made perfect sense.
Fitzpatrick was in the right too, though.  He had just piloted the Jets to a 10-win season while throwing for a team-record 31 touchdowns.  He was promised the starting job by head coach Todd Bowles, premature as it may have been.  With the average salary of an NFL starting quarterback being just south of $20 million a year, Fitzpatrick's camp had every right to expect the quarterback to be paid as a low-end starter as opposed to a back-up quarterback, and that's exactly what Fitzpatrick ended up getting.
A one-year deal that will pay him $7 million this season and another $5 million when the new league year starts.  Pittance for a starting quarterback in all reality.
It was a fair deal for all sides.  Nobody else was offering Fitzpatrick a starting job and the Jets had nobody else in the building whom they trusted to run their offense.  That fact, and that alone, is what makes Fitzpatrick's post-game comments so bizarre.  To call out the organization for not believing in him, when in all reality, he should have been thanking them for being the last group of executives in the NFL who believed in him as strongly as they did just a few months ago.
Fitzpatrick also said during his press conference that he needed a few days "to get over" his benching, and that's fair enough.  After all, he is human.  He's right to be angry that he's not on the field just as Geno Smith was "pissed off" when he wasn't given the starting nod before the season started.
However, Fitzpatrick's anger is about as off-target as so many of his errant passes this season.  The only place Ryan Fitzpatrick's anger should be directed, is at Ryan Fitzpatrick.
Through his first six starts this season, Fitzpatrick has undoubtedly been the worst starting quarterback in the NFL.  He hasn't even come close to the "career average" that so many of his detractors predicted he would.  Even those fans who lambasted the Jets for bringing Fitzpatrick back didn't see this coming.  Nobody did, no matter how badly they want to tell you now that this is "what they predicted".
Even before his remarkable 2015 campaign, Fitzpatrick had started 66 games over the course of the previous five years, throwing 102 touchdowns to just 74 interceptions.  During that time, Fitzpatrick had failed to complete fewer than 60% of his passes just once (57.8% in 2010).  Hardly Canton-worthy, but hard to argue that Fitzpatrick was a quarterback you could live with if your only other option was Geno Smith.
This season however, the disaster it has become, leaves no room for a rational reason to continue playing Fitzpatrick.  He's missing wide open receivers on a regular basis, frequently abandoning relatively clean pockets, and has failed to regain the form that had him ranked in the top three among NFL QB's in deep ball completion percentage over the 2013/2014 seasons.
There are 52 other players in the Jets locker room who want to win, or at the very least, compete.  Given the way Fitzpatrick has played this season, there's no reason to believe they'll be able to do that more than a few times a year, and that's just not good enough.  Those other 52 players are seeing what the rest of us are seeing, and they're looking at Todd Bowles to make a move, and despite all the evidence that it was a move he didn't want to make, he made it, and it was the right thing to do.
Now, the right thing for Ryan Fitzpatrick to do, no matter how "human" or "competitive" he is, would be to understand Bowles' position, and offer an honest evaluation of himself.  If he were to do so, he couldn't possibly come up with any other alternative other than sitting him down to allow the team to move forward.
Yesterday's press conference should have been an opportunity for Fitzpatrick to say it was great to lead his team to a win just days after not knowing if he would ever get that opportunity again.  Would he have been right to say that the benching was frustrating?  Absolutely, nobody wants to get benched.
But calling out the very same front office that gave him a chance to start, before they could no longer do so with a straight face, is a bad look for a veteran leader.
Following the benching, speculation mounted that owner Woody Johnson did not factor in the decision.  For him to publicly call out Johnson may not bode well for Fitzpatrick, and the last thing he needed to do to find a way to upset the organization off the field, the same way he has on the field.
Please, somebody give Fitz a call and explain that the only player on the Jets roster who should be associated with being an "island" is Darrelle Revis,  there's no need for Fitzpatrick to further isolate himself and become a sinking island of his own.
Videos
New York Jets OTA Presser Takeaways, Aaron Rodgers' Impact and Summer Delusion