Featured Editorials Home Slider
Jets Defense Dominates Despite Depleted LB Corps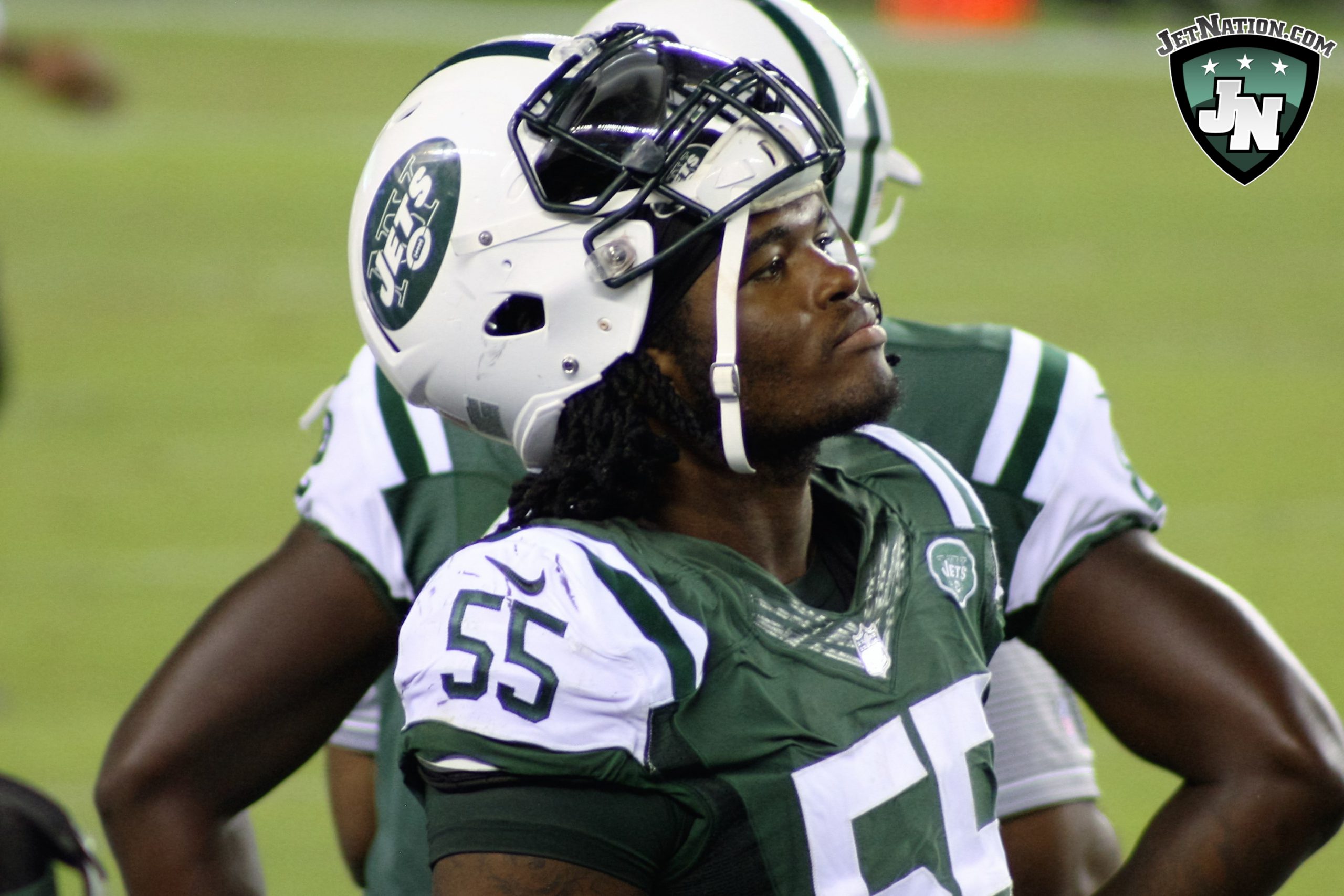 By Glenn Naughton
It didn't garner nearly as much attention as Geno Smith's right knee injury simply because nothing grabs attention the way a quarterback injury does, but following Smith to the locker room just seconds after his injury, was inside linebacker Bruce Carter.  It should have been a terrible blow to the Jets defense as Carter was only seeing increased reps due to the fact that the Jets were already down two players at the position.
Fellow linebacker Erin Henderson was placed on the non-football injury/illness list just the night before, and only a couple of days after the Jets ruled out rookie linebacker Darron Lee.  Consider the fact that David Harris was playing, but just one week removed from missing his first game since 2008 with a hamstring injury, and the deck appeared to be stacked against the Jets.
However, a great effort Julian Stanford who was added to the 53-man roster on Saturday, may have had any casual observers thinking the Jets defense was at full strength as opposed to playing a guy who was fifth on the depth chart.
Stanford did more than just hold his own.  Despite Carter leaving in the second quarter, Stanford came in late and led all linebackers with six solo tackles, tying Sheldon Richardson for the team lead in that category.
Ironically enough, Stanford wasn't the only defender who was put in position to succeed as a result of an injury, but Richardson was too.
With defensive lineman Muhammad Wilkerson ruled out with an ankle injury, there was no time to put Sheldon Richardson out of position at either of the linebacker spots as we've seen in weeks past.  Richardson was playing with his hand on the dirt and raised hell.  He and Stanford were a big part of the team setting a franchise record in allowing a paltry six yards rushing to the Ravens.
Putting Richardson on the defensive line had a domino effect, meaning significantly increased reps for linebacker Lorenzo Mauldin who turned in what may have been his best game of the season.  It may not have shown in the box score as Mauldin was credited with just one assisted tackle and zero sacks, but that didn't tell the whole story.  Mauldin made his presence known, coming up with five hurries against the Ravens according to Connor Hughes who cites PFF.com.
Welcome back, Lorenzo Mauldin. After essentially being a non-factor in the Jets' first six games, Mauldin played more snaps against Baltimore than he had at any other point this season. Last year's third-round pick was on the field for 49 plays, or 84 percent of the defensive snaps. He finished with five quarterback hurries, according to ProFootballFocus.com.
As one might expect, the heavy pressure had Ravens quarterback Joe Flacco rattled, and the secondary reaped the rewards.
A defense that ranked dead last in takeaways heading in to the game was able to come away with a pair of interceptions.  One from cornerback Buster Skrine, and another from safety Marcus Gilchrist.
When all was said and done, the Jets defense didn't allow a single touchdown and yielded only 3 field goals.  The Ravens only trip to the end zone came courtesy of a fumbled snap by rookie punter Lac Edwards who allowed the ball to roll in to the end zone before the Ravens recovered.
So while most of the talk surrounding the Jets at the moment is revolving around their messy quarterback situation, take a second to tip your cap to the defense for a historically strong performance.
Videos
New York Jets OTA Presser Takeaways, Aaron Rodgers' Impact and Summer Delusion