Jets Re-Sign LB Taiwan Jones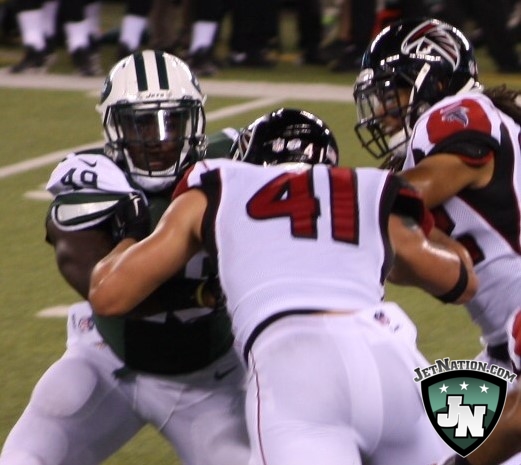 By Glenn Naughton
Hit with a slew of injuries at the inside linebacker position, the New York Jets have reportedly re-signed linebacker Taiwan Jones, according to former teammate Julian Howsare, anyway.
S/O and congrats to my brotha @TJ_Spartan34 on signing back with the jets!

— Julian Howsare (@julianhowsare) October 25, 2016
Jones' twitter timeline was flooded with congratulatory messages from fans and teammates alike for his return to Gang Green.
The former Michigan State Spartan made it to the final round of cuts this preseason and gives the Jets another defender who is familiar with their defensive scheme.  Jones' release came as a surprise to those who watched the Jets' final pre-season game against the Philadelphia Eagles.  A game in which Jones was clearly the best defensive player on the field.
NFL.com's draft profile for Jones reads as follows:
OVERVIEW
Played in East-West Shrine Game. Played in every game of his four-year career. In 2014, earned second-team All-Big Ten honors, finishing tied for team lead with 12.5 tackles for loss. Made 13 starts in 2013. Played on both sides of the ball as a senior in high school and was a three-year starter for the basketball team, averaging 20 points and 11 rebounds per game. His father, Clarence, played basketball at Bristol College in Tennessee.
PRO DAY RESULTS
40-yard dash: 4.88 and 4.82 seconds
Vertical jump: 33 1/2 inches
Broad jump: 9 feet, 7 inches
ANALYSIS
STRENGTHS
Outstanding size and durability. Card-carrying tough guy with take-on traits. Looks to own the middle of the field. Happy to strike a heavy blow on offensive linemen drifting to second level. Play strength to redirect off a block and leverage gap. Heat-seeking missile as A-gap blitzer, jolting centers and/or running backs while inverting pocket. Wrap-up finisher with unexpected closing speed for his size. Well-respected leader. Moved from outside to inside linebacker and made front adjustments during 2014 season.
WEAKNESSES
Stiff, with limited change of direction in small spaces. Not very instinctive. Plays through a straw rather than with feel. Slow to see and trigger, struggling to beat offensive linemen over the top. Still learning pursuit angles from inside. Liability in man coverage and slow to drop with depth in zone. Below-average ball skills and came off field on passing downs.
DRAFT PROJECTION
Round 4 or 5
NFL COMPARISON
Nico Johnson
BOTTOM LINE
Physically imposing "Hulk smash" linebacker with outstanding power and toughness but a lack of instincts essential to the position. Jones' coverage limitations could be mitigated by his ability to thump and blitz as a 3-4 inside linebacker next to a more instinctive chaser. At worst, Jones is a backup linebacker and core special-teams player.
RELATED LINKS
-Lance Zierlein
Videos
New York Jets OTA Presser Takeaways, Aaron Rodgers' Impact and Summer Delusion