Featured Editorials Home Slider Jets Report Card
New York Jets Report Card: Week 8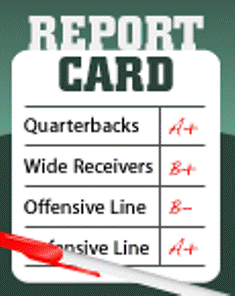 New York Jets Report Card
Week 8: New York Jets @ Cleveland Browns
10/30/2016
Quarterback: C-
Fitzpatrick: 16/34, 228 yards, 1 TD, 0 INT, 4 rushes for 13 yards
Fitz started off poorly and at one point missed 8 straight passes. But he did avoid the costly turnover and led three touchdown drives in the 2nd half. He was under steady pressure despite the quick passes and did attempt to force a few throws in there that could have gone back the other way, particularly some 1st half passes to rookie WR Robby Anderson, but rebounded when he started mixing Anderson in with other targets.
Running
Backs: A-
Forte: 25/82/2, 2 receptions for 16 yards
Powell: 6/76/1, 1 reception for 3 yards
Forte and Powell took advantage of every hole they were offered and showed tremendous vision on draw plays. The Jets netted 4.9 yards per rush and the running back duo combined for 3 touchdowns on the ground, though they weren't as involved in the passing game as they usually are.
Wide Receivers/Tight Ends: B
Enunwa: 4/93/1
B. Marshall: 4/68/0
R. Anderson: 3/31/0
Peake: 1/13/0
Bostick: 1/4/0
Bostick provided 4 receiving yards from the tight end position… a record for the Jets this season? I'm just kidding, but seriously… we saw some nice work from Enunwa, Marshall and Anderson who had a tough time gaining separation in the 1st half but picked things up considerably in the 2nd. There were some drops, but also a couple of interceptions broken up. The Jets top 3 sans Decker are proving themselves to be threats in the open field.
Offensive Line: C-
Once again, some aggravating penalties along the line set the Jets back. Up front, the Browns provided pressure on Fitzpatrick rather easily, but the line, playing without Mangold, still managed to open up some holes in the running game.
Defensive Line: C
Do I really need to see Wilkerson celebrating a non-turnover play when the Jets are down by two scores in the 1st half? Apparently, because I'm not seeing him celebrate much otherwise. With the Browns calling just 18 running plays, the Jets D-Line should have been able to get a better push into the backfield, but the Browns were sacked only once while going for 341 yards in the air on 49 passes. It's one thing for the sacks to be missing, but where are the pressures even?
Linebackers: B-
Mauldin pulled in a pick, the first time a Jets linebacker had accomplished that feat in a whopping 49 games. The backers got beat in coverage more than once yet again, but, coming off a dominant performance against the run vs. Baltimore, the Jets held Cleveland to only 68 net rushing yards on the day.
Secondary: C-
Right off the bat, the secondary was beat through the air deep twice – leading to a touchdown on the Browns first possession. Cleveland QB McCown would eventually settle down, completing just over 50% of his passes (25/49), but not before doing major damage to a reeling Jets secondary. 4 different Browns had longs of 25 or better on the day. The Jets put together a noticeably improved performance against the pass in the 2nd half, with Gilchrist hauling in an interception, but where were the corners and safeties in the 1st half? Calvin Pryor in particular has a Jekyll and Hide syndrome going on as he bounces back and forth between boneheaded plays and flashy ones.
Special Teams: C-
Edwards nearly lost another snapped punt. Folk was 4/4 on XPs and 1/1 on his field goal attempts. The return and coverage teams continue to be mired in mediocrity, though New York was able to down a punt at the Cleveland 1.
Coaching: C
The Jets came out listless and confused as they have in each of their 8 games, but 2nd half adjustments both offensively and defensively turned the tide and the  team was able to rally from a 20-7 deficit to get the win. This is of special note on offense, considering how much they've struggled to score in the 2nd half this season.
Videos
New York Jets OTA Presser Takeaways, Aaron Rodgers' Impact and Summer Delusion