Featured Editorials Home Slider
Power Rankings: Jets Squeak by with a Win in Cleveland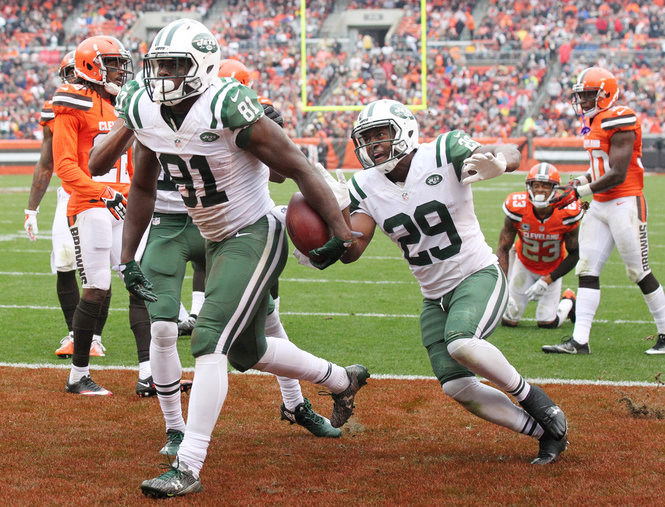 Ranking All 32 Teams Based on Week 8, and Previous Performances:
---
New England Patriots (7-1)
Dallas Cowboys (6-1)
Denver Broncos (6-2)
Minnesota Vikings (5-2)
Oakland Raiders (6-2)
Atlanta Falcons (5-3)
Kansas City Chiefs (5-2)
Green Bay Packers (4-3)
Seattle Seahawks (4-2-1)
Pittsburgh Steelers (4-3)
Houston Texans (5-3)
Philadelphia Eagles (4-3)
New York Giants (4-3)
Washington Redskins (4-3-1)
Cincinnati Bengals (3-4-1)
Buffalo Bills (4-4)
Tennessee Titans (4-4)
Arizona Cardinals (3-4-1)
Detroit Lions (4-4)
Baltimore Ravens (3-4)
New Orleans Saints (3-4)
Los Angeles Rams (3-4)
Indianapolis Colts (3-5)
Tampa Bay Buccaneers (3-4)
Miami Dolphins (3-4)

New York Jets (3-5)

Carolina Panthers (2-5)
San Diego Chargers (3-5)
Jacksonville Jaguars (2-5)
Chicago Bears (2-6)
San Francisco 49ers (1-6)
Cleveland Browns (0-8)
---
#26 New York Jets (3-5): After losing four in a row, the Jets have won their last two games. While the Jets did escape with a 31-28 win against the Cleveland Browns, it was hardly an encouraging win. The Jets were thoroughly outplayed in the first half. Ryan Fitzpatrick was highly inaccurate and ineffective going 3-14 for 30 yards. He didn't have any help either as nearly every receiver had at least one drop. Darrelle Revis was getting dismantled by Terrelle Pryor, a former quarterback. It was an all around ugly first half. Players claimed that Todd Bowles told them "Don't come back without a win" at halftime; it must have lit a spark under them because it was like they were a rejuvenated team in the second half. The Jets scored 24 unanswered points, and held onto the win after a late score by the Browns. If the Jets want any hope of making the playoffs they need to continue to play like that rejuvenated second half team. Next up a trip to Miami, then back home against the Los Angeles Rams. If the Jets can win their next two, they'll enter the week 11 bye at 5-5.
Rankings Going into Previous Weeks:
Week 1: #10
Week 2: #13
Week 3: #9
Week 4: #17
Week 5: #21
Week 6: #27
Week 7: #30
Week 8: #28
Videos
Aaron Rodgers Injury Fallout & Jets/Bills Recap