Featured Editorials Home Slider Jets Report Card
New York Jets Report Card: Week 9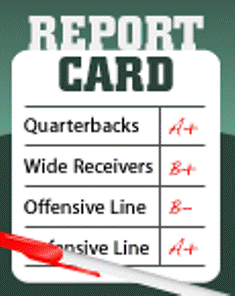 New York Jets Report Card
Week 9: New York Jets @ Miami Dolphins
11/6/16
Quarterback: D
Fitzpatrick: 17/28, 193 yards, 1 TD, 2 INT, 3 rushes for 26 yards
Some of these mistakes are inexcusable for a veteran QB, like the continuing struggles in the redzone. A pick to a wide open Dolphin defender in the endzone exemplifies this problem. The Jets QB problem has often been framed like this: play the decent, win now QB and try to make the playoffs or play the young, development QB and let him learn? But perhaps it's time to consider the possibility that the Jets don't actually have a win now QB and they might as well start Bryce Petty and see how he'll respond to live NFL snaps.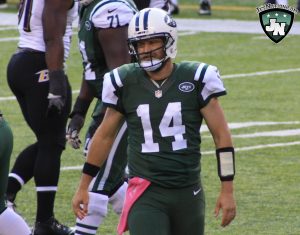 Running Backs:  A
Forte: 12/92/1, 1 reception for 5 yards
Powell: 6/22/0, 4 receptions for 29 yards
Forte was fantastic and looked as spry as ever. He had a long of 32 on the day, and quite a few other big plays. He's not that plowing RB that Chris Ivory was, but he's fast to accelerate through holes on the line when they do open up, or bounce plays to the outside when the defense is off-balance.
Wide Receivers/Tight Ends:  B
B. Marshall: 6/45/0
J. Marshall: 3/59/1
Enunwa: 1/25/0
R. Anderson: 4/49/0
It looks like the Jets have a duo of up and coming young players at the WR position in Anderson and Enunwa. Rookie Jalin Marshall caught his first career touchdown pass and he's not too shabby, either – as long as he holds onto the ball.
Offensive Line: D+

Without Mangold and Clady, the Jets offensive line was a shell of itself. They held up early, but had to sprinkle in a few penalties to do so. By the end of the game, Miami had them figured out and Fitzpatrick was suffering under some severe pressure.
Defensive Line: B+

One of the more solid games this line has had all season, though they didn't post a sack. The Jets sent frequent 3 or 4 man rushes and struggled getting to the QB then, but they did some better work when it came to just absorbing blocks and pushing the line.
Linebackers: C-

The linebackers did a nice job against the run, considering Dolphins RB Ajayi had posted consecutive 200+ yard rushing games. Sadly, no one on this team tackles particularly well in open space – and Ajayi did manage to bust some runs into the secondary level.
Secondary: C+

Dolphins QB Ryan Tannehill was held to just 149 yards and 1 TD on 28 attempts and his long was just 24. I say just 24 because this is a Jets secondary that's been absolutely torched this season. Miami inexplicably avoided testing Revis, and that might have paid off for the Jets today.
Special Teams: F

Finally, the Jets specials made a play, tackling Miami's punter after he couldn't get the punt off. But they soon reverted to form: after going offsides on a kickoff, they then allowed the kickoff to be returned for a touchdown. Dropping a touchdown on special teams always gets you an F, and unfortunately for the Jets, it's happened far too often this season. Jalin Marshall also muffed a punt but did manage to recover it – whew.
Coaching: F

Lack of discipline stings: penalties, poor tackling and missed assignments lose games.
Videos
Aaron Rodgers Injury Fallout & Jets/Bills Recap