Featured Editorials Home Slider
Power Rankings: Playoff Hopes All but Gone for Jets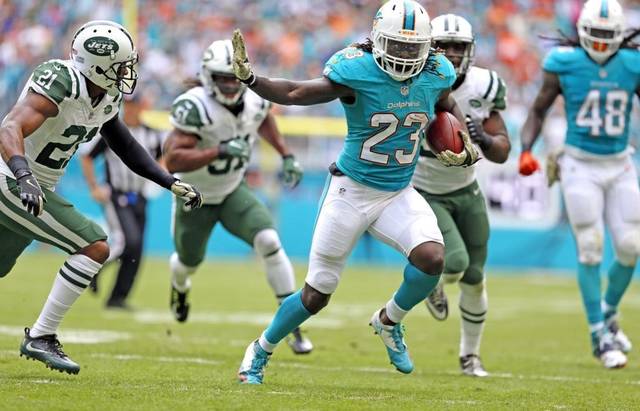 Ranking All 32 Teams Based on Week 9, and Previous Performances:
---
New England Patriots (7-1)
Dallas Cowboys (7-1)
Oakland Raiders (7-2)
Denver Broncos (6-3)
Atlanta Falcons (6-3)
Kansas City Chiefs (6-3)
Seattle Seahawks (5-2-1)
Minnesota Vikings (5-3)
New York Giants (5-3)
Houston Texans (5-3)
Washington Redskins (4-3-1)
Pittsburgh Steelers (4-4)
Detroit Lions (5-4)
Baltimore Ravens (4-4)
Green Bay Packers (4-4)
New Orleans Saints (4-4)
Cincinnati Bengals (3-4-1)
Buffalo Bills (4-5)
Miami Dolphins (4-4)
Arizona Cardinals (3-4-1)
Philadelphia Eagles (4-4)
Indianapolis Colts (4-5)
San Diego Chargers (4-5)
Tennessee Titans (4-5)
Carolina Panthers (3-5)
Los Angeles Rams (3-5)
Tampa Bay Buccaneers (3-5)
New York Jets (3-6)

Jacksonville Jaguars (2-6)

Chicago Bears (2-6)
San Francisco 49ers (1-7)
Cleveland Browns (0-9)
---
#28 New York Jets (3-6): The Jets are toast. Another sloppy game doused any flickering playoff hopes they had. A team this inconsistent isn't capable of winning out, or even getting close to it. The struggles are compounded by locker room issues that have cropped up. Ryan Fitzpatrick and Brandon Marshall were seen having a heated conversation on the sideline most likely due to a lack of balls going Marshall's way. Another curious distraction was the benching of both Muhammad Wilkerson and Sheldon Richardson. Apparently, according to NFL Network, Wilkerson didn't show up to a walk through before the game against the Baltimore Ravens, a meeting in which there were plans to serve cake for Wilkerson's 27th birthday. This doesn't account for Richardson, and Todd Bowles refused to confirm or deny whether or not it was actually the cause of the benching. According to Bowles, Fitzpatrick will start if he can recover from an MCL sprain he suffered on Sunday. It's getting to the point where the Jets should let Bryce Petty take the reins, and look to the future. Another loss and there's no reason not to. Bowles claims the Jets are "down, but not out." The Jets would have to win out just to match their 10-6 record from last season, and that wasn't even good enough to make the playoffs. The Jets will come home to face the Los Angeles Rams on Sunday, then head into their bye week.
Rankings Going into Previous Weeks:
Week 1: #10
Week 2: #13
Week 3: #9
Week 4: #17
Week 5: #21
Week 6: #27
Week 7: #30
Week 8: #28
Week 9: #26
Videos
Aaron Rodgers Injury Fallout & Jets/Bills Recap