Featured Editorials Home Slider
Jets Look to Keep QB's Upright in Battle Against Rams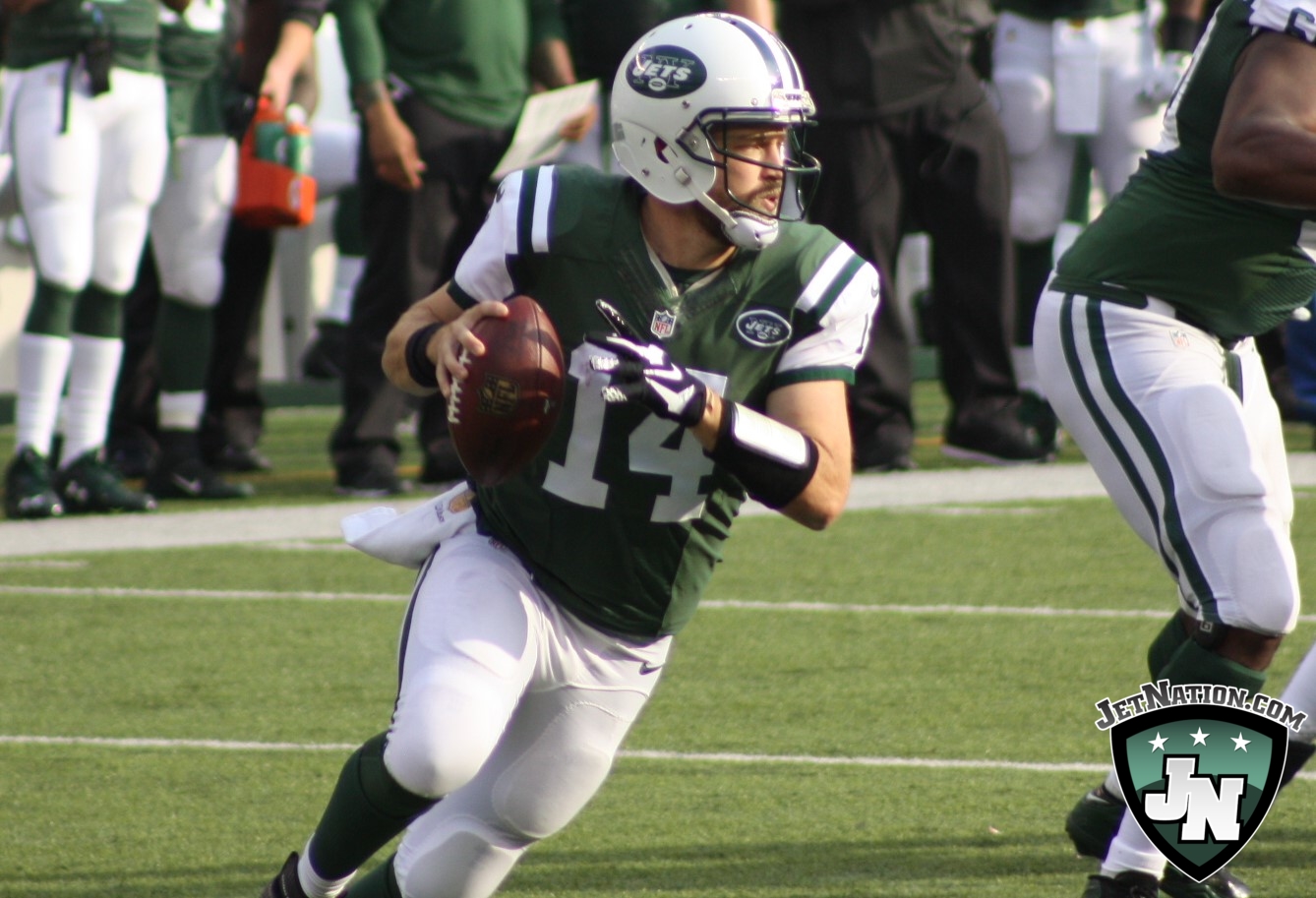 By Glenn Naughton
The 3-6 New York Jets prepare to host the 3-5 Rams at MetLife Stadium on Sunday, and while the team's primary objective will be to come away with a win, keeping Ryan Fitzpatrick and possibly Bryce Petty out of the hospital should be a close second.  The Jets will be doing battle against one of the NFL's premiere defensive fronts with what is somewhat of a patchwork O-line.  Here are some of the key match-ups up front and beyond.
LG James Carpenter vs. DT Aaron Donald:  
This should be the best head-to-head meeting of the day as the Jets top lineman should see his fair share of one of the league's most dynamic interior defenders.  If the Jets have anywhere near the success they had in running Matt Forte and Bilal Powell against the Miami Dolphins last week (18 carries for 114 yds and 1 TD), they should make it a ground and pound kind of day.
Letting Ryan Fitzpatrick drop back time and again with an unproven Ben Ijalana slated to start at left tackle  and Nick Mangold likely being replaced by Wesley Johnson at center again due to an ankle injury, the Rams should be able to generate a good deal of pressure without having to blitz.  The last thing the Jets need is another game with Ryan Fitzpatrick throwing in to coverage under duress.
WR Tavon Austin vs. Jets Secondary:
It's difficult to pick any one player who may match up with Austin as he's a valuable chess piece for the Rams who will move him around to create mismatches.
Austin is an interesting piece of Sunday's puzzle primarily due to the fact that the Jets have had great difficulty defending wide receiver screens all season, and this is an area where Austin may thrive.  If and when Austin faces off against Darrelle Revis, look for Revis to play off the diminutive burner to avoid being beat deep again, so the quick screens will mean safety support will be essential in containing Austin.
One thing that helps Revis in this particular match up is that Austin isn't the physical type of player Revis has been shying away from in recent weeks, so perhaps limiting his YAC won't be quite the challenge it will be if he's asked to get physical with the Rams' other top target, the 6′ 3" Kenny Britt.
Both Austin and Britt are tied for the Rams team lead in receptions with 37 apiece.
LB Mark Barron vs. Matt Forte and Bilal Powell:  
Signing former safety Mark Barron and moving him to linebacker has been a boon for the Rams.  The former defensive back is one of the
better coverage linebackers in the NFL and should be used to shadow Forte and Powell out of the backfield to take away Fitzpatrick's check-down options when the Rams generate pressure.
According to PFF.com, Barron has earned an impressive pass coverage grade of 82 on 286 coverage snaps.
DL Muhammad Wilkerson and Sheldon Richardson vs Rams Offensive line:
Time and again this pair of Jets defenders have come up small under conditions that should have seen them making highlight reel hits. Whether it was facing decimated offensive lines (Kansas City) or an injured quarterback (Russell Wilson), the pair of former first round picks have been invisible far too often.
This week we found out what part of the problem may have been as it reported
that the two routinely skip or show up late to team meetings or practices.
Report: Jets' Wilkerson, Richardson miss meetings "all the time" https://t.co/XmOCICIER2 pic.twitter.com/JxXGrPQSGx

— SNF on NBC (@SNFonNBC) November 7, 2016
With their complete lack of interest in going "all in" this season, the hope at this point among Jets fans is that personal pride will lead to Wilkerson and Richardson dialing it up a notch and making a difference on Sunday.  The two are also in an absolute no-win situation that they have only themselves to blame for.
If they're non-factors once again, fans will naturally assume the effort is still absent.  If they come out and dominate, it will draw the fans ire as the season will become a "what could have been" in a lost season that was expected to see the Jets be able to compete with the leagues elite teams on the strength of what was supposed to be an unstoppable defensive line.
Conclusion: 
Pressure from the Rams front will mean multiple turnovers for Fitzpatrick again with another possible Bryce Petty sighting if Fitzpatrick and his beat up MCL take too many big hits.
Rams- 17
Jets- 13
Videos
Aaron Rodgers Injury Fallout & Jets/Bills Recap