Featured Editorials Home Slider Jets Report Card
New York Jets Report Card: Week 10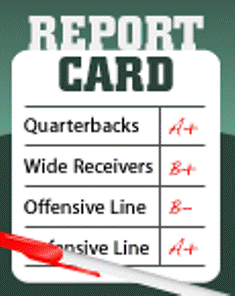 New York Jets Report Card
Week 10: L.A. Rams @ New York Jets
11/13/16
Quarterback: D
Petty: 19/32, 163, 1 TD, 1 INT
Because it was his first start, I'm going to spare Petty the indignity of an F. But really, 163 yards? When your defense gives you all of those opportunities? Bryce left at least 7 on the board when he missed a wide open Anderson streaking down the field. He did a fine enough job managing the game, showing some efficiency early on and only turning the ball over in the final 2 minutes during a desperation drive. But there's a number of missed plays (besides the Anderson one) that he'll remember. The sooner he forgets them, the better.
Running Backs: A
Forte: 20/98/0, 2 receptions for 11 yards
Powell: 4/37/0, 7 receptions for 52 yards, 1 TD
Spiller: 1/4/0
Spiller dropped a pass in the final drive. Forte and Powell were the only things on offense that kept the Jets in the game.
Wide Receivers/Tight Ends: C
Anderson: 3/69/0
Marshall: 4/15/0
Peake: 2/9/0
Enunwa: 1/7/0
They created separation at times and just didn't get their numbers called. Marshall had a quiet game and left with an injury. Anderson's play is one of the few bright spots for the Jets this season. Enunwa's dedication to blocking is remarkable.
Offensive Line: C
Without Clady and Mangold (the latter missing his 3rd straight game), the Jets O-Line held up against impressive pressure from the Rams. They fared particularly well in the run game.
Defensive Line: B
Richardson looked like he was on a mission to atone for the off the field issues that have recently come to light. Steve McLendon had 1.5 sacks.
Linebackers: C+
The Rams struggled to run the ball in the 1st half, but picked things up in the 2nd. Harris, Lee and Mauldin each posted half a sack.
Secondary: B-
Keenum only threw for 165 yards, but Revis was chewed up and spit out by Kenny Britt. What is it going to take for the Jets to get a turnover against a mediocre at best QB like Case Keenum?
Special Teams: D
Folk missed his 2nd PAT of the season. J. Marshall looks absolutely lost on punt returns. The Rams pulled off a 78 yard punt against the Jets.
Coaching: D
The hook and ladder touchdown play was cute, but do we really have to see a 3-6 team that's struggling to score run the ball on 3rd and long? Do we have to see a 12 men in the huddle call right away? Plus, can someone fix the special teams problems already?
Videos
Aaron Rodgers Injury Fallout & Jets/Bills Recap