New York Jets Report Card
Week 13: Indianapolis Colts @ New York Jets
12/5/16
Quarterback: F
Fitzpatrick: 5/12, 81 yards, 0 TD, 1 INT, 2 rushes for 3 yards
Petty: 11/25, 135 yards, 1 TD, 2 INT
When there aren't many bright spots, sometimes you have to invent them. So here's one: I love the attitude Bryce Petty showed after finally connecting with Robby Anderson on a bomb of a TD. By attitude, I mean none at all. He just un-clipped his helmet and walked off the field. He wasn't jumping and flailing like a clown, he was acting like he'd been there before. So give Mr. Petty one point in the intangibles category.
Running Backs: Incomplete
Forte: 9/25/0, 3 receptions for 54 yards
Spiller: 2/5/0, 1 receptions for 7 yards
Powell: 1/3/0
Tonight, running the football was a thing you do not so much because you're trying to win a game as much as because you're simply hoping to keep the opponent from reaching triple digits on the scoreboard.
Wide Receivers/Tight Ends: D-
Anderson: 4/61/1
Marshall: 4/43/0
Seferian-Jenkins: 2/29/0
Bostick: 1/12/0
Enunwa: 1/10/0
They didn't help the cause too much, now did they? I'm sparing them the F for that Anderson TD catch but that's pretty generous.
Offensive Line: D
Nick Mangold deserves better than this. After what transpired in this game in particular and in this season more broadly, will he follow his longtime linemate D'Brickashaw Ferguson into retirement? He's got to be wondering what the point of it all is.
Defensive Line: F
Why is Muhammad Wilkerson celebrating a 3rd down tackle with the Jets down by 31 in the 4th quarter? Because it was the Colts first possession without a touchdown? Well, no, but that's not stretching the truth as much as you might think. The Colts have a porous offensive line and the Jets have a star-studded defensive line. Result? You guessed it: Andrew Luck had all day to throw. Counter-intuitive, but that's the way it's been all season.
Linebackers: ???

Existential question: if a Jets linebacker doesn't miss a tackle, does a Colt still score? Probably.
Secondary: F
Andrew Luck was benched —- for being too efficient.
Special Teams: C-

Sources confirm that this unit exists. No one knows how or why, but they do.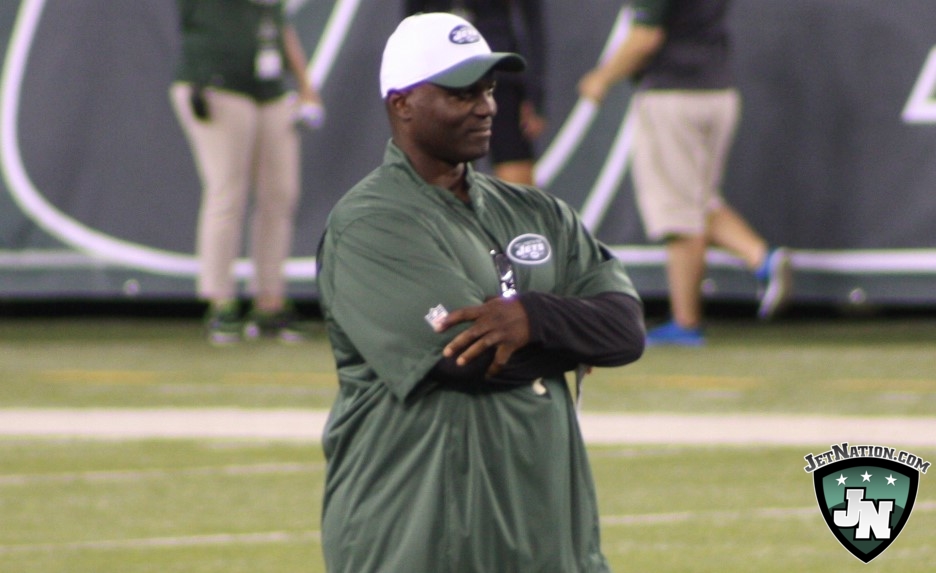 Coaching: F

Why is linebacker Julian Stanford alone in coverage on a wide receiver? Play design? Lack of discipline? Who knows?