Featured Editorials Home Slider
Power Rankings: Jets Officially Eliminated From Playoff Contention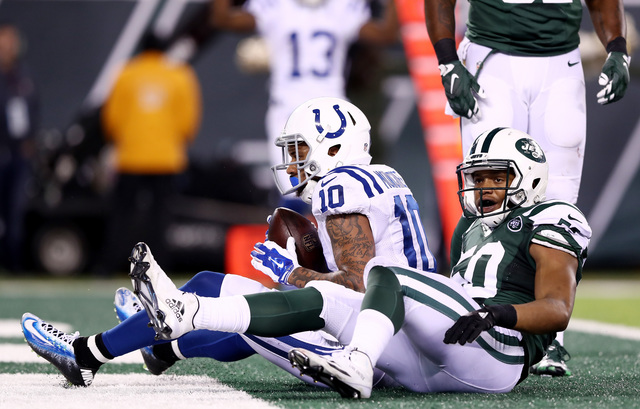 Ranking All 32 Teams Based on Week 13, and Previous Performances:
---
Dallas Cowboys (11-1)
Oakland Raiders (10-2)
New England Patriots (10-2)
Kansas City Chiefs (9-3)
Seattle Seahawks (8-3-1)
Denver Broncos (8-4)
Detroit Lions (8-4)
Atlanta Falcons (7-5)
New York Giants (8-4)
Pittsburgh Steelers (7-5)
Baltimore Ravens (7-5)
Tampa Bay Buccaneers (7-5)
Washington Redskins (6-5-1)
Miami Dolphins (7-5)
Green Bay Packers (6-6)
Buffalo Bills (6-6)
Houston Texans (6-6)
Indianapolis Colts (6-6)
Minnesota Vikings (6-6)
Arizona Cardinals (5-6-1)
Tennessee Titans (6-6)
New Orleans Saints (5-7)
Philadelphia Eagles (5-7)
San Diego Chargers (5-7)
Cincinnati Bengals (4-7-1)
Carolina Panthers (4-8)
Los Angeles Rams (4-8)
Chicago Bears (3-9)
Jacksonville Jaguars (2-10)
New York Jets (3-9)

San Francisco 49ers (1-11)

Cleveland Browns (0-12)
---
#30 New York Jets (3-9): The Jets were once again embarrassed on Monday Night Football. This was the last time that Jets fans will see Ryan Fitzpatrick take the field this season, and likely altogether barring an injury. According to Todd Bowles, Bryce Petty will start the remaining four games this season. Ryan Fitzpatrick will back him up, but Christian Hackenberg may be elevated to second string for the last couple of games. Other than their draft position, Petty's audition is the only reason Jets fans have to watch the remaining games. In a season where the team was built to win now, they did very little winning. Whether or not Todd Bowles and Mike Maccagnan remain, the Jets will likely see a lot of change this offseason. Petty's four game audition begins on Sunday against the San Francisco 49ers.
Rankings Going into Previous Weeks:
Week 1: #10
Week 2: #13
Week 3: #9
Week 4: #17
Week 5: #21
Week 6: #27
Week 7: #30
Week 8: #28
Week 9: #26
Week 10: #28
Week 11: #29
Week 12: #28
Week 13: #28
Videos
Aaron Rodgers Injury Fallout & Jets/Bills Recap