Featured Editorials Home Slider
Jets Scribes Pushing Nauseating Narrative Regarding Bowles' Job Security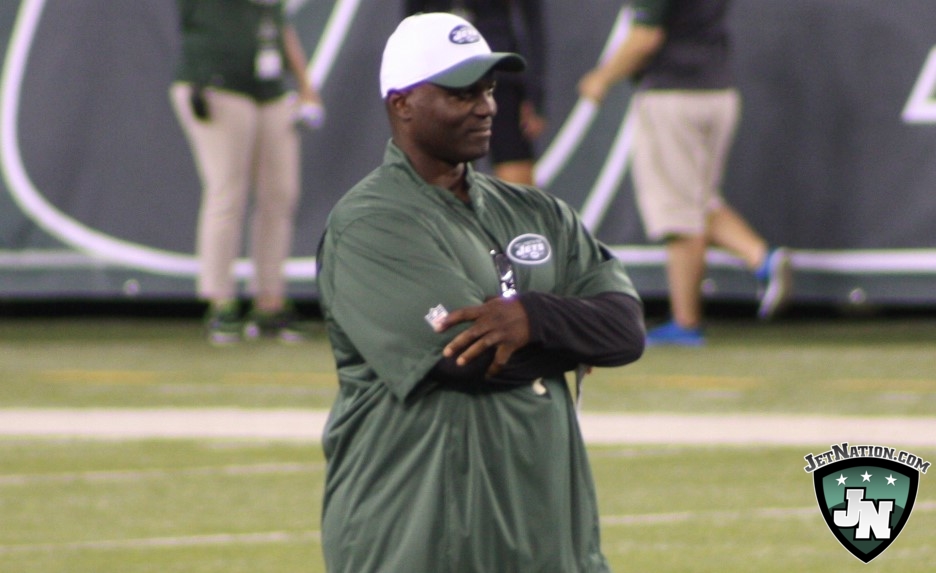 By Glenn Naughton
Okay, this is just flat-out silly at this point.
Since watching his team get stomped on Monday night football against the Indianapolis Colts in a 41-10 drubbing, the job security, or lack thereof, of head coach Todd Bowles has become a hot topic among both local and national media outlets.
Now, it seems, the go-to phrase or comparison being made by  Jets beat writers who are pontificating the possible dismissal has been a lazy parallel drawn to the perennial doormat Cleveland Browns.  To say a Bowles firing after just two seasons would put the Jets on par with the Browns would be akin to saying a single poor statistical season by Philip Rivers would put him on par with Ryan Fitzpatrick or Geno Smith.
Listen, the reason why the Browns are the Browns and they're the first team that comes to mind when a head coach is being fired too early, it because that all they ever do.
Of the last eight coaches Cleveland has employed, six  have been fired in two seasons or less (Chris Palmer, Terry Robiskie, Eric Mangini, Pat Shurmur, Rob Chudzinski and Mike Pettine).  Making matters worse is that the only two head coaches who weren't fired in two seasons or less (Butch Davis and Romeo Crennel), were fired after just three seasons.  That's right…the last time a Browns head coach lasted more than three full seasons was Bill Belichick, who went 36-44 in four seasons, from 1991-1995.
Now, let's compare that to Jets owner Woody Johnson who, since taking over the team in 2000 has never fired a coach in such a short time frame…not once.
Sure, Al Groh coached the team for just one season in 2000, but his departure was the result of his alma mater, Virginia, making him a financial offer he couldn't refuse, to come home.  That was a departure that was beyond Johnson's control.
Since Groh bolted for Virginia, it's been Herm Edwards who got five seasons at the helm.  Then it was Eric Mangini who Johnson let go following his team's monumental collapse that saw the Jets fall apart down the stretch and miss the playoffs despite a hot 8-3 start.
The polarizing Rex Ryan was tabbed next by Johnson and would be the owner's longest-tenured coach with a six-year run that would have likely come to an end sooner had Ryan not built up some equity with back-to-back deep playoff runs in each of his first two seasons.
Like every coach before him and since Weeb Ewbank, Ryan failed to deliver a championship and was relieved of his duties following a 4-12 season in 2014.
So despite the fact that a quick trigger from Johnson would be more of an outlier, a one-off, an aberration…it's not stopping the New York media from suggesting to the team's loyal but fed up fan base that such a move is on par with an organization who as made coaching changes a bi-annual tradition.
This isn't to make a case as to whether or not Bowles should be dismissed, but simply pointing out the fallacy being pushed by those looking to take advantage of yet another opportunity to kick the team while they're down.
Johnson may opt to retain Bowles next season, but if he doesn't, it won't be because he's an irrational owner who hits the panic button at the first sign of adversity, but because his team, a team that has spent almost every penny authorized by the league, isn't just losing often, but they're losing big and they're losing ugly.
If Johnson were to turn a blind eye to the team's struggles to placate the click-bait headline writing members of the team's press corps, it would mean he was allowing writers to impact major organizational decisions.  Something former NFL quarterback Brady Quinn referred to on his Sirius XM NFL radio show as "the biggest mistake the Cleveland Browns made" during his time with team.  Oh the irony.
Videos
Aaron Rodgers Injury Fallout & Jets/Bills Recap