Featured Editorials Home Slider
Power Rankings: Jets Move Up After Overtime Win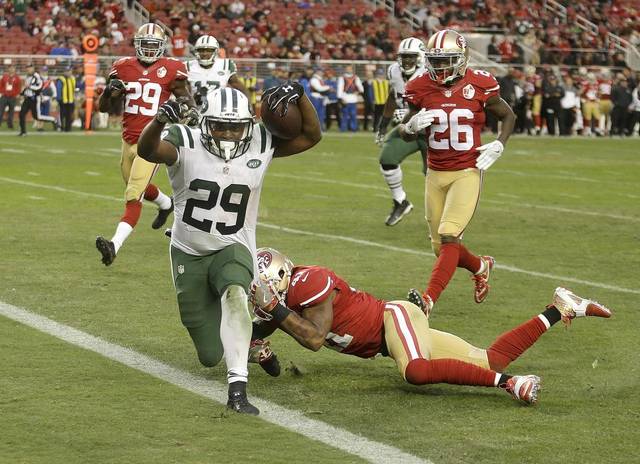 Rankings All 32 Teams Based on Week 14, and Previous Performances:
---
New England Patriots (11-2)
Dallas Cowboys (11-2)
Oakland Raiders (10-3)
Kansas City Chiefs (10-3)
Pittsburgh Steelers (8-5)
Detroit Lions (9-4)
New York Giants (9-4)
Atlanta Falcons (8-5)
Seattle Seahawks (8-4-1)
Green Bay Packers (7-6)
Denver Broncos (8-5)
Tampa Bay Buccaneers (8-5)
Washington Redskins (7-5-1)
Miami Dolphins (8-5)
Baltimore Ravens (7-6)
Houston Texans (7-6)
Tennessee Titans (7-6)
Minnesota Vikings (7-6)
Indianapolis Colts (6-7)
Buffalo Bills (6-7)
Cincinnati Bengals (5-7-1)
Arizona Cardinals (5-7-1)
Carolina Panthers (5-8)
New Orleans Saints (5-8)
Philadelphia Eagles (5-8)
San Diego Chargers (5-8)
Chicago Bears (3-10)
New York Jets (4-9)

Los Angeles Rams (4-9)

Jacksonville Jaguars (2-11)
San Francisco 49ers (1-12)
Cleveland Browns (0-13)
---
#28 New York Jets (4-9): Sunday's game started the worst way possible, with Bryce Petty throwing an interception on his first pass. It got worse from there, with the defense getting shredded by a 1-11 team. All that being said, Petty showed that he can keep a cool head in the face of adversity by leading the team to a comeback win. Bilal Powell also continued to show Chan Gailey that he should be getting more time on the field by taking the reigns once Matt Forte went down. Powell secured the walk off touchdown in overtime to win it for the Jets. With 179 total yards and two rushing touchdowns, Powell showed he's just as much of a threat as Forte. With the youth movement underway, it would make sense to give Powell more carries once Forte is back. Powell is younger, and could become the feature back. It's already been said that both Todd Bowles and Mike Maccagnan will be retained this offseason. In which case, the emphasis on youth players should be even greater to see what they have for next season. The Jets' final three games are against division opponents. Aside from seeing what they have in younger players, the Jets will also be looking to play spoiler in the AFC East. The Miami Dolphins come to MetLife Stadium Saturday night.
Rankings Going into Previous Weeks:
Week 1: #10
Week 2: #13
Week 3: #9
Week 4: #17
Week 5: #21
Week 6: #27
Week 7: #30
Week 8: #28
Week 9: #26
Week 10: #28
Week 11: #29
Week 12: #28
Week 13: #28
Week 14: #30
Videos
Was Boomer Right to Blast Becton? Former Jets QB Sounds off Against Jets Tackle.