Featured Editorials Home Slider
Jets vs. Dolphins, Players to Watch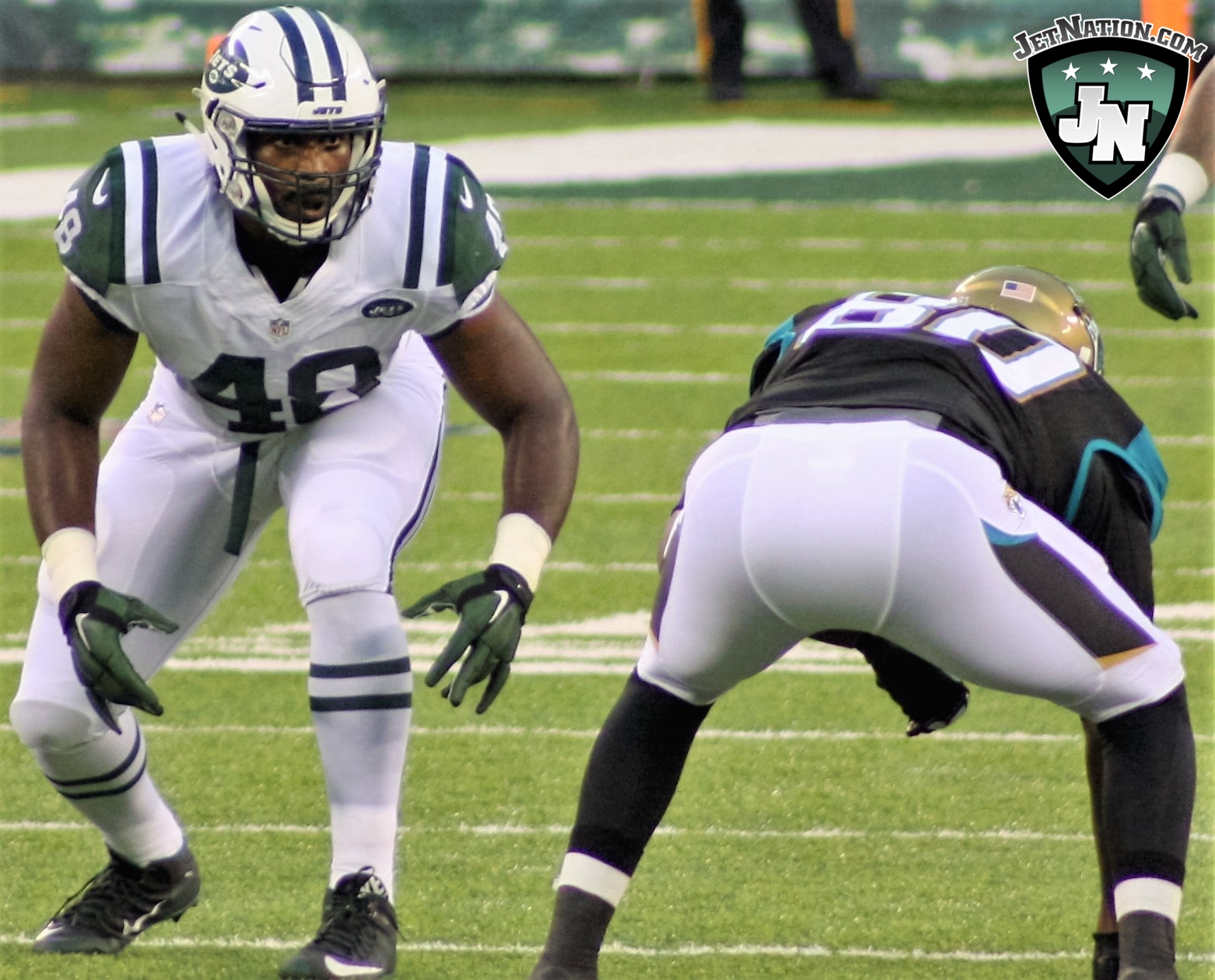 By Glenn Naughton
The 4-9 New York Jets look to play spoiler at home against the 8-5 Miami Dolphins who will be forced to turn to back-up quarterback Matt Moore after starter Ryan Tannehill suffered a sprained ACL last week.  It'll be a Saturday night showdown at MetLife Stadium as the Jets hope to win their second consecutive contest following their comeback win in overtime last week.
JetNation.com takes a look at a few match-ups worth keeping an eye on as Bryce Petty makes his third career start under center for the Jets as they evaluate the second-year signal caller heading toward 2017.
Jets O-line vs. Dolphins D-Line:
Sometimes it can be a little lazy to list two entire position groups instead of the one-on-one battles up front, but as strong as the Dolphins are on the D-line(Ndamukong Suh, Cameron Wake, Andre Branch, Mario Williams), and as banged up as the Jets O-line is, Petty is going to be running for his life.
Head Coach Todd Bowles told the media that rookie right tackle Brandon Shell would get the nod if Brent Qvale can't go, but whoever it is will be facing Cameron Wake, the Dolphins best pass-rusher, and neither is good enough to neutralize him consistently.  Look for a multi-sack day out of Wake.
If Petty holds on to the ball as long as he did last week, Wake may put up one of the best performances of his career. Perhaps a little extra help from a tight end such as Eric Tomlinson on Wake's side will help prevent disaster.  Perhaps.
QB Bryce Petty vs QB Bryce Petty:
Petty did some good things last week against the 49ers in his first career win, but he was his own worst enemy at times, leading to a total of six sacks for the 'niners defense.
At least three of those sacks can be attributed to Petty not trusting himself and double-clutching the football as his passing lanes were going from open to closed, leaving him with no other choice.
Those being overly critical of Petty for this are way out of line.  We're talking about a second-year project out of Baylor's gimmick offense who is seeing the bullets fly in the NFL for the first time in his life.  Whether Petty never starts another game in his career beyond this season, or winds up in Canton one day, he's bound to have some hiccups early on.
Week-to-week improvement is what the Jets and their fans are looking for.  A bit less hesitation will be step in the right direction.
WR Brandon Marshall vs. CB Byron Maxwell
Wide receiver Robby Anderson has been Petty's preferred target thus far, leading to 23 targets in the past two games.  Watching the pair grow together is a good thing, but on Saturday, Petty has to get Brandon Marshall more involved.
Marshall and Maxwell engaged in a war of words leading up to this season's first meeting after Marshall claimed Maxwell "holds on every play".  While that may be a bit of an exaggeration, it doesn't appear to be all that far off.  Marshall has beaten Maxwell several times but his numbers haven't been that impressive, due largely to Maxwell grabbing and pulling on Marshall once the ball is in the air.
If targeted frequently enough, Marshall has the ability to beat Maxwell and put up some gaudy numbers.  Getting Marshall more involved should also make life a bit easier for Anderson, because if he continues getting double-digit targets on a regular basis, he'll start drawing more coverage to his side.  It's time for Petty to mix it up.
Jets LBers David Harris and Jordan Jenkins vs. RB Jay Ajayi
As the Jets season began to spiral out of control several weeks ago, the casual observers pointed at the offense, saying they were the lone reason for Gang Green's troubles.  The reality is that failures at every level led to the team's demise, and as Rich Cimini of ESPN New York pointed out yesterday, the team's run defense deserved a lot of that blame.
Jets run defense in first 8 games: 74 ypg, 1st in NFL. Last 5 games: 148 ypg, 30th in NFL. #Jets

— Rich Cimini (@RichCimini) December 15, 2016
After watching San Francisco's Carlos Hyde average 70 yards per carry last week (give or take a few), the Jets need the elder statesman of their defense, David Harris, and rookie Jordan Jenkins to step up.
Undersized first-round draft choice Darron Lee has struggled to get off of his blocks, outside 'backers Mike Catapano and Freddie Bishop aren't big time edge setters, and Lornezo Mauldin is nursing a bum ankle.   Dolphins running back Jay Ajayi is a load to bring down and he torched the Jets for 111 yards and a touchdown when they last met.
Since then, Ajayi has struggled, but if the Jets come out as flat as they have in each of the past two weeks, and Harris and Jenkins fail to slow him down, a meeting with Gang Green could be just what Ajayi needs, to get going again.
CB Juston Burris vs. WR Jarvis Landry
Rookie cornerback Juston Burris was very impressive when he saw his first extensive action as a pro last week, getting on the field for 50 snaps.   Of the 50 snaps, 27 were pass plays and Burris allowed 3 receptions for 9 yards to go along with a pass defended according to PFF.com.
Landry is a dynamic young receiver who is bound to line up across from Burris at least a handful of times on Saturday, so Burris will have his hands full.
Should he respond well, he could find himself working his way in to a starting role in 2017.
Conclusion:
If conditions are sloppy, the Jets running game may be able to keep it close, but if Miami pass rushers can get any traction, it's going to be a very long day for Bryce Petty.
Dolphins: 20
Jets: 10
Videos
Aaron Rodgers Injury Fallout & Jets/Bills Recap