Featured Editorials Home Slider
Will Todd Bowles' Fate Rest in Hands of Rex Ryan?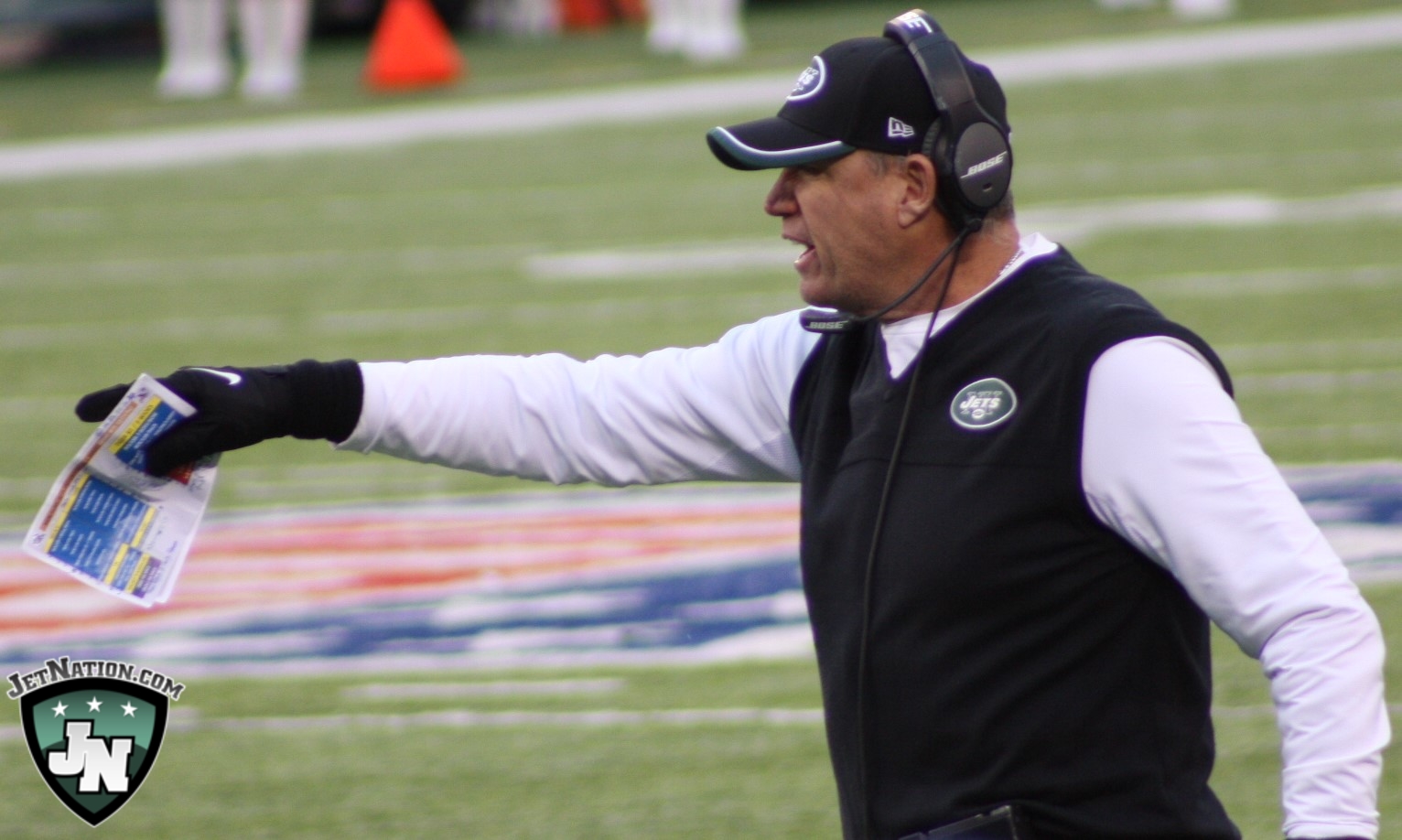 By Glenn Naughton
As the Jets prepare to play the final game of their disastrous season, one that will see them win no more than five games if they manage to pull out a week 17 victory, there's one story line that will loom much larger than the game itself, that being head coach Todd Bowles' job security, or lack thereof.
Having lost 3 of their last 4 games by a combined score of 116-26, you can't help but wonder if the fate of current head coach Todd Bowles will rest in the hands of the Jets former head coach, Rex Ryan.  Not literally of course, as only Woody Johnson can give Bowles the axe, but if Johnson is on the fence regarding Bowles' future, Ryan may play a part in sending Bowles to the gallows.
Ryan's ouster from Buffalo seems to be a forgone conclusion in Orchard Park as the Bills will have missed the playoffs for 17 consecutive seasons, the last two which have come under Ryan.
The Bills are preparing to part ways with Rex Ryan. (via @adamschefter) https://t.co/Q13l4ljzAW pic.twitter.com/H0piqnNbXP

— NFL on ESPN (@ESPNNFL) December 18, 2016
While the feeling in Florham Park is that Johnson wants to hang on to Bowles, multiple prime time blowouts in which the team looks unprepared and at times, and uninterested at others, it could (and should) lead to a change in the tide.
Two weeks ago, Johnson reportedly exited MetLife Stadium before the game concluded against the Dolphins, before deciding to skip this past Saturday's 41-10 loss in New England.
On the road or not, Perhaps Johnson didn't have the stomach to take in another game after the Miami debacle marked the second time this season he will have heard the screams of opposing fans celebrating a victory over his "home team" Jets.  The last time being against the Patriots, when chants of "Brady, Brady, Brady" echoed through the stadium as Patriots fans  left the building.
Given the number of questions that have been asked of Jets players in recent weeks in regards to Bowles' job security, they'd have to be blind to not realize that their play over the season's final weeks could determine Bowles' fate.  Even with that being the case, players have been no–shows on the field, and haven't hesitated to call each other out in the media.  Whether it was Sheldon Richardson directly going after Brandon Marshall, or Leonard Williams calling out the whole indirectly, saying some players appear to be "going through the motions".
With that being the case, the Jets and Bills' week 17 meeting at MetLife Stadium will have a somewhat familiar feel to last season's final contest, one in which the Jets had to have a win to save their season and go to the playoffs, while Ryan and the Bills knew they were three hours away from packing up their stuff and going home for the year.
This time around, Ryan's Bills, once again, will have nothing to play for.  The Jets, meanwhile, won't be playing to make a post-season bid, but perhaps to prevent their old head coach from compelling Johnson to fire his replacement.  A distinct possibility if Gang Green gets smacked around they way they have in three of their last four contests.
Todd Bowles needed his team to pull out a win against the Bills in a big spot for him last season and they were flat and unprepared.  Will they do the same when possibly playing for his job?  It's not likely, and Rex Ryan may just walk away with a small measure of revenge when the final whistle blows.
Videos
New York Jets OTA Presser Takeaways, Aaron Rodgers' Impact and Summer Delusion