Featured Editorials Home Slider Jets Report Card
New York Jets Report Card: Week 17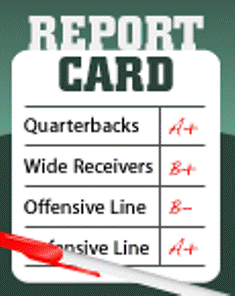 New York Jets Report Card
Week 17: Buffalo Bills @ New York Jets
1/1/2017
Quarterback: B+

Fitzpatrick: 20/30, 210 yards, 2 TD, 2 rushes for 0 yards
To get the negative out of the way, there was an easy pick dropped. Otherwise, a very efficient and accurate outing for Fitzpatrick in what was likely his last game in green. It would have looked even flashier if it weren't for all those drops by the receivers: Enunwa and Anderson especially.
Running Backs: A

Powell: 22/122/0, 3 receptions for 15 yards, 1 TD
Wilds: 4/9/0, 2 receptions for 20 yards
Burks: 2/-4/0
Powell was on a mission yet again, and it's some kind of mystery that Bowles didn't start giving him more touches earlier in the season.
Wide Receivers/Tight Ends: C-

J. Marshall: 3/22/1
Enunwa: 5/81/0
Anderson: 4/43/0
Peake: 2/22/0
Bostick: 1/7/0
The drops are contagious, apparently. The entire receiving corps has fallen victim to this problem this season and it's going to need to be a major point of emphasis moving forward as the Jets look to develop some of the younger receivers.
Offensive Line: B+

With a makeshift line, the Jets took advantage against a porous Bills rush defense. Douzable and Shell both flashed potential along the right side of a line that is going to need to be reassembled before opening day next season.
Defensive Line: B+

The Jets had 3 sacks (2 of them by linemen) and effectively controlled the line of scrimmage for the first time in a long time. In week 17, it looked like Sheldon Richardson finally got the memo that the pre-season was over with.
Linebackers: B

Despite longs of 16 and 20 for Gillislee and Williams respectively, the Bills rushed for just 68 yards. Jets linebackers are still struggling to wrap their men up, but were aided by an inept Buffalo passing game.
Bills quarterbacks combined to go 15/31 for just 182 yards, 0 TDs, 1 pick and 1 fumble. Revis tallied his first interception in over a year – he was without a pick for the entire 2016 calendar year.
Special Teams: B

For once, it was the Jets scoring a special teams TD – albeit late and in a blowout game. Middleton made the score on kickoff coverage when the ball bounced off the foot of a Bills returner. Nick Folk was perfect on the day, continuing to be one of the few bright spots in a terrible season for Jets special teams.
Coaching: C+

Maybe it should be an A if we were grading on the curve, because the Jets avoided being blown out for just the 2nd time in 5 games. Bowles' timeout management right now is among the worst you'll see in the NFL. It was evident once again today when the Jets, with their FG team on the field on a 4th & 1, called a timeout and then proceeded to go for it and get stuffed at the line. Or when the Jets found themselves down to just 1 timeout left for the 2nd half, only halfway through the 3rd quarter.
Videos
NY Jets Phase 3 OTAs, Expectations and a Minor Calf Tweak with Greg Renoff