Featured Editorials Home Slider
Offensive Coordinator Spot Jets' Chief Priority?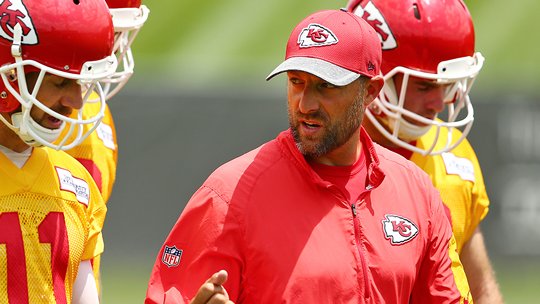 By Glenn Naughton
Now that we know the New York Jets have been denied the opportunity to interview their preferred candidate in their search for a new offensive coordinator, John Defilippo, and their first interviewed candidate, Eric Studesville, is heading back to Denver, the search will resume.
With no other names having surfaced in their hunt, it's being assumed by many that perhaps the team has its sights set on a target whose team is still alive in the playoff hunt.  A fair assumption, that if correct, makes you wonder who that target might be, and one of the eight remaining teams makes more sense than the others.  It's simple math, really.  Well that, and  a few other factors.
The New York Jets have zero offensive coordinators.  The Kansas City Chiefs have two, and one of them, Matt Nagy, makes perfect sense for Gang Green.
Knowing that the job itself is going to be a tough sell with no QB and a coach who may not be around next season, it would be unrealistic to expect a proven, seasoned play caller to come in and take the job.
With that in mind, the Jets should be looking for an offensive coordinator who has been part of a successful offensive system and has play-calling experience and preferably some youth as NFL offenses continue to evolve.  With so little reason for a coach to want to come to the Jets at this point, there will have to be something the Jets have outside of just football that attracts them, and Matt Nagy checks all the boxes.
Successful system: Nagy spent three years as an offensive assistant under Andy Reid in Philadelphia before moving with him to Kansas City where he worked his way up to quarterback's coach, before being named c0-offensive coordinator this season.
During his time with Reid, a total of seven seasons, he has been a part of four top-10 offenses and one top-15 offense.  A former Arena League quarterback, clearly Nagy's work impressed Reid as he went from High School coach to NFL coordinator in just 8 years.
Play calling experience: Nagy is a co-coordinator who works under a head coach who likes calling his plays, so it would be a stretch to say Nagy has extensive play-calling duties, but it would also be foolish to assume he doesn't do it on occasion for Reid as he continues to grow into his role.  Limited experience as it may be, it's more than many other potential hires will have on their resumes.
Youth: At 38, Nagy isn't a dinosaur who's stuck in his ways and is also on board with the current trend of offenses placing heavy emphasis on use of the tight end.  Perhaps his fresh approach will prompt Gang Green to prioritize the position via the draft or free agency to bring in another legitimate weapon for whoever ends up under center for the Jets in 2017.
Desire to Come to the Jets: Whether or not Nagy wants any part of Gang Green is impossible to know, but there are multiple factors that could help the Jets in courting the coordinator.
1- He was born locally in Piscataway, New Jersey and attended High School and College in the Northeast in Pennsylvania and the University of Delaware, respectively.  Being close to home could make the job more enticing to Nagy.
2- He and Jets Head Coach Todd Bowles are familiar with each other, as they served on the same staff under Reid in 2012 when Bowles was the Eagles defensive backs coach and Nagy was in charge of offensive quality control.
3- Perhaps even more importantly than the first two, (full disclosure, only found this out moments ago from a twitter post), Nagy's father was once a High School coach in the state of New Jersey and once had a young defensive back by the name of Todd Bowles under his tutelage.
It's been roughly two weeks since Jets offensive coordinator Chan Gailey stepped down and in that time there has been very little talk of where the Jets might be looking.
With a lack of candidates with credentials and a personal background like those listed above, Nagy should clearly be at the top of the Jets' wish list.
Videos
Aaron Rodgers Injury Fallout & Jets/Bills Recap