Featured Editorials Home Slider
Once Seen as Impossible, Former Jets GM Worse than Feared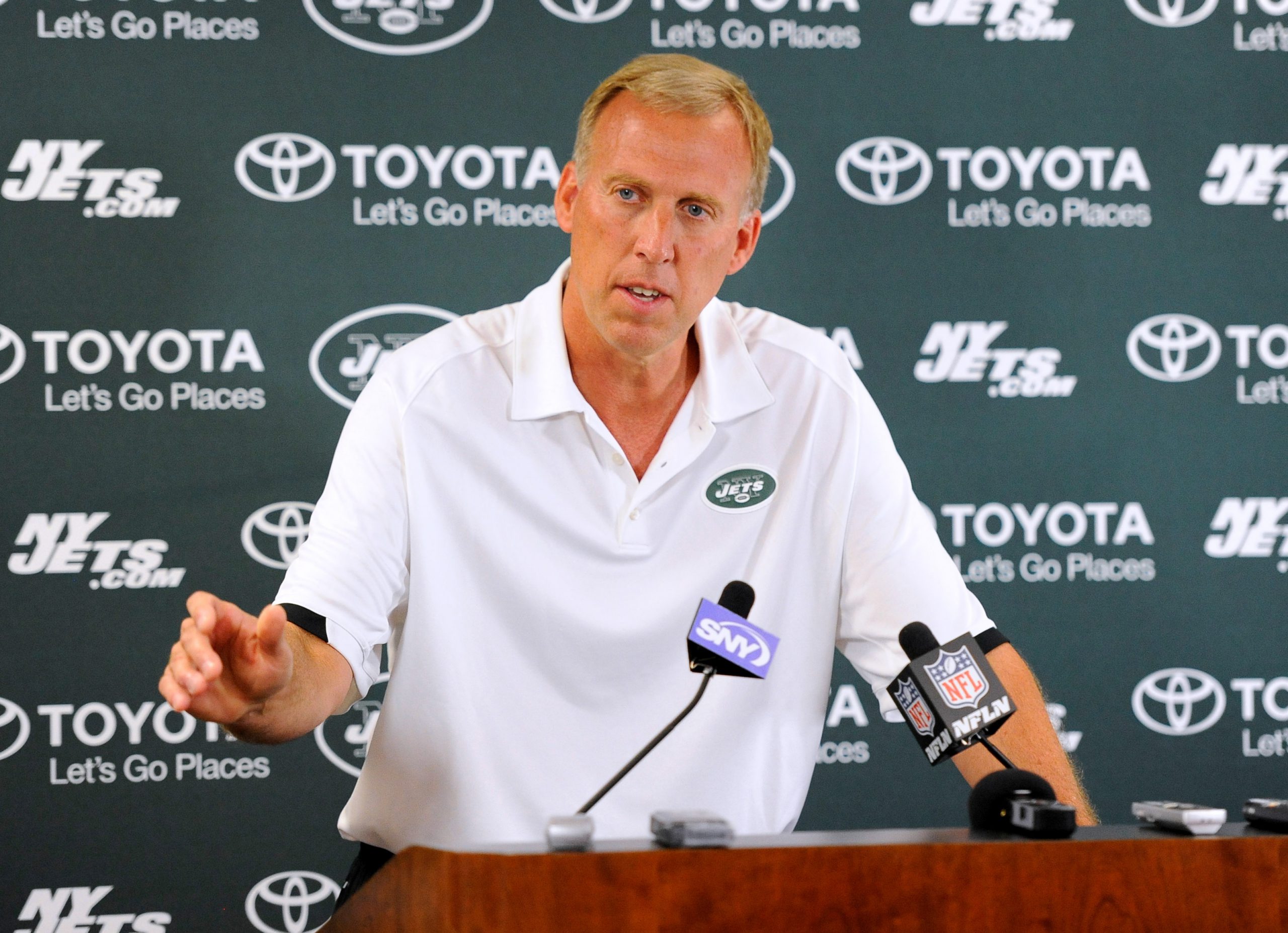 By Glenn Naughton
Just when you think former Jets GM John Idzik has been gone long enough to be forgotten, you take a peek at those Jets players scheduled to become free agents this off-season, combined with those who have already or are expected to be departing, and the numbers are just mind-boggling.
In two drafts as Gang Green's GM, Idzik had a whopping 19 draft picks, led by the 12 picks he had in his second and final shot at re-building the Jets.
Now, just three years  later, it's not beyond the realm of possibility that of the 19 players Idzik selected, 17 of them could be playing elsewhere next season, or be out of the NFL entirely.
Here's the complete list of Idzik's 19 draft choices and how they fared after being chosen as part of the Jets future:
2013
CB Dee Milliner- Alabama – 1st round (9th overall)- Milliner spent three full seasons with the Jets, with most of his time coming on injured reserve as he played in just 21 of a possible 48 contests.  Milliner showed some promise in the final month of his rookie season and on one or two occasions after that, but he could never stay healthy.  He was waived by the Jets before the start of the 2016 season and hasn't latched on anywhere else.
Outlook: Out of NFL
DL Sheldon Richardson- Missouri – 1st round (13th overall)- Richardson's selection is the icing on the Idzik cake.  His best draft choice as a GM as Richardson has consistently displayed elite physical ability, but head-scratching off field decision-making.  He has been suspended for drug use and an off-season incident in which police found drugs, a gun and a child in a car that Richardson was driving in excess of 140 MPH.  The Jets exercised Richardson's 5th year option, but it's believed he'll be on the move before the draft as the Jets already attempted to unload him to the Dallas Cowboys this season.
Outlook: Talented player, likely a former Jet in coming months. 
QB Geno Smith – West Virginia – 2nd round (39th overall)- Smith is due to become a free agent this off-season and the Jets will be more than happy to part ways with the under-achieving quarterback.
In 33 career games (30 starts), Smith piled up an eye-popping 45 turnovers (36 INT's, 9 lost fumbles) while twice being voted the NFL's worst starting quarterback.  Smith didn't do himself any favors with his off-field conduct either.  Incidents in which he had his jaw broken by a teammate and making obscene gestures towards the team's paying customers were just a couple of things Smith will be remembered for in his time with the Jets.
Outlook: A bad pick made worse by the fact that Idzik would later pass on Oakland QB Derek Carr because of his faith in Geno.  Smith has said publicly that he has too much talent to be a back-up quarterback.  We'll know in a few short months if NFL coaches and GM's agree.
RG Brian Winters – Kent State – 3rd round (72nd overall) – Recently re-signed to a 4-year deal worth just under $8 million per season, it took Winters a few years, but in the fourth and final year of his rookie contract, he "got it".  He plays with a mean streak that sometimes hurts him, and his consistency is still lacking, but after struggling for his first three years, his solid play in 2016 was a pleasant surprise for Jets fans.  He now becomes a key part of the Jets' long term plans.
Outlook: One of Idzik's few hits that took four years to materialize, Winters is locked up for the next four years.
OG Oday Aboushi – Virginia – 5th round (141 overall) – Aboushi played in 10 games as a Jet in 2014 and appeared to be on the upswing with the organization.
However, the new brass didn't appear to be all that impressed with the Virginia product and had him working with the 3rd string offense in training camp.
Aboushi was eventually cut loose after being arrested for driving with drug paraphernalia in plain view in his vehicle.  He has since caught on with the Houston Texans where he has started 8 games in 2 years.
Outlook: Spent one season with the Jets and appears to be a career back-up.
OG William Campbell – Michigan – 6th round (178 overall)- Campbell never took a single regular season NFL snap.  Spent time in camps with the Jets, Bills, Titans and Packers.
Outlook: Out of football
FB Tommy Bohanon – Wake Forest – 7th round (215th overall)- An inconsistent blocking fullback, Bohanon will still go down as one of Idzik's best picks based simply on the fact that he was taken in the 7th round and appeared in 36 games before being let go. Bohanon had 20 carries for 67 yards in his time with the Jets.
Outlook: A hard worker, Bohannon played a thankless role but didn't make enough of an impression to stick with the Jets, or to get picked up once he was let go.
2014
SS Calvin Pryor – Louisville- 1st round (18th overall) – More often than not, it's just plain foolish to sit around and play Monday morning quarterback after any draft, but this is one case in which there is some merit.  Similar to the time many years ago when the Jets passed on safety Ed Reed in favor of linebacker Bryan Thomas, you would have been hard pressed to find a Jets fan who wasn't in favor of Gang Green taking one of the many uber-talented wide receivers in this draft in the first round.  Clearly, Idzik saw it differently and chose a run-stopping safety in a pass-first league.
Pryor was a disaster in year one as he was often forced in to coverage as Idzik didn't place any real emphasis on building a secondary going in to the season.  Many expected Pryor to become a new player under Todd Bowles, and while he did show some improvement in year two, he wasn't nearly good enough to justify the 18th overall pick.
In 2016, Pryor regressed to his rookie form.  He didn't have an interception a sack or a forced fumble, his tackling was sloppy, and all of the big hits Jets fans were expecting from the "Louisville Slugger" have been few and far between.
Outlook: There's no way of getting around it, Pryor was a huge disappointment in 2016.  If the Jets don't see significant strides next season, he may be out of the picture.
TE Jace Amaro – Texas Tech – 2nd round (49th overall)- Amaro did very little as a tight end as a rookie.  He struggled mightily with
drops, and with the exception of one strong showing against the Denver Broncos in which he had 10 receptions, he averaged two receptions per contest.
Cut loose earlier this season by Mike Maccagnan and company, Amaro latched on with the Tennessee Titans and produced 3 catches for 59 yards in 3 games.
Outlook: Surprisingly ineffective given his frame and college production, the Amaro pick made some sense at the time, but as with most Jets second-round picks, turned out to be a bust.
CB Dexter McDougle – Maryland – 3rd round (80th overall)- McDougle was making some noise early on during his rookie campaign when there were whispers that he may win a starting job at cornerback.  As encouraging as that was, it was more a reflection of the lack of quality players at the position than it was of McDougle's skill level.
After being waived prior to this season, McDougle spent some time on both the practice squad and the active roster in 2016.  Like Milliner, he has missed large chunks of time due to injury since coming on board.
Outlook: Despite need at the position and his knowledge of their defensive scheme, McDougle was passed over by rookies and street free agents before being added to the roster this season.  Given how sparingly he was used on a defense whose secondary was one of the worst in the NFL, it wouldn't be surprising at all to see the Jets move on from the former 3rd rounder who has yet to start a game.
WR Jalen Saunders – Oklahoma – 4th round (104th overall) – Idzik's quickest bust.  In a draft that was absolutely loaded at the wide receiver position, the first one Idzik chose was Jalen Saunders, an undersized punt returner out of Oklahoma who was off the roster within a month of his rookie year.  He spent time with four different teams that season and hasn't been heard from since.
Outlook: With WR being one of the team's biggest needs at the time of the draft, Saunders was taken in the 4th round and was off the roster in months, and out of the NFL after the season.  Easily one of Idzik's worst choices.
WR Shaquelle Evans – UCLA – 4th round (115th overall) – Doubling down on the Saunders debacle, Idzik went with another wide receiver just 11 pciks later when he chose Shaq Evans who would spend his rookie season on IR before being let go.  He has spent time on practice squads with the Jaguars and Cowboys, but is yet to appear in an NFL game.
Outlook: Idzik had Saunders rated above Evans, so at least he was right about something.  Saunders was on the Jets' active roster for a few weeks before fading in to oblivion.  Evans has yet to suit up in three NFL seasons.
OG Dakota Dozier – Furman – 4th round (137th overall) – Still on Gang Green's active roster, Dozier saw some time at the end of 2016 and held his own.  Despite his laid back demeanor off the field, Dozier will get feisty between the lines and mix it up a little bit.  He aslo shows good agility for a man his size.
Outlook: Dozier has been around a bit too long to say the "jury is still out", but in his case, it is.  This regime liked him enough to keep in on the active roster last season despite the fact that they clearly didn't think he was ready to play.  When he did get on the field late in the season, some of his skills were impressive.
LB Jeremiah George – Iowa State – 5th round (154 overall) – The George pick made no sense from day one.  He was too small to play in the Jets' scheme and never took a snap before being cut.
Outlook: Since being let go by the Jets, George has played for the Jaguars and Buccaneers, appearing in 15 games, logging 4 tackles.  Another wasted pick.
CB Brandon Dixon – NW Missouri St. – 6th round (195 overall)- Another Idzik pick that never saw the field as a Jet.  Dixon was cut before the start of his rookie season.  He saw the field in 14 games as a rookie with the Tampa Bay Bucs but has been a practice squad player since then.
Outlook: Add Dixon to the list of picks who never played a snap for the Jets before bouncing around on a few practice squads.  Dixon is currently on the practice squad for the Steelers and hasn't played an NFL snap in 2 years.
WR Quincy Enunwa – Nebraska – 6th round (209th overall) – One of Idzik's few hits in his two seasons with the Jets, but his previous picks tell us that the former GM thought more of Jalen Saunders and Shaq Evans…yikes.
Outlook: Will likley go down as Idzik's best draft choice.  The third receiver he chose after a pair of guys who have never started an NFL game.
LB IK Enemkplai – La. Tech – 6th round (210th overall) – A project pass-rusher out of Louisiana Tech, Enemkpali flashed some ability coming off the edge as a rookie, but was abruptly let go following a locker room altercation with a teammate last season.
Outlook: Enemkpali looked to have the ability to get on the field as a situational pass rusher in the league, but that simply hasn't been the case as he has yet to log a sack in 17 NFL games over 3 seasons.
QB Tajh Boyd – Clemson – 6th round (213th ovearall) – An uber productive college QB, Boyd couldn't stop throwing interception after interception in camp as a rookie and never saw the field as a Jet before being let go.
Outlook: Boyd is another name on a long list of Idzik choices who never played, although Rex Ryan deserves plenty of blame on this pick as well.  Enamored with Clemson products as his son was a walk-on wide receiver at the school, he lobbied heavily for Boyd.
OLB Trevor Reilly – Utah – 7th round (233rd overall) – The last of Idzik's 12 picks, Reilly hung around for a little while as a special teams standout, but never showed much on the field in the few opportunities he was given.
Outlook: Not a terrible pick based on how late he was taken and what he brought to the table on special teams, but another Idzik choice who wasn't worth hanging on to beyond a couple of seasons.
There you have it folks, the final count for John Idzik, who was at the helm for just two seasons, looks like this:
Players chosen: 19
Currently on Jets Roster: 7
Players w/ zero NFL Starts: 9
Played zero snaps w/ Jets: 5
Started fewer than 4 games w/ Jets: 12
Expected off-season departures: 2
Likely Idzik choices remaining on 2017 roster: 5
Projecting five of Idzik's 19 choices to remain may be a bit generous.  Geno Smith is all but gone and the team is expected to move Sheldon Richardson, which would bring the total to five.  However, Calvin Pryor and Dexter McDougle could just as easily be on their way out of town as well.  If so, that would leave Brian Winters, Dakota Dozier and Quincy Enunwa as the last three remaining players of Idzik's 19 draft choices.
If Pryor and McDougle do return, the most likely scenario is that after just four seasons, the Jets will have three starters (Winters, Pryor and Enunwa) to show for what should have been a re-stocking of the roster for years to come.
We knew it was bad, but when you break it down choice by choice, it's a whole lot worse.
Thanks, John Idzik.
Videos
Aaron Rodgers Injury Fallout & Jets/Bills Recap