Featured Editorials Home Slider
What Could 2017 Quarterback Carousel Mean for Gang Green?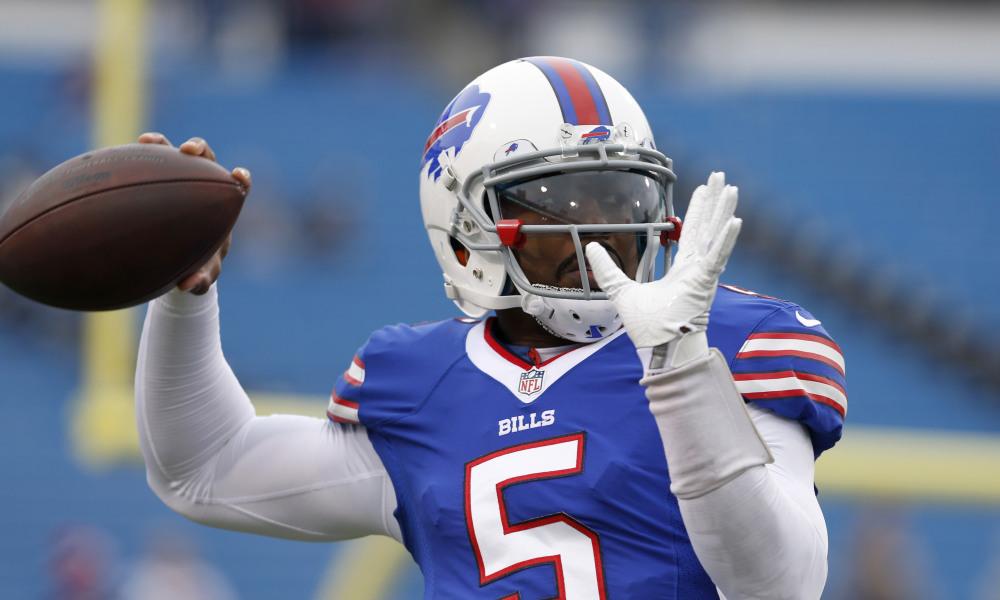 By Glenn Naughton
Heading in to the NFL draft with a top-10 selection is often the only silver lining for those teams and fans who suffered through a long, miserable losing campaign.  The reward is supposed to be an opportunity to choose one of the top players in the country, preferable at a position that fills a gaping hole on your 53-man roster.  This is precisely why many Jets fans are lamenting the team's 2017 draft position.
Fresh off their own 5-11 disaster of a season, the Jets two biggest needs are at quarterback and left tackle.  Two positions that pundits and insiders predict won't yield a player at either position worthy of the sixth overall pick, currently held by the Jets.
In off-seasons past, this would mean acquiring a low-level journeyman (Hiya, Fitz), or starting an unprepared, and possibly immature younger quarterback (Geno Smith).
This off-season has the potential to be very different.
Many teams are looking to move on from their current quarterbacks and free agency may also give the Jets an opportunity to make a significant upgrade at the position, allowing the Jets to finally put a veteran quarterback under center who is game-tested at the pro level and gives them something better than the bottom-10 production they've had for much of the last decade.
Some of these names are already being linked to the Jets as a possible destination by league insiders.
Tony Romo: Let's get this one out of the way.  Despite the wishes of a segment of some Jets fans, this isn't happening.  Romo's birth certificate may put him at 37, but in football years he's closer to 60.  Even if that weren't the case, Romo will have some say in where he goes and he'll want to go to a team with a stellar offensive line and defense.  Neither of which is the case with the Jets.
Alex Smith: Andy Reid has wavered a bit regarding Smith's future in Kansas City.  There are rumblings out of Kansas City that Andy Reid may be prepared to move on from Smith and either give his former draft pick with the Eagles, Nick Foles a shot, or perhaps even make a run at Cowboys current quarterback Tony Romo as suggested by both Adam Schefter and Peter King.
Over his past six pro seasons, Smith's teams have a combined record of 60-25-1 on the strength of is 106 TD's to just 38 interceptions.  In four of those six seasons, Smith has also completed at least 65% of his passes.
In six post-season starts, Smith is 2-4, with offensive production being very good more often than not.  Smith's offenses have put up point totals of 36, 17, 44, 30, 20 and 16, leading to a 2-4 record in some contests that saw the Chiefs get little help on defense.
Tyrod Taylor: Taylor's future in Buffalo looks to be up in the air as the Bills are reportedly mulling the possibility of parting ways with the veteran who has been their starter for each of the past two seasons.  Taylor says he has yet to hear from the Bills on his current contract situation.
A virtual unknown before being named Buffalo's starter by the since-fired Rex Ryan, Taylor has tossed 37 touchdowns to 12 interceptions in those two seasons, while completing 63% of his passes.
As a dual threat, Taylor has also posted 1,148 yards and 10 scores on the ground.
Taylor has been the beneficiary of one of the league's top rushing attacks with Shady McCoy and a host of others pounding opposing defenses, but he's also done it with extremely limited options in the passing game.
Mike Glennon: An unrestricted free agent, Glennon finally gets the opportunity to compete for a starting job after being railroaded in Tampa Bay by Bucs former head coach Lovie Smith.
After a strong rookie season, Glennon was anointed the team's QB of the future by head coach Greg Shciano, before he was abruptly benched by the newly hired Lovie Smith.
Despite his solid production and outplaying the quarterbacks in front of him on the roster, Smith refused to give Glennon a shot.
Currently expected to command $13-15 million per year, Glennon has a 2-1 career TD/INT ratio at 30-15.
Jay Cutler: The Bears are rumored to have some interest in Glennon in favor of Cutler who would is a disaster waiting to happen.  After a season in which Todd Bowles lost his locker room, the team is reportedly placing emphasis on improving the leadership, don't expect Cutler to come to the Jets.
Would Jay Cutler be an upgrade over Bryce Petty and Christian Hackenberg?  Yes.  Would it be worth the drama and eventual implosion?  No.
Nick Foles: Alex Smith's back-up in Kansas City, Foles is set to make $10 million next season which is a lot of coin to carry a clipboard. Three years ago Foles set the league on fire (27 TD's-2 INT's) in Chip Kelly's gimmick offense before defenses caught up with it the following season.  Playing behind an offensive line in shambles, Foles should have qualified for hazardous duty pay as he took a beating on a weekly basis.  Never able to find a rhythm behind his shaky line, Foles came back down to earth  and threw 13 TD's to 10 INT's in his 8 starts.
Foles spent the following season with the Rams where he would eventually lose his job to Case Keenum after leading a highly ineffective Rams offense.
Back with Reid and the Chiefs last season, Foles saw action in 3 games (1 start), completing 65.5% of his passes on 55 attempts, throwing 3 TD's without an interception.
While few of the options listed above would be anyone's first (or second, or third, or fourth, etc) choice to start a franchise with, they're all infinitely better than the likes of Geno Smith, Ryan Fitzpatrick, Bryce Petty or, in all likelihood, Christian Hackenberg.
Videos
Aaron Rodgers Injury Fallout & Jets/Bills Recap