JetNation.com Mock Draft v1.0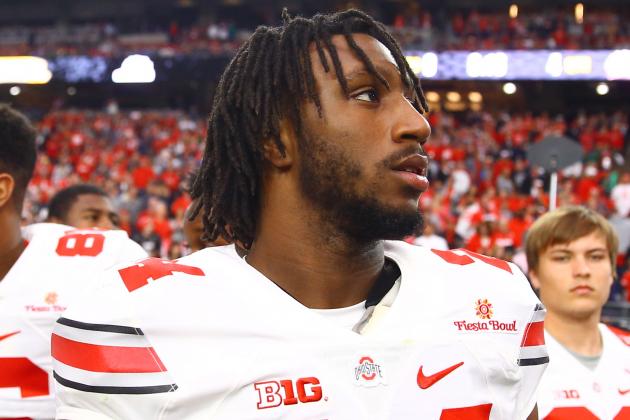 By Glenn Naughton
Last season JetNation.com resisted the temptation to do a Jets mock draft every twenty or thirty minutes as some sites seem to do, and we published just one in the days leading up to the draft.  This season, we'll take  a stab at one pre-combine mock, and one post-combine mock.
Last year's mock draft, which you can find here, missed the mark on all but one player, Juston Burris, who we thought would still be around much later in the draft (7th round), than where the Jets actually chose him with the 20th pick in round 4.
So with last season's swings and misses behind us, armed with more information that last year, we bring to you, JetNation.com's first mock draft of the 2017 offseason.
ROUND 1:
FS Malik Hooker, 6′ 2" 205, Ohio State University: 
Remember, this a pre-combine mock draft, so if any prediction will change between now and the draft, it's the first round pick, where the Jets would love to snag a quarterback if one emerges during the pre-draft process.  There's also the possibility that the Jets sign a veteran free agent such as Mike Glennon or Tyrod Taylor, should he shake loose in Buffalo, filling the void at QB.
For now, we're going to assume that Mike Maccagnan goes with the best player available with the sixth pick as he did years ago with Leonard Williams, and that player could very well be Malik Hooker.  Hooker didn't see the filed very much at Ohio State until last season when he intercepted 7 passes, returning 3 for touchdowns.  Clearly a playmaker on rise.
Hooker consistently showed excellent instincts and break on the ball.  Right now, the Jets secondary is an absolute disaster and the re-build of that unit has to be among Maccagnan's top-3 priorities this offseason.
ROUND 2: 
OT Garrett Bolles, 6′ 5" 296, Utah
If Bolles impresses teams at the combine during his workouts and interviews, he could vault himself into the first round, but if he's there for the Jets, he should be the pick.
Along with quarterback and the secondary, left tackle should round out Maccagnan's top-3 priorities, and Bolles is a physically gifted player who shows excellent agility and tenacity at the point of attack and beyond.
Several outlets have reported Bolles' several run-ins with the law early in his career, but he took a couple of seasons away from football and seems to have matured since getting married and having a child.  The biggest knock on Bolles might be his age (24), but that's not something that would prevent him from playing a decade or so of quality football in the NFL.  His agility and tenacity would be a welcome addition.
ROUND 3: 
C Ethan Pocic, 6′ 6" 307, LSU
As admirably as Wesley Johnson filled in for the injured Nick Mangold last season, the Jets still need to get better at the pivot and Pocic would allow them to do just that.
Like Bolles, Pocic shows excellent intensity, plays with a mean streak and has the physical tools to play multiple positions, having lined up at right guard for nine games with LSU.
Bolles and Pocic could complete the team's youth movement up front, with Brandon Shell, who was drafted last season, being the early favorite to win the right tackle job next year.
If Pocic is off the board here, Baylor center Kyle Fuller is the name on the Jets draft card.
Round 4 (Comp pick): 
CB Ahkello Witherspoon, 6′ 2" 195, Colorado
Continuing to address their beleaguered secondary, the Jets snag a player whose stock rose steadily throughout the course of the 2016 college season.
Just a few short months ago, Witherspoon carried a projected 7th round grade from CBSSports.com, but his stellar play (26.5% comp pct allowed) has him currently listed as a 4th round projection.
According to NFL.com, Witherspoon has strong footwork as a result of playing a lot of soccer in his youth, which will help him match up with some of the quick-footed receivers he'll face at the pro level.  Being a 6′ 2" cornerback won't hurt his case either.
Round 5: 
TE Adam Shaheen, 6′ 5" 277, Ashland
A small school product out of Ashaland, Shaheen put up big numbers in college, catching a record setting 70 passes to go along with 10 touchdowns.
With a lack of playing time against big-time programs, Shaheen will likely be overwhelmed early on in the NFL, but if he puts in the time and effort, he has the physical tools to be a legitimate weapon for any offense.
Per NFL.com, one scout had this to say when asked about Shaheen:
"I watched him for two games and turned the tape off because I want to see him live in Indy before I develop any more of an opinion of him. I saw some things that has me very excited." – AFC pro personnel director
The gaping hole at the Jets currently have at tight end makes the position another priority, and Shaheen could be the player to fill a void that's been present for much of the past decade.
Round 6:
OLB Ryan Anderson, 6′ 2" 258, Alabama
New Jets linebackers coach Kevin Greene will likely have the opportunity to develop some young outside 'backers who have proven they can get to the quarterback, so a player like Anderson is a good candidate.
A disciplined player who appeared in 44 games for Nick Saban's Crimson Tide, Anderson logged 19 sacks and 39.5 tackles for loss and six forced fumbles.  Expect that production to be placed under the microscope by skeptics who site a stacked Alabama defense that will often leave pass-rushers being blocked one-on-one.
Much like Greene, Anderson plays with a high motor and has the pedigree to succeed as a pro.
Round 7: 
WR Fred Ross, 6′ 2" 207, Mississippi State
More offense for the Jets who may be looking to move on from either Brandon Marshall or Eric Decker, or both.  There is some good young talent at the position with Quincy Enunwa, Robby Anderson, Charone Peake, Jalin Marshall and Devin Smith, but only Enunwa has proven that he can play in the pro's.
Ross would give the Jets a taller target who has displayed incredible hands at times and who also has experience as a punt returner (38-315-8.3).
Mississippi Sate used Ross primarily out of the slot, but he was also asked to line up outside over the course of his career.  He would give the Jets another versatile young receiver to compete for playing time while potentially filling a void at punt returner.
So there you have it.
Between now and draft day, there will be risers and fallers as interviews, medical reports and workouts may change the expectations for a slew of prospects, and that's when we'll rack and stack them again to make our best effort to get inside the heads of Gang Green's brain trust.
Videos
New York Jets OTA Presser Takeaways, Aaron Rodgers' Impact and Summer Delusion