Featured Editorials Home Slider
Shel-DONE? Potential Richardson Deal puts Maccagnan in Tough Spot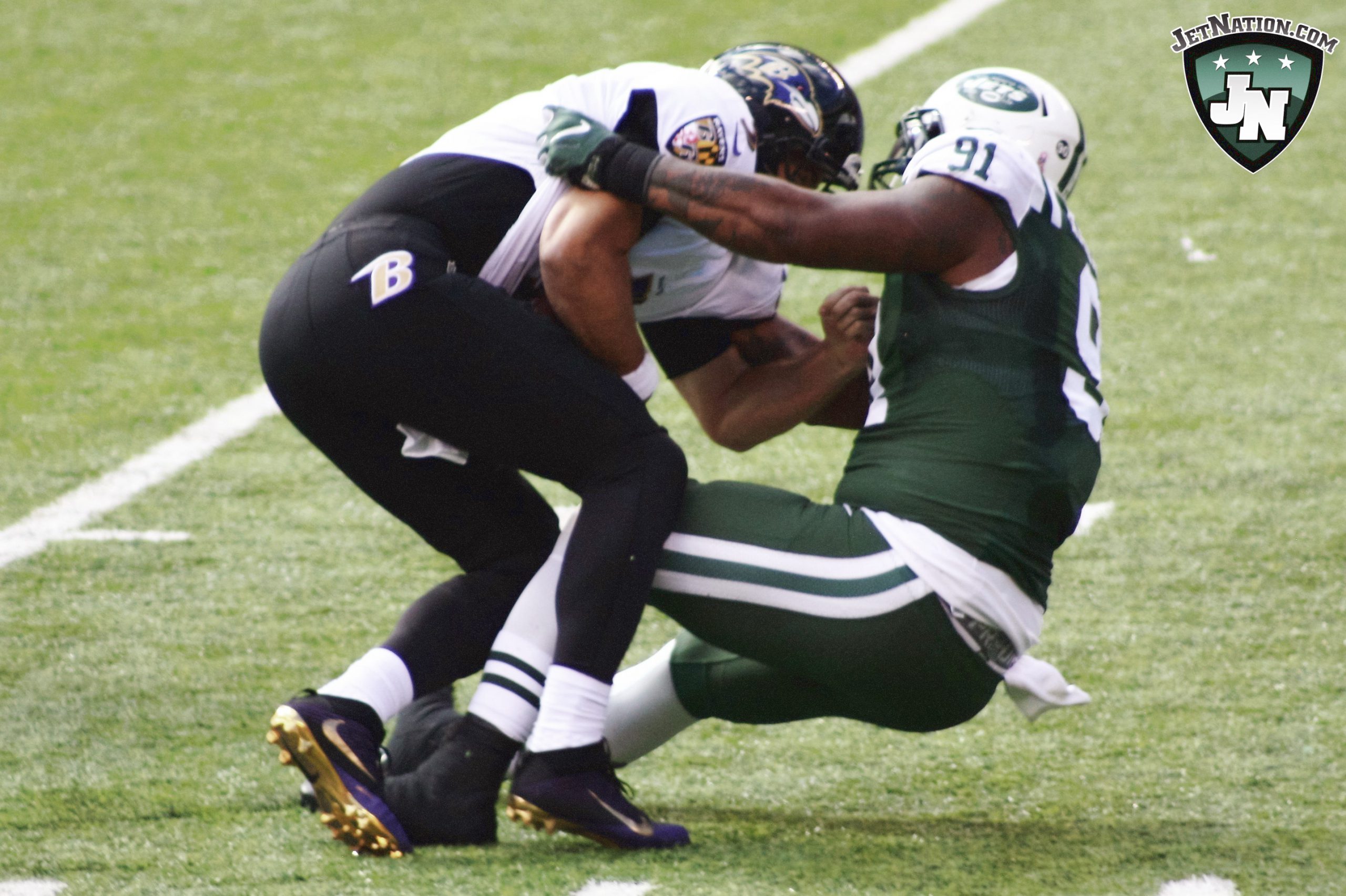 By Glenn Naughton
When New York Jets defensive lineman Sheldon Richardson blew onlookers away with his outstanding performance during his 2013 rookie season, leading to his being named defensive rookie of the year, Jets fans had visions of the big man dominating offensive linemen for the next decade.
It didn't take very long however, for Richardson to draw the ire of Jets fans in the years that followed as he found himself suspended for drug use.  Then again for taking a wild ride in the wee hours of the morning in Missouri, leading police on a chase that saw Richardson top 140 MPH with what turned out to be a loaded weapon and young child in the car.
There have been a smattering of less damning incidents since that time, such as being benched for a quarter of play due to missed meetings and a personal video on a teammate's social media account in which he used disparaging language towards women.
All of this while his on-field production has slipped, as Richardson has gone from 84 tackles and 11 1/2 sacks in his first two years as a pro, to 58 tackles and 6 1/2 sacks in the 2 seasons since.  Finding reasons for the decreased production isn't very difficult at all.  First of course, is the suspensions that have cost him valuable game time.  Then there's the way he's been utilized by head coach Todd Bowles.
Lining up on the outside of the defense at linebacker or at defensive end, spots for which Richardson is not best suited, has made his opportunities to make plays have been few and far between.  One thing that has not suffered in the face of adversity is Richardson's effort, and that's what makes moving him such a delicate situation for Mike Maccagnan.
As the General Manager, it is of course Maccagnan's job to acquire and retain talent, not to export it for less than the value it brings, but that's exactly what many are speculating he'll be forced to do this off-season.
In Richardson, Maccagnan is essentially the owner of a high-performance sports car, but looking to trade it in because one day it might not run as smoothly as he'd like.  He knows Richardson is worth every penny of his blue book value when things are humming along, but those coming to the negotiating table will likely be offering a small fraction of his true first-round value.
When considering Richardson's financial situation, there's plenty of reason to believe he'll play at a high level this season and beyond.  He has never made any bones about money being what motivates him to play at the level he does.  With this being the final year of his rookie deal, he'll be looking to cash in, so the non-stop motor will be revving higher than ever.  The Jets would also have the option to franchise tag Richardson after this season if a long-term deal can't be reached.
In all likelihood, Maccagnan will deal Richardson to the highest bidder, probably a 3rd round pick, and hopefully one that will become a 2nd rounder based on Richardson's on-filed performance.
As is sometimes the case with the Jets and their first round draft choices, even when they get it right, something goes wrong.
Most recently it was future Hall-of-Famer Darrelle Revis who forced his way out of town years ago with his outrageous contract demands, and now another elite defender, Richardson, who has had one too many appearances on the police blotter and is one incident away from a more lengthy suspension.
That's something that suitors for Richardson's services will hold over the Jets' heads come negotiation time.  Maccagnan's options will be to ride it out with a highly talented but equally risky young player, or get taken out to the woodshed and unload a first-round talent, for what amounts to a third-round lottery ticket.  Looks like Maccagnan may have no choice but to "dare to dream".
Videos
Aaron Rodgers Injury Fallout & Jets/Bills Recap