Deducing the Jets Draft Board, Part 1: Tyus Bowser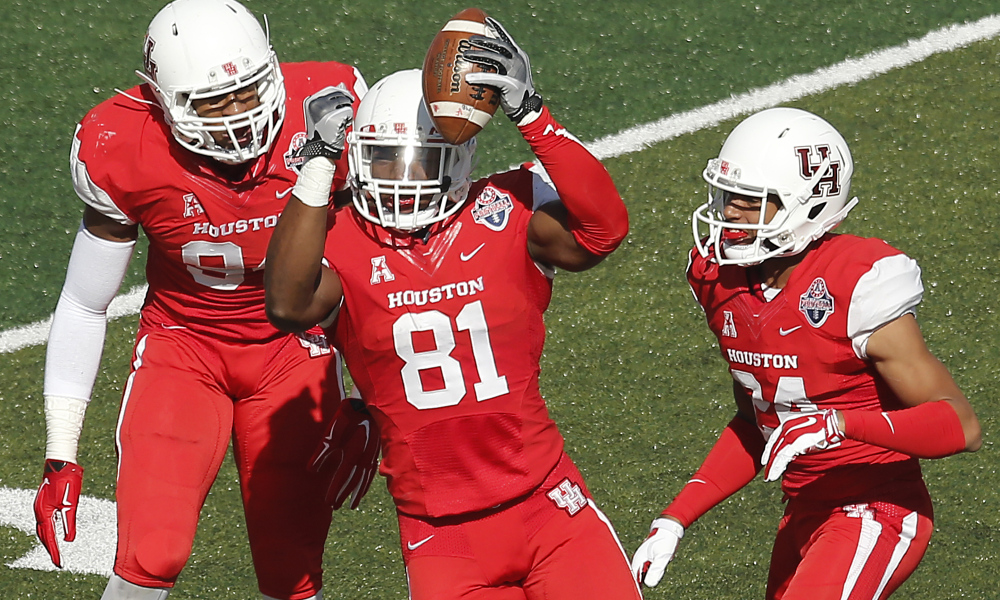 By Glenn Naughton
With the NFL combine under way in Indianapolis and the draft just a couple of months away, mock drafts will be flooding all of your favorite sports sites at an even more ridiculous rate than they have over the past few weeks.
While it's always fun to sit back and play armchair GM, trying to predict each of your team's picks, doing so accurately is impossible.
However, that doesn't mean you can't do a little bit of digging to give yourself a better idea as to not only who they're watching right now, but who they've had under the microscope for several months.  Luckily for Jets fans, we've done the digging on Gang Green, and over the course of the next few weeks will be sharing some names of players the Jets have shown a significant interest it.
This won't be based on rumors or speculation, but on certain criteria that must be met:
Did the Jets dispatch members of their scouting department to at least one of the player's games during the 2016 season?
Did the Jets dispatch members of their scouting department to at least one of the player's practices during the 2016 season?
Did the Jets conduct at least one interview with the player?
Did the player participate in the Senior Bowl?  (Mike Maccagnan has drafted several senior bowl participants in his first two seasons)
Does the player fill a need for the Jets?
If all of those questions have a "yes" answer, it's safe to say the interest shown by the Jets is legitimate, or at least noteworthy.
The first player we'll profile who has met all of the above criteria is University of Houston outside linebacker Tyus Bowser.
It's no secret that one of the Jets biggest needs for over a decade now has been the presence of a game-changing pass rusher coming off the edge, a commodity they've not had since the days of John Abraham.  While the 6′ 3" 244 lb Bowser may not yet possess the  unbelievable first step that Abraham, a former first pick had, he does have many traits coveted by NFL teams.  So much so, that he's a candidate to shoot up draft boards following the combine in Indy.
While Bowser's quick twitch and explosiveness off the edge will be what draws teams to him initially (8.5 sacks in 8 games in 2016), it's his overall athleticism (played 2 years of basketball at Houston) and inexperience that could have him flying up draft boards.
A newcomer to the game, Bowser has been asked to not only rush the passer on a regular basis, but to drop back in to coverage to stick with opposing tight ends, a trend that continued at the senior bowl according to Houstontexans.com.
At times this week, Bowser has been called upon to match up in coverage with the likes of Alabama tight end O.J. Howard. While rushing the passer will be his main objective in the pros, showing off the ability to drop into coverage has been important to him as well.
Bowser only managed to grab two interceptions in his time at Houston, but his mix of skills has landed him on the radar of plenty of teams, not only the Jets.
After speaking with evaluators at the Senior Bowl, I feel confident in saying that UH OLB Tyus Bowser will go no later than the 3rd round.

— Lance Zierlein (@LanceZierlein) January 25, 2017
As is the case with any prospects, with the good, there comes the bad.  So while Bowser may have made a name for himself over the course of his final two seasons at Houston, picking up 14.5 sacks to go along with 19 tackles for loss in  22 games, there is at least one off-field red flag, and some concerns about his ability to hold up against the run.
The 8.5 sacks Bowser picked up in just 8 games in an impressive stat, but the reason for playing in just 8 games will likely require some explaining to NFL executives during the combine.  In a scene that will sound eerily familiar to Jets fans, Bowser missed time in 2016 when he had his orbital bone fractured in an altercation with a teammate.
Reports following the incident indicated that the altercation was a "freak" occurrence, and was just two highly competitive players letting things get out of hand during a family event in which teammates were competing against one another in a variety of games.  Both players expressed remorse after the incident and continued to pay alongside one another as the season moved on without any known issues.
At 244 pounds, there are some who will worry about Bowser's ability to hold up on the edge against NFL linemen, so don't be surprised if whoever takes the linebacker asks him to add some weight to his frame.  He has however, managed to show enough improvement to impress at least one AFC scouting director according to NFL.com.
"His tape from last year and this year are way different. He's getting better. There will be some teams who miss him because their scouts are too lazy to keep an open mind that they will have written him off. He will be an early NFL starter. Watch." — AFC Scouting Director
The University of Houston hasn't been a traditional powerhouse, but they have been a program that has risen high enough to be nationally ranked at times over the past few seasons, and a big reason for that has been the play of Bowser, who says the groundwork that was laid by himself and his teammates has a great deal of meaning to him.
Now, like so many others, he awaits the NFL draft and the opportunity to begin a new legacy as a pro, possibly, as a New York Jet.
Interested in some Bowser highlights?  Click here.
Videos
Aaron Rodgers Injury Fallout & Jets/Bills Recap