Jets set to Host Pair of Free Agents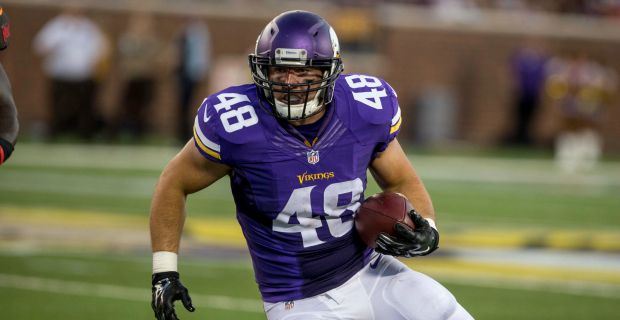 By Glenn Naughton
Continuing to shop in the bargain bin (and rightfully so), the Jets are reportedly hosting a pair of free agents in an effort to fill some needs on both offense and defense.
First up is former Minnesota Vikings fullback Zach Line, a 6′ 232 pound fullback out of Southern Methodist University where he rushed for over 1,600 yards in 2011 despite missing three games.  However, lacking the skills required of an NFL running back, Line has spent four seasons as a lead blocker for the Vikings and graded out at a respectable 75.9, good enough for 12th in the NFL, by ProFootballFocus.com.
Having gone through the majority of last season without a fullback on the roster, Line would clearly be the favorite to win the job should the Jets sign him to a deal.
Fullback alert! Zach Line is headed to visit the #Jets, source said. Spent past four seasons with #Vikings.

— Tom Pelissero (@TomPelissero) March 15, 2017
Also expected to check in at Florham Park is former Tampa Bay Buccaneers DE/OLB Howard Jones who has also spent time with the Pittsburgh Steelers.
In his pro season in 2015, Jones was good enough to pick up five sacks in limited action (only five starts) but was shelved for the season at the half-way point in 2016 due to an ACL injury.
A raw player out of Shepherd University in West Virginia, this is how NFL.com described him prior to his attendance at the NFL combine:
BOTTOM LINE
Lean, explosive, highly athletic rush linebacker prospect who overwhelmed inferior tackles at the Division II level and has clear developmental value and upside potential. Best deployed with pinned ears and see-ball, get-ball instructions, Jones is raw, but has enticing speed and crude pass-rush ability for a patient, positional coach to mold.
Clearly some of that potential was realized prior to his injury, so the Jets are doing the right thing in kicking the tires on a young pass-rushing prospect.
Videos
Was Boomer Right to Blast Becton? Former Jets QB Sounds off Against Jets Tackle.