Deducing the Jets Draft Board, Part 5: Michigan CB Jourdan Lewis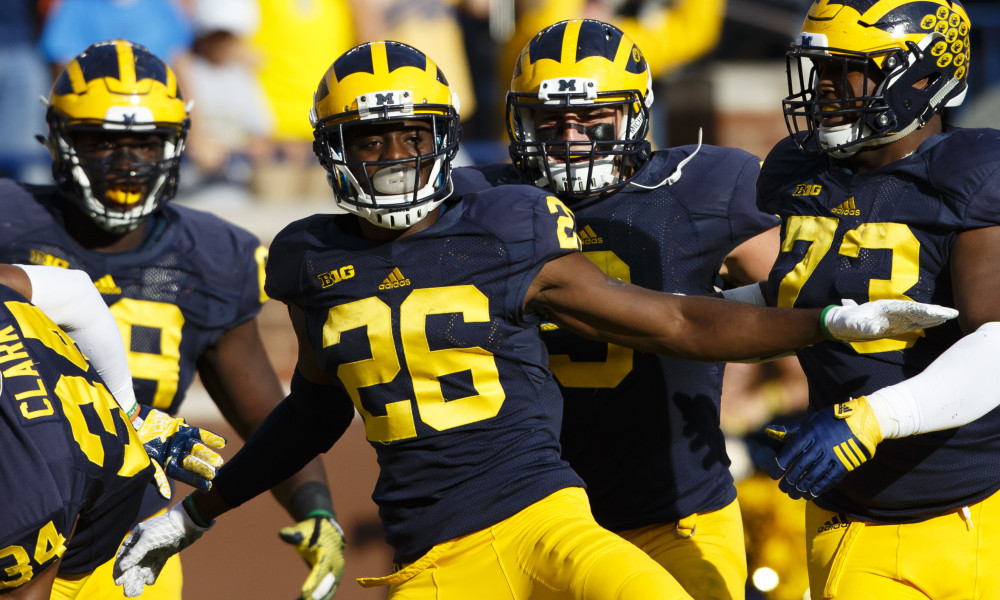 By Glenn Naughton
With the NFL combine behind us and the draft just around the corner, mock drafts will be flooding all of your favorite sports sites at an even more ridiculous rate than they have over the past few weeks.
While it's always fun to sit back and play armchair GM, trying to predict each of your team's picks, doing so accurately is impossible.
However, that doesn't mean you can't do a little bit of digging to give yourself a better idea as to not only who they're watching right now, but who they've had under the microscope for several months.  Luckily for Jets fans, we've done the digging on Gang Green, and over the course of the next few weeks will be sharing some names of players the Jets have shown a significant interest it.
This won't be based on rumors or speculation, but on certain criteria that must be met:
Did the Jets dispatch members of their scouting department to at least one of the player's games during the 2016 season?
Did the Jets dispatch members of their scouting department to at least one of the player's practices during the 2016 season?
Did the Jets conduct at least one interview with the player?
Did the player participate in the Senior Bowl?  (Mike Maccagnan has drafted several senior bowl participants in his first two seasons)
Does the player fill a need for the Jets?
If all of those questions have a "yes" answer, it's safe to say the interest shown by the Jets is legitimate, or at least noteworthy.
To view previously previewed players, visit our draft section here.
Today we take a look at University of Michigan cornerback Jourdan Lewis.
In a class that boasts one of the deepest talent pools in recent memory, Lewis is a player whose name hasn't come up as often as one might expect, and it seems a major reason for that is his lack of height.  Checking in at just 5′ 10", Lewis reportedly grew agitated with teams continually pointing out his shortcomings during one-on-one interviews at the combine.
It would be hard to fault Lewis if he feels teams are overlooking his on-field performance, because he was nothing short of fantastic at Michigan.
According to NFL.com, Lewis surrendered just seven receptions last season for the Wolverines, allowing opposing quarterbacks to complete just 23.3% of the passes thrown his way while being credited with 42 passes defended in his college career.
Lewis may be just 5′ 10", but he plays bigger than that, using a combination of excellent timing to go along with his 34.5" vertical to make plays like this, easily one of the best of the college season.
Not the type of defender to make highlight reel hits, Lewis is a more than willing tackler with plenty of aggressiveness and sound fundamentals against the run.
Some view Lewis solely as a slot corner in the pro's, but he feels he can play on the outside as well and he voiced that in this interview during the senior bowl on the Jets official website.
It would be hard not to get excited with a pick of Lewis not only after watching him play, but based on the opinions of some talent evaluators, including one who had this to say about the cornerback according to NFL.com.
"If he were bigger he would go in the first round. Love everything about the way he plays. He's cocky and tough and doesn't take any (expletive) from anyone. And sub-package teams will love him because he won't kill you against the run." — Director of scouting for NFC team
As is the case with many prospects, there are some red flags with Lewis, perhaps the most damaging being accusations of domestic violence from his live-in girlfriend stemming from an incident in which she accused Lewis of "grabbing her by the neck" at one point and dragging her across the floor.  A police investigation determined there were no marks on her neck, but there was a scratch on her nose and one on her thumb.
When asked by police, Lewis claimed that any physical contact was  a result of him trying to leave a heated argument when his girlfriend grabbed him by the leg to stop him from going.  He did in fact leave the residence and was found and questioned by police that same night.
Lewis is currently projected to go as early as round 3 by CBS.com, a round in which the Jets have their own pick near the top of the round, and then a compensatory pick to close out the third round.
Videos
Aaron Rodgers Injury Fallout & Jets/Bills Recap