Deducing the Jets Draft Board, Part 6: Temple OT Dion Dawkins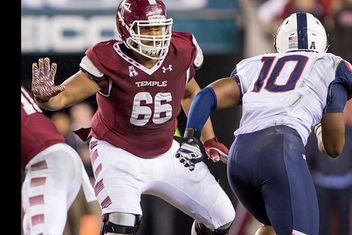 By Glenn Naughton
With the NFL combine behind us and the draft just around the corner, mock drafts will be flooding all of your favorite sports sites at an even more ridiculous rate than they have over the past few weeks.
While it's always fun to sit back and play armchair GM, trying to predict each of your team's picks, doing so accurately is impossible.
However, that doesn't mean you can't do a little bit of digging to give yourself a better idea as to not only who they're watching right now, but who they've had under the microscope for several months.  Luckily for Jets fans, we've done the digging on Gang Green, and over the course of the next few weeks will be sharing some names of players the Jets have shown a significant interest it.
This won't be based on rumors or speculation, but on certain criteria that must be met:
Did the Jets dispatch members of their scouting department to at least one of the player's games during the 2016 season?
Did the Jets dispatch members of their scouting department to at least one of the player's practices during the 2016 season?
Did the Jets conduct at least one interview with the player?
Did the player participate in the Senior Bowl?  (Mike Maccagnan has drafted several senior bowl participants in his first two seasons)
Does the player fill a need for the Jets?
If all of those questions have a "yes" answer, it's safe to say the interest shown by the Jets is legitimate, or at least noteworthy.
To view previously highlighted players, visit our draft section here.
Today we take a look at Temple offensive lineman Dion Dawkins.
As it stands today, the Jets have both their starting guards (James Carpenter and Brian Winters) locked up for the foreseeable future, and a player who they hope will hold down the right tackle spot for years to come in last season's fifth-round choice in Brandon Shell.
Kelvin Beachum  was signed to man the left tackle spot after struggling last season in Jacksonville, and Jonotthan Harrison was recently added to compete with incumbent Wesley Johnson at Center.  So while there should be some relative stability along the line, the Jets are still doing plenty of homework on potential draft picks, with an eye on those who may have the versatility to play inside or outside.  That's where Temple's Dion Dawkins comes in.
As mentioned above, Mike Maccagnan and the Jets tend to keep a close eye on Senior Bowl participants, which Dawkins was this season, and few players stood out the way he did.
A tackle in college, Dawkins was asked to move inside to play guard in the days leading up to the Senior Bowl and made a seamless transition, impressing many in attendance.  Former NFL GM Phil Savage, who runs the Senior Bowl, called Dawkins  the top performer on the offensive line, saying the he sees "pro bowl" potential for him as a guard.
Despite having played 40 games at left tackle for the Owls, guard is the spot most experts appear to be projecting Dawkins, but there are those who believe he can play guard or tackle.
According to NFL.com, one evaluator had this to say about Dawkins:
"I don't know if I see him as a guard or a tackle yet, but I think he can play both. I like him because I think he could upgrade our pass protection inside if we did bump him to guard, but he's athletic enough to play right tackle, too." — AFC West scout
…and it would appear there are others who feel the same way about Dawkins' versatility.  CBSSports.com had this to say in regards to where he may line up on Sundays:
Football is a big man's game and they don't come much bigger or more powerful than Dawkins. With the frame, power, agility and mentality to help quickly at tackle or guard, Dawkins looks like a potential Day One starter.
With enough depth on the offensive line to allow Dawkins to work at left tackle as a developmental player or to be given a chance to win the right tackle job right out of the gate, the general consensus seems to be that Dawkins is a pro-ready pick whom the Jets have evaluated on game day, at the Senior Bowl, and again at his pro day at Temple.
The 6′ 4" 314 lb New Jersey native is currently projected to be chosen in the second round of the NFL draft, a round that hasn't seen the Jets grab an impact player since inside linebacker David Harris in 2007.  Could Dawkins finally end the second-round drought?
Videos
NY Jets Phase 3 OTAs, Expectations and a Minor Calf Tweak with Greg Renoff