Deducing the Jets Draft Board, Part 7: OSU TE Blake Jarwin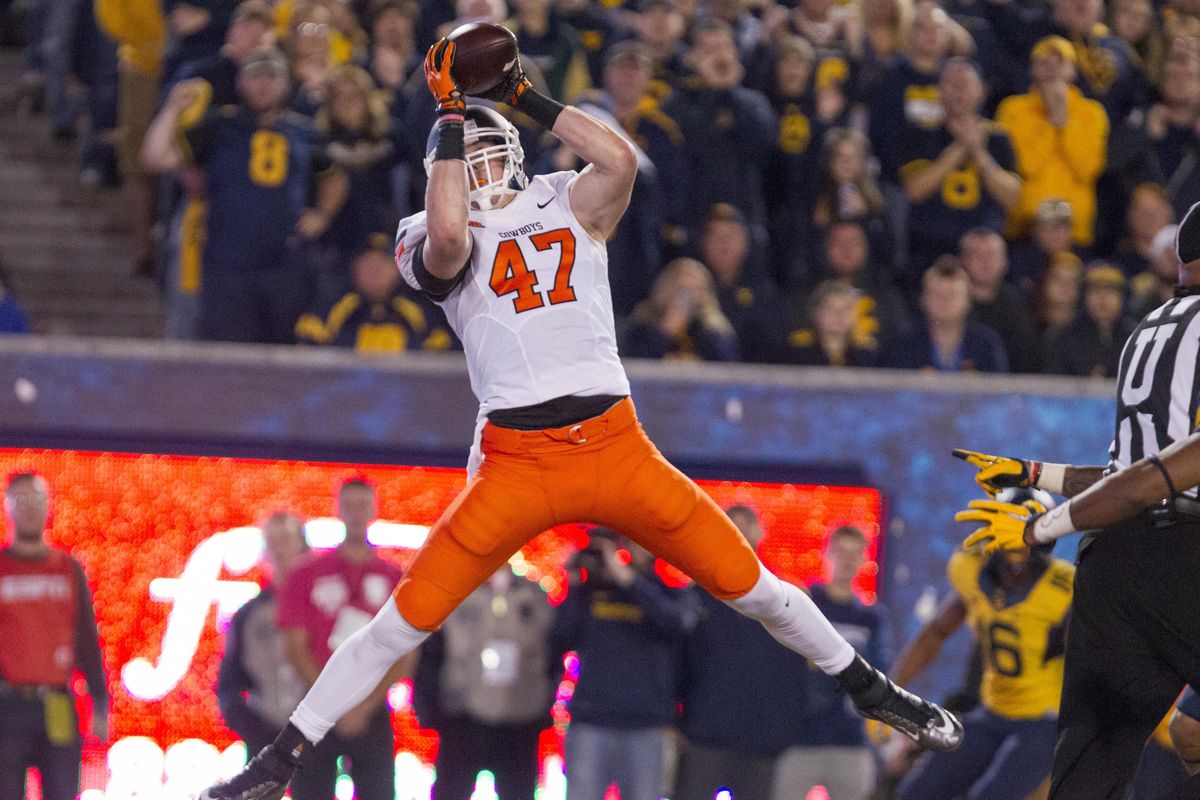 By Glenn Naughton
By Glenn Naughton
With the NFL combine behind us and the draft just around the corner, mock drafts will be flooding all of your favorite sports sites at an even more ridiculous rate than they have over the past few weeks.
While it's always fun to sit back and play armchair GM, trying to predict each of your team's picks, doing so accurately is impossible.
However, that doesn't mean you can't do a little bit of digging to give yourself a better idea as to not only who they're watching right now, but who they've had under the microscope for several months.  Luckily for Jets fans, we've done the digging on Gang Green, and over the course of the next few weeks will be sharing some names of players the Jets have shown a significant interest it.
This won't be based on rumors or speculation, but on certain criteria that must be met:
Did the Jets dispatch members of their scouting department to at least one of the player's games during the 2016 season?
Did the Jets dispatch members of their scouting department to at least one of the player's practices during the 2016 season?
Did the Jets conduct at least one interview with the player?
Did the player participate in the Senior Bowl?  (Mike Maccagnan has drafted several senior bowl participants in his first two seasons) or, did the team attend that player's pro day as the draft approaches.
Does the player fill a need for the Jets?
If all of those questions have a "yes" answer, it's safe to say the interest shown by the Jets is legitimate, or at least noteworthy.
To view previously highlighted players, visit our draft section here.
Today we take a look at Oklahoma State University Tight End Blake Jarwin.
It's no secret that along with quarterback, the Jets have gone years without a receiving tight end that has to be accounted for by opposing defenses.  Never has that been more evident than the past two seasons when Jets tight ends combined for a total of just 26 receptions in 32 games, by far the fewest in the NFL.
With that in mind, tight end is clearly a position of need for Gang Green and a spot they have been scouting heavily as the draft approaches, with Blake Jarwin among those being looked at by the team.
Jarwin, a 6′ 5" 248 lb Oklahoma native who walked on at Oklahoma State is now viewed as a late round pick at the tight end spot.
During his time at OSU, Jarwin was used in a variety of roles from in-line blocker, to H-back as well as splitting out wide as a receiver but was rarely targeted.  In 28 career games, Jarwin caught just 41 passes for 616 yards and 5 TD's. Despite his lack of production, some suggest Jarwin's physical attributes could enable him to have more of an impact as a pass-catcher at the pro level.
That potential is highlighted on his draft profile on NFL.com, but the amount of work Jarwin will need in order to improve as a blocker is also made abundantly clear as it reads:
Unexciting statistical production belies his potential as a pass-catcher on the next level. He has the necessary athleticism, uncover, and toughness to work both the first and second levels of the defense. Jarwin needs work in the weight room and as a blocker in order to handle reps as an NFL tight end. He has eventual starter potential and should find a spot on a roster as a rotational tight end with the potential to play in-line and on the move.
Jarwin is far from a blazer is indicated by his 4.73 40 time that would have placed 11th at this year's combine, but that should come as no surprise given the fact that he's not a target who is going to stretch the field vertically.
What he does bring is size, versatility, smooth route running and a willingness to go across the middle and battle a defender for the football.
Should the Jets opt to address positions such as quarterback, safety and cornerback in the early rounds as many predict, they'll likely be looking to snag a tight end in the later rounds, and that's where Jarwin could come in as the Jets attempt to compliment their outside receivers with a big target in the middle of the field to help defenses honest.
With just 25 days remaining until the NFL draft, it won't be long before we find out.
Videos
NY Jets Phase 3 OTAs, Expectations and a Minor Calf Tweak with Greg Renoff