Deducing the Jets Draft Board, Part 8: Boston College DB John Johnson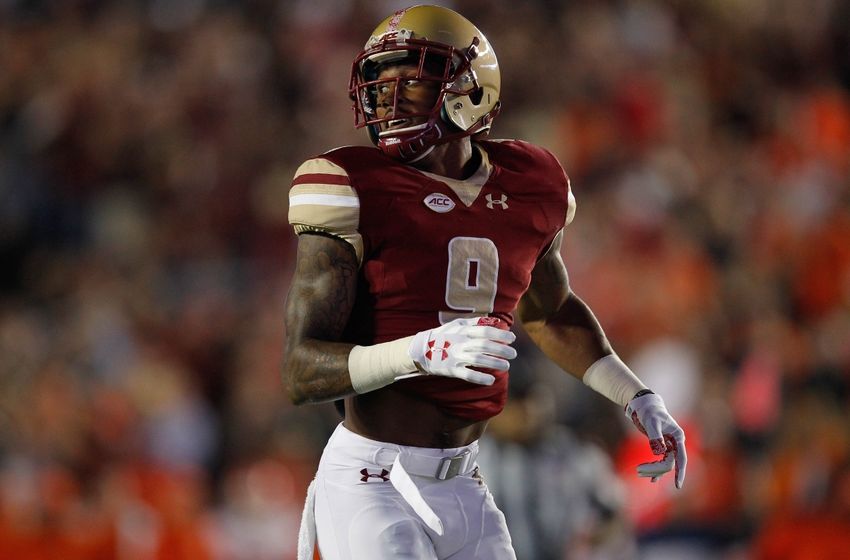 By Glenn Naughton
With the NFL combine behind us and the draft just around the corner, mock drafts will be flooding all of your favorite sports sites at an even more ridiculous rate than they have over the past few weeks.
While it's always fun to sit back and play armchair GM, trying to predict each of your team's picks, doing so accurately is impossible.
However, that doesn't mean you can't do a little bit of digging to give yourself a better idea as to not only who they're watching right now, but who they've had under the microscope for several months.  Luckily for Jets fans, we've done the digging on Gang Green, and over the course of the next few weeks will be sharing some names of players the Jets have shown a significant interest it.
This won't be based on rumors or speculation, but on certain criteria that must be met:
Did the Jets dispatch members of their scouting department to at least one of the player's games during the 2016 season?
Did the Jets dispatch members of their scouting department to at least one of the player's practices during the 2016 season?
Did the Jets conduct at least one interview with the player?
Did the player participate in the Senior Bowl?  (Mike Maccagnan has drafted several senior bowl participants in his first two seasons) or, did the team attend that player's pro day as the draft approaches?
Does the player fill a need for the Jets?
If all of those questions have a "yes" answer, it's safe to say the interest shown by the Jets is legitimate, or at least noteworthy.
To view previously highlighted players, visit our draft section here.
Today we take a look at Boston College safety John Johnson.
Due to count for over $7 million against this season's salary cap, it's hard to imagine the Jets won't be looking to replace safety Marcus Gilchrist following a season in which he, along with the rest of the secondary, was struggling mightily before suffering a season ending patellar injury in December.
Cutting ties with Gilchrist would save the team $4.6 million but will also create a vacancy in the defensive backfield. One that could be filled early in the draft with a player such as Malik Hooker or Jamal Adams.
Should the Jets look to fill that need later in the draft,  Boston College's John Johnson could be just what New York is looking for.
In discussing Johnson, the first thing that should come to mind is versatility because he has plenty of it.  Despite being listed as a safety for BC, Johnson has spent some time at both safety spots and cornerback, saying after his recent pro day that some scouts told him point-blank, "John, you're not a safety, you're a corner, so get that out of your head".
Some teams may see Johnson as one or the other, but as much as Todd Bowles values versatility, a player like Johnson who has been used all over the field is an enticing option.
A late arrival to some scouting circles, NFL.com posted this blurb about Johnson from one secondary coach who was impressed by Johnson's showing at the combine:
"He's really caught my eye out here. Had to go look him up with one of our scouts to find out more about the kid. Way more athletic than a lot of the safeties you see out at this game." — NFC secondary coach
Not afraid of contact, Johnson, a team captain, led the Eagles in solo tackles during his senior campaign with 56 and closed out his collegiate career with a 12 tackle effort against Maryland.  After going without an interception through his first two seasons, Johnson picked off three passes in each of the next two seasons and finished his career with 14 passes defended, 167 tackles, 2 1/2 sacks and a pair of forced fumbles.
Somewhat of a Swiss army knife on defense, Johnson would give Bowles an every down player whose game is solid across the board and while his tackling and technique could use refining, all of the attributes are there to allow him to become a solid defender under the right guidance.
Will Todd Bowles and company get a chance to cultivate Johnson's talents following the draft?  Only time will tell.
Videos
New York Jets OTA Presser Takeaways, Aaron Rodgers' Impact and Summer Delusion