Jets Thinking big at Wide Receiver?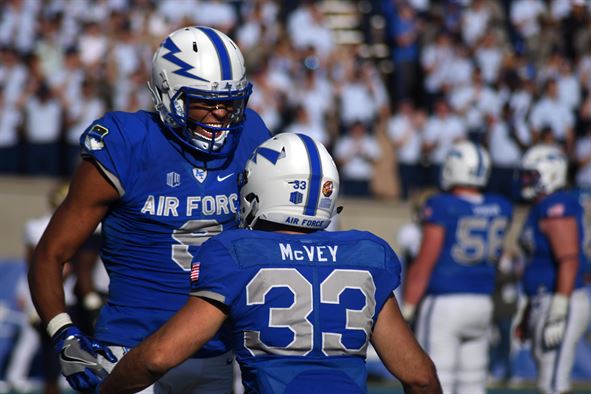 By Glenn Naughton
Just one year after finding three rookie receivers who managed to stick on their 53-man roster in undrafted free agent Robby Anderson, 7th round draft choice Charone Peake and another undrafted free agent in Jalin Marshall, it appears the Jets are keeping tabs on a few potential late-round targets or even priority free agents who will be worth following as the draft approaches.
Not only are some of the receivers the Jets have been monitoring viewed as late-round picks or projects, but many of them would help the team put together a more impressive line-up than the Knicks at this point.
A few of the towering receivers the Jets have visited and/or talked to include the following:
WR Jalen Robinette- Air Force – 6′ 4" 220
Current Projection: Undrafted
Robinette's 27.4 yards per reception average led the nation in 2016 out at the Academy in Colorado Springs.  As mentioned above, he is viewed as a project who may be practice squad material early on, but has flashed enough ability in a triple-option offense that somebody is going to take a late flier on him or bring him in as a priority free agent.
A big man who needs work on his route-running, Robinette has shown a willingness to go across the middle and take a hit while hanging on to the ball, and also attacking defenders as a blocker in the run game.  Definitely a developmental player worth taking a look at who believes in excellence in all he does.
WR Bug Howard- North Carolina – 6′ 4" 221
Current Projection: 6th-7th round
Mitchell Trubisky wasn't the only player the Jets took a look at down in North Carolina as one of his targets, the 6′ 4" Bug Howard was pulled aside by Gang Green for a chat.
Howard hauled in 53 catches for North Carolina last season, racking up 827 yards and 8 touchdowns, bringing his career stat line at Chapel Hill to 124/1,770/14.
A sure handed receiver who reportedly dropped just four passes during his collegiate career, Howard lacks explosion out of his routes and posted a pedestrian 40 time of 4.58 at the combine, but as a project possession receiver he'll draw some interest from a few teams.
WR Josh Malone- Tennessee – 6′ 3" 208
Current Projection: 5th-6th round
With an excellent combination of size and speed at 6′ 3" and a 4.4 40 time, Malone had high expectations upon his arrival at Tennessee.  As it turns out, he didn't reach his full potential until his third and final season for the Volunteers.
After posting just 54 receptions for 636 yards and 3 touchdowns through is first two seasons, Malone exploded in his Junior year, hauling in 50 passes for 972 yards and 11 touchdowns with the yards and scores good enough for 3rd in the SEC.  His 19.4 yards per reception ranked even higher at number two in the conference.
As a one year wonder, Malone may find it difficult to land as high on some draft boards as he'd like, so you can bet the Jets had an eye on him when the attended Tennessee's pro day.
While the Jets have plenty of talented young receivers on their roster with Anderson, Peake and Marshall to go along with Quincy Enunwa and Devin Smith, only Enunwa and Anderson did enough to guarantee a roster spot in 2017, and from the looks of it, the Jets are actively looking to find the next big man up.
Videos
NY Jets OTA Recap; Robert Saleh Cancels Minicamp