Featured Editorials Home Slider
If Jets Pick Fournette, is it bye-bye Bilal?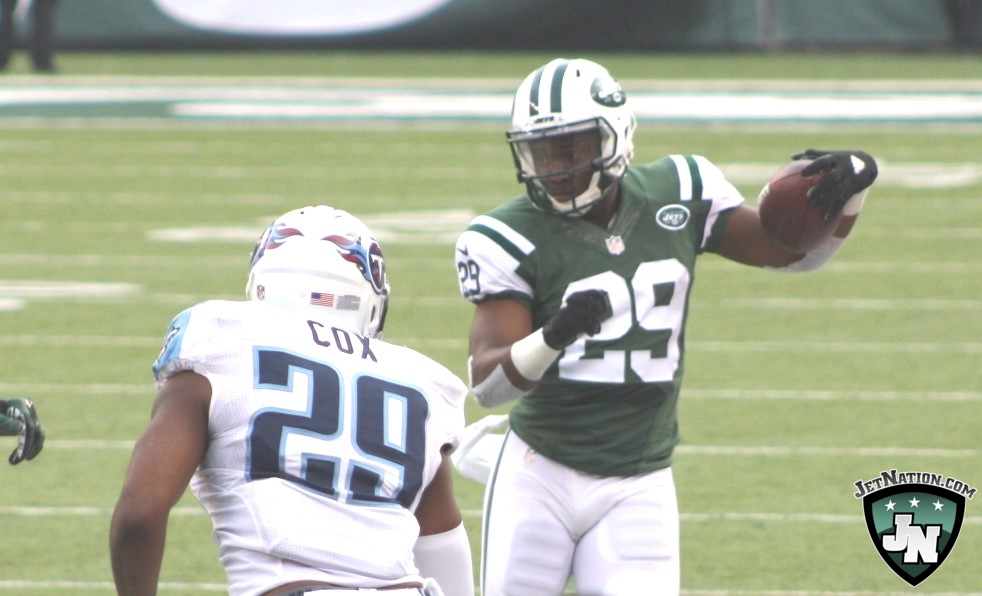 By Glenn Naughton
In his latest mock draft for NJ.com, New York Jets beat writer Connor Hughes has Gang Green taking supremely talented LSU running back Leonard Fournette with the sixth pick in round one.  Hardly a controversial choice as some view Fournette as the best overall player in this year's draft, and you'd be hard pressed to find a mock draft that has him falling past the Jets once they're on the clock.
As is almost always the case with first-round picks, there will be a significant impact on the Jets depth chart if Fournette is added to the fold, so the question is, what would it mean for the team's other running backs?
Given his physical attributes and draft slot, Fournette would have to be considered the team's starter from the moment he arrives in Florham Park.  This would mean that the team's next two backs on the depth chart, Matt Forte and Bilal Powell, will have cloudy futures with the team.
Powell proved last season that he's the superior back at this point in his career, no matter how good Matt Forte's resume is.  In just four starts, Powell averaged a whopping 5.5 yards per carry despite playing with some of the league's worst quarterbacks in Ryan Fitzpatrick and Bryce Petty.
Working with essentially the same offensive group, Forte got the bulk of the carries before being placed on injured reserve in late December.  Prior to suffering injuries to his shoulder and knee that put him on the shelf for the closing weeks of the season, Forte averaged just 3.7 YPC and posted a career-low with just 30 receptions.  He was nowhere near as good as Powell.
However, when it comes to moving either player, there's a problem, and that problem is money.
Forte and Powell currently have a combined cap hit of $9.63 million according to overthecap.com.  With almost all of that money guaranteed to both players, parting ways with either one will be cost prohibitive.
If the Jets were to move Forte, who is unlikely to command much (if anything at all) via trade, they'd be looking at $6 million in "dead money".  Of the two, Powell would clearly have more trade value, but the Jets wouldn't do much better in moving him as a trade would saddle the Jets with a cap hit of just over $4 million, freeing up just a few hundred thousand dollars in space.
This essentially gives the Jets three options should they select Fournette:
Keep all 3 running backs which will carry a tab of well over $10 million, with at least one back likely to see the field only in spot/mop-up duty.
Release Forte and add a $5 million cap hit with nothing to show for it.
Release or trade Powell, getting rid of one of their top offensive players in exchange for a mid/late-round pick, and pay roughly $4 million for the pleasure.
It's not an enviable position for Jets GM Mike Maccagnan who clearly expected Forte to have a bit more left in the tank when he signed him last off-season as a free agent.  It's also possible that Forte could see an uptick in production, at least in the passing game, if the Jets' new offense calls for a receiving back out of the backfield, thereby easing the pain of paying a declining player that kind of money.
If Powell is in fact the odd man out, and the Jets don't get equal value in trade, it would be a fitting end to his time in New York where he has hung around for four offensive coordinators, all of whom seemed to underestimate, under-appreciate and under-utilize him in the team's offense.
Moving Powell would be a bad move for the Jets, but it may be exactly what's needed for the player.
Do you have any thoughts on the impact Fournette or any other first round choice may have on the team's roster? Click here to log in to our forums and voice your opinion.
Videos
NY Jets Phase 3 OTAs, Expectations and a Minor Calf Tweak with Greg Renoff