Featured Editorials Home Slider
Pitt Prospect Perfect fit for Gang Green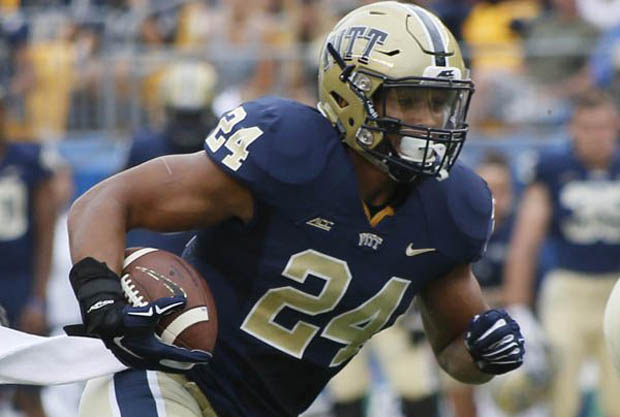 By Glenn Naughton
As it's currently constructed, the New York Jets 53-man roster (as well as its fractured locker room) has its fair share of holes to be filled in the upcoming NFL draft.  Finding a young rookie to make an immediate impact on the field in the middle to late rounds of the draft can be challenging enough on its own.  Finding 0ne who can earn the immediate respect of his teammates is an even taller order.
However, if the Jets are willing to roll the dice on University of Pittsburgh running back James Conner, they stand to go a long way in filling their need for a punishing running back to wear down opposing defenses, and a player whose level of fight and determination will win over teammates no matter where he goes.
Conner was named the Disney Spirit Award recipient and gave this emotional acceptance speech, highlighting the battle he'd won against Hodgkin's lymphoma, and how he played that season not just for himself and the Panthers, but for those he knew personally that were fighting a bigger battle than him, and even to those he'd never met, but wished they could be in his shoes.
For months on end now, Jets fans have sat and watched as one mock draft after another projects any number of options for the club with the sixth overall pick, with one in particular being polarizing Leonard Fournette, the bruising running back out of LSU.
Fournette's on-field performance during his time at LSU (3,830 yds/40 TD's) and physical attributes (6′, 240, 4.51 40 time) make him an undeniable first round talent, but there are those who view the choosing of any running back in the first round as a luxury pick, something the Jets simply don't have at the moment.
Should the Jets find themselves sitting at the sixth pick with Fournette off the board or not rated high enough to take in that spot, Conner could be the perfect choice for what promises to be more of a power running attack for the Jets in 2017.
Before falling off the football map when he blew his knee out in his first contest of the 2015 season, Conner was coming off of an all-time great campaign in Pittsburgh, where as a Sophomore, he pounded the rock 298 times for a whopping 1,765 yards (5.9 YPC) and an unbelievable 26 touchdowns on the ground.
After missing all but part of the Panthers' first game of the season in 2015, Conner bounced back to put up some more impressive totals, picking up 1,092 yards on 216 carries en route to another 16 rushing touchdowns.  In all, over the course of his final three collegiate seasons, Conner rumbled for 42 touchdowns in just 26 games, doing some of his best work against the nation's top ranked teams.
In what was his most clutch performance of the 2016 season, Conner ran all over the eventual National Champion Clemson Tigers to the tune of 132 yards on 20 carries and a touchdown run, to go along with his 3 receptions for 57 yards and another TD.  In all, 189 yards of offense and a pair of touchdowns in a stunning 43-42 Pitt win.
Conner also enjoyed a stellar outing against the Penn State Nittany Lions as the 6′ 1" 233 lb  battering ram picked up 146 yards of total offense (117 rushing) while adding another pair of scores, one on the ground and one through the air.
What Conner did against Clemson and Penn State is child's play when you put it alongside beating cancer, but what it took to do each of those things represents something the Jets are in dire need of.  Should he fall to the middle rounds as many project, will the Jets resist the urge to scoop up a player who says of himself, "Marshawn Lynch is the whole reason I wear 24.  He refuses to go down, and I try to have that beastmode mentality"?  In just under two weeks, we'll find out.
Videos
JetNation
4.6K
Subscribe
Blowout win for Zach and the Jets as Gang Green Drops Houston 30-6