Deducing the Jets Draft, Part 11: USF RB Marlon Mack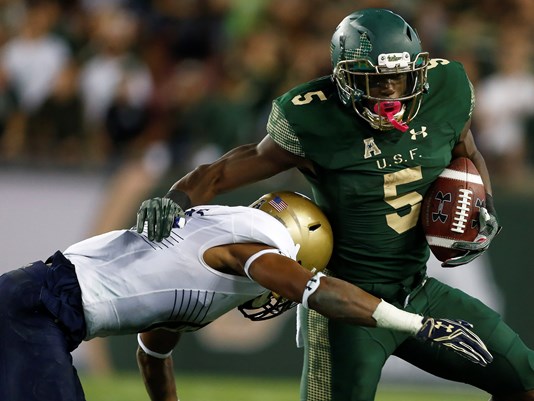 By Glenn Naughton
With the NFL combine behind us and the draft just around the corner, mock drafts will be flooding all of your favorite sports sites at an even more ridiculous rate than they have over the past few weeks.
While it's always fun to sit back and play armchair GM, trying to predict each of your team's picks, doing so accurately is impossible.
However, that doesn't mean you can't do a little bit of digging to give yourself a better idea as to not only who they're watching right now, but who they've had under the microscope for several months.  Luckily for Jets fans, we've done the digging on Gang Green, and over the course of the next few weeks will be sharing some names of players the Jets have shown a significant interest it.
This won't be based on rumors or speculation, but on certain criteria that must be met:
Did the Jets dispatch members of their scouting department to at least one of the player's games during the 2016 season?
Did the Jets dispatch members of their scouting department to at least one of the player's practices during the 2016 season?
Did the Jets conduct at least one interview with the player?
Did the player participate in the Senior Bowl?  (Mike Maccagnan has drafted several senior bowl participants in his first two seasons) or, did the team attend that player's pro day as the draft approaches?
Does the player fill a need for the Jets?
If all of those questions have a "yes" answer, it's safe to say the interest shown by the Jets is legitimate, or at least noteworthy.
To view previously highlighted players, visit our draft section here.
Today we take a look at University of South Florida running back Marlon Mack.
While the Jets have their fair share of speedy wide receivers in Quincy Enunwa, Robby Anderson, Devin Smith and Charone Peake, their current dilemma is that they don't know if any of the quarterbacks on their roster will play at a high enough level to take advantage of the weapons they'll have at their disposal.
For that reason, the Jets would benefit greatly by adding an explosive play-maker at running back, and that's where a player of Marlon Mack's stature comes in.  Don't be fooled by Mack's 4.5 40 time in Indy, just watch him explode through the holes he had at USF and what he did once he got moving, and you can see the big-play potential.
Marlon Mack has some serious acceleration! Nice stiff arm too. (We can work one ball ball security later). BTW, he scored. pic.twitter.com/a6TedbZgyi

— Daniel Jeremiah (@MoveTheSticks) April 16, 2017
During his time at USF, Mack produced 32 rushing touchdowns, 15 of which came in his final season.  Of those runs, six of them went for 43 yards or more.  Mack's scoring prowess isn't all that jumps off the stat sheet from his time in college.
Twenty different times, Mack piled up over 100 yards on the ground, racking up a total of 3,609 yards in 36 games, putting his career average at just over 100 yards per contest.
You might expect a back with such robust numbers and physical traits might be projected higher than Mack who is currently viewed as a late round pick, but as impressive as his numbers are, he has some red flags, but none bigger than ball security,.
As NFL network's Daniel Jeremiah referred to in his above tweet, fumbles have been an issue for Mack who put the ball on the ground twelve times for the Bulls as mentioned among his weaknesses from this NFL.com player profile.
STRENGTHS

Looks like he has ball bearings in his hips. Able to swivel in multiple directions. Can tilt and slalom around defenders on the second and third level and is able to string moves together. Has slippery feet and is hard to pin down when bouncing laterally. Runs with knee bend and his pad level is low at contact. Explosive burst carries him into his getaway gear. Always plays fast. Contain buster to the outside. Finds ways to slither out of tackles. Hands showed improvement as pass catcher.
WEAKNESSES

Runs with inconsistent power through contact. Will need to accelerate through contact on next level. Serial run bouncer. Too willing to make wild bounces to the furthest reaches of the perimeter if interior lanes are gummed up. Lacks a committed approach between the tackles. Feet start dancing if he doesn't see an early point of entry. On jet sweeps, he rarely looked to cut it downhill in space and defaulted to the wide track. Has a very poor fumble rate over this three years and has put the ball on the ground twelve times. Ducks head into traffic to finish rather than keeping eyes scanning.
As is the case with any player, Mack possesses some very desirable attributes, but also has some warts that will need work at the next level.  As a player the Jets visited at his pro day as well as visiting USF to attend one of his practices this past season, the 5′ 11" 230 native of Sarasota, Florida is a player worth keeping an eye on.
Videos
NY Jets Phase 3 OTAs, Expectations and a Minor Calf Tweak with Greg Renoff