JetNation Mock Draft v2.0, Trubisky or Trade Down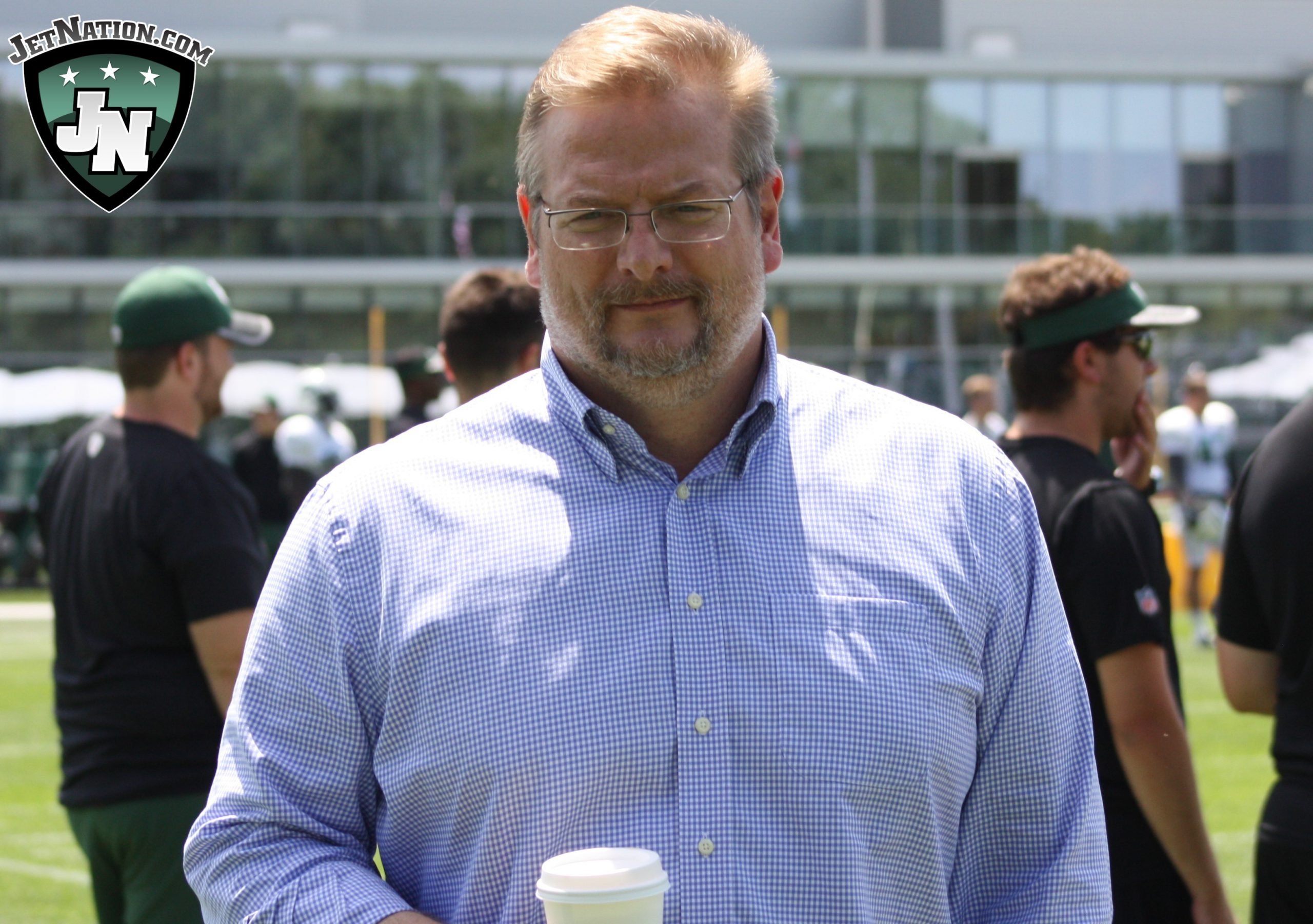 By Glenn Naughton
With the NFL draft just under a week away, we re-visit the land of make-believe to take our best shot at what direction the Jets will go in as they look to re-build a roster that has more big questions than answers at this point.
Trying to predict draft picks is a big enough sucker's bet on its own, so when you start adding in trades, it becomes even tougher.  However, a deal between the Jets and Browns in a swap of first round picks just makes too much sense for both sides to pass up.  We know the Jets want to move down, we know Cleveland is also in need of a young quarterback, and we know the Browns have a plethora of picks to deal.
What better way for Cleveland to address their QB situation than with a kid from Ohio and an offensive-minded head coach?  With this being the case, and the Jets being the most likely team to take Trubisky, both sides get what they want.
The Jets move down six slots and add picks 52 and 188 overall.
Round 1 (#12 overall from Cleveland with picks #52 & #188 received in exchange for #6 overall): TE OJ Howard, Alabama
With the 12th pick, it's Alabama tight end OJ Howard who some have projected to the Jets at number six, but if Cleveland takes Trubisky in that spot, there's enough talent on the board to push Howard all the way down to the Jets again at 12.
Howard wasn't overly productive at Alabama, but it seems the experts agree that it had nothing to do with his skill set, and everything to do with Lane Kiffin's play calling at Alabama.
Back-up plans:  If they Jets stay at 6, Trubisky is the pick, but Malik Hooker should get some serious consideration.   Should they move to 12 and Howard is gone, it's another OSU first rounder in Gareon Conley.
Round 2 (#39 overall): OLB Tyus Bowser, Houston
Bowser is a player the Jets have shown some interest in and was the first player we highlighted in our "Deducing the Jets Draft Board" series this season, and he's been doing nothing but climbing draft boards since the combine in Indy, with some projections listing him as a possible late first round pick.
Despite missing a chunk of his senior campaign at Houston, Bowser managed to rack up 8.5 sacks in just 8 games as he steadily improved his overall play against the run and in pass coverage.  Having played football for only a few seasons after making the switch from college basketball, Bowser has elite athleticism that showed not only on the field, but in combine workouts in Indianapolis.
Bowser's 37.5" vertical was tops among linebackers at the combine, his 4.65 40 time ranked fifth, his 10′ 7" broad jump placed him 3rd, and his 6.75 second 3-cone drill was also good for the best time among his fellow linebackers.
His on-field production tells us Bowser is far more than just a "workout warrior", and his lack of experience leaves room for plenty to learn and build upon.
Back-up plans: If not Bowser, the Jets will look for another option to generate some pressure off the edge.  Tim Williams from Alabama would have to be a top consideration.
Round 2 (#52 overall): OG Dan Feeney, Indiana
The Jets re-signed center Wesley Johnson to a one-year deal with zero guaranteed money.  With that being the case, you have to wonder just how much the Jets love the idea of him being their starting center.  Feeney got some work at center during his time at Indiana and could play there for a couple of years before possibly transitioning to guard.
Back-up plans:   Obi Melifonwu, a safety out of Connecticut has physical traits that can't be ignored.  The 6′ 4" safety who ran a 4.4 in Indy may get a look at cornerback with safety being the fallback option if he flops there.
Round 3 (#70 overall):  CB Jourdan Lewis, Michigan
Given the amount of depth at the position this season as many pundits list at least a dozen starting-caliber cornerbacks, which one it will be for the Jets (or any other team for that matter) is truly a crap shoot.   In this spot, we're going with Lewis for a few reasons.
Despite some being scared off by his height (5′ 10"), Lewis plays much bigger than that.  He shadows receivers and does an excellent job of using every bit of his 34.5″ vertical to deflect incoming passes.  Lewis held opposing receivers to just 7 receptions this season as quarterbacks completed only 23% of passes in his direction.
More than just a cover man, Lewis is a highly competitive, physical defender who won't back down against a running back coming around the edge and had great success at a college powerhouse under Jim Harbaugh.
Back-up plans: UCLA CB Fabian Moreau is another option if the Jets aren't smitten by Lewis.
Round 3 (#107 overall, compensatory pick):  QB Nathan Peterman, Pittsburgh
Staying with the assumption that Trubisky goes to Cleveland and it's Lewis in rd. 2, the Jets still must address the QB position.
Peterman threw 47 TD's to 17 interceptions over the course of his final two college seasons while completing just over 60% of his passes.  He also displayed adequate mobility in that time, picking up 525 rushing yards to go along with 5 TD's on the ground.
Back up plans: University of South Florida running back Marlon Mack would be good value in this spot and has been scouted both during the season and in pre-draft workouts by the Jets.  Clemson Tight End Jordan Leggett is also worth a look if the earlier projection of Howard doesn't happen.
As mentioned above, projecting trades accurately is nearly impossible, but it has been widely speculated that the Jets will in fact look to part ways with Sheldon Richardson next week.  To keep the projection realistic, we'll assume the rumors of Richardson's current trade value (said to be a 4th round pick) are accurate, and project him to the Indianapolis Colts in exchange for the 121st pick as he'll likely go somewhere in that range.
The Colts have been bad on defense for an eternity at this point, and they have the requisite cap space to get Richardson locked up on a long-term deal.  Other targets could be the Dallas Cowboys, Denver Broncos or Tampa Bay Bucs.
Round 4 (#121 overall from Indy): WR Chris Godwin, Penn State
After veteran Eric Decker, the Jets have the emerging Qunicy Enunwa and a pair of promising receivers who the team hopes will take the next step in Robby Anderson, Charone Peake with question marks Devin Smith and Jalin Marshall behind them.  Even still, with no rock solid established options, a player like Godwin would be an excellent choice here.
Godwin has plenty of speed (4.42 40 time) and will win his fair share of jump balls in one-on-one battles or in a crowd.  He just knows how to get the ball.
In addition, Godwin has repeatedly shown great spatial awareness, often slamming on the brakes to make a circus catch just before hitting the boundary.
Back up plans:  North Carolina WR Ryan Switzer would be an ideal choice here as well, but we're going with Godwin based on the Jets showing more interest in the Penn State product.  Given his punt return ability, Switzer may actually be the better option.
Round 5 (#150 overall): RB James Conner, Pittsburgh
With Bilal Powell and Matt Forte as their top two running backs, the Jets are missing a smash-mouth runner who can be a workhorse down the road and a threat on the goal line and in short yardage situations.
Checking in at 6′ 1" 233 lbs, Conner represents all of those things.
Conner had a 2014 season that left many wondering how many records would fall during his time at Pittsburgh when he rushed for 1,765 yards and 26 touchdowns as a sophomore.  After missing all but a few snaps the following year due to injury, Conner was diagnosed with Hodgkins Lymphoma and beat that before a final season that saw him rumble for 1,092 yards and 16 more scores.
Back up plans: A history of injuries could lead Florida linebacker Alex Anzalone to fall this far in the draft and he'd be worth a gamble in this spot.  Brian Allen of Utah would also be well worth the pick here.
Round 6 (#188 overall): OLB Matt Milano, Boston College
Milano is an intense competitor who plays to the whistle and gives you everything he's got.  Slightly undersized at 6′ 223, he'll likely be expected to add some weight and could be a contributor on special teams right away.
Back up plans: The Jets could use some competition for the backup inside linebacker spot behind David Harris. Clemson's Ben Boulware would be a good candidate.
Round 6 (#191 overall) WR Amba Etta-Tawo, Syracuse
Another developmental player, Etta-Tawo burst on to the scene this season at Syracuse after two nondescript years at Maryland.  After posting fewer than 500 yards in two seasons with Maryland, Etta-Tawo caught 94 passes for 1,482 yards and 14 touchdowns for 'Cuse last season.
Back up plans: Hard to believe he may still be available in this spot, but if he is, you could do a lot worse than Chad Kelly as another quarterback here.  Kelly shredded many of the top defenses in the country during his time at Ole' Miss and has a cannon for an arm with NFL pedigree.  If he gets his head on straight, this is a steal in the sixth round.
Round 7 (#224 overall): USC NT Stevie Tu'ikolovatu
The nephew of former Jets defensive lineman Sione Pouha, Tu'ikolovatu could compete for a roster spot as a true nose tackle, something the defense is lacking right now.
Back up plans: OLB Tashawn Bowser out of LSU would give the Jets another edge rusher to work with over time in hopes of becoming a situational pass rusher at the very least.
So to recap:
1- Alabama TE OJ Howard
2- Houston LB Tyus Bowser
2a- Indiana OG Dan Feeney
3- Michigan CB Jordan Lewis
3a- Pittsburgh QB Nathan Peterman
4- Penn State WR Chris Godwin
5- Pittsburgh RB James Conner
6- Boston College OLB Matt Milano
6a- Syracuse WR Amba Etta-Tawo
7- USC NT Stevie Tu'ikolovatu
Only six days remaining Jets fans….six days!!
Videos
Aaron Rodgers Injury Fallout & Jets/Bills Recap