Featured Editorials Home Slider
Why Jets and Tryout/UDFA QB Dane Evans are Ideal fit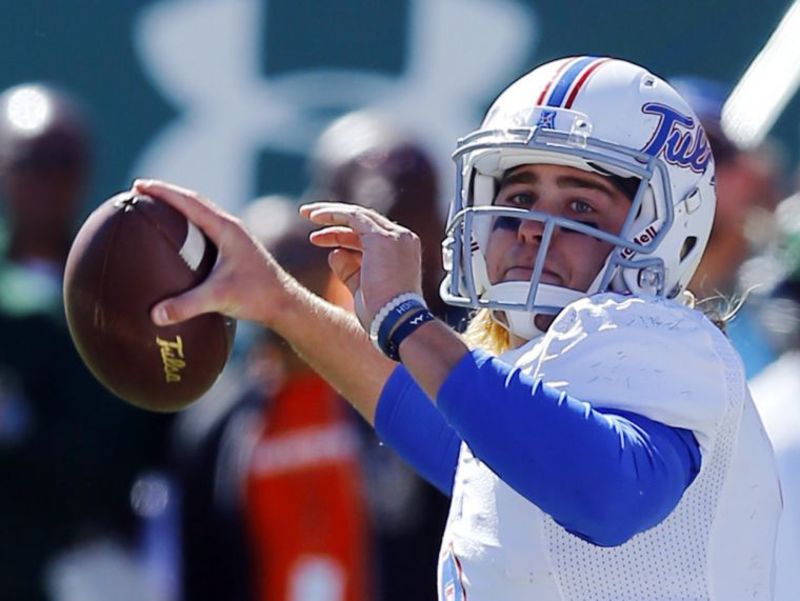 By Glenn Naughton
One of the key talking points in relation to the New York Jets at the conclusion of last week's NFL draft was the fact that GM Mike Maccagnan turned seven picks into nine picks and didn't use any of them on a quarterback at any point.  Despite having only Josh McCown and a pair of developmental QB's in Bryce Petty and Christian Hackenberg in place, the Jets didn't see a need to use another pick on a developmental signal caller.
They did however, add one as an undrafted free agent once the draft came to a close in strong-armed quarterback Dane Evans out of Tulsa.
Once viewed as a top-10 sleeper QB by NFL.com, Evans has plenty of traits that give him a chance to make an NFL roster, even if it means spending some time on somebody's practice squad for a little while. but here's what we found after watching Evans in action against some quality opponents.
Strengths:
Enough arm strength to make all the throws
Quick release
Very accurate on slants/in routes
Above average mobility
Keeps composure under duress
Pedigree.  Son of a HS football coach, started calling his own plays a year before starting his college career
Threw 8 TD's/0 INT's and 678 yds with 67% comp pct in 2 bowl games
Weaknesses: 
Checks in at just 6′ tall
Simplified one-read offense
Rarely played from under center
Inconsistent deep ball placement
Struggled against top competition
If the Jets do adopt a west coast offense as some anticipate with new coordinator John Morton, Evans could be an excellent fit based on his ability to delivery the ball quickly and accurately on short/quick routes, with more than enough arm strength to connect on the deep ball to keep defenses honest.
According to PFF.com, Evans was second in the entire nation in 2015 in yards through the air on passes that travelled 20 yards or more (1,609) in 2015, then with a new offensive coordinator in 2016, he saw that number dip to 1,059 yards, which was still good enough for 17th in the country.
In 46 career starts at Tulsa, Evans threw 84 touchdowns to 47 interceptions while completing just 57.3% of his passes.  However, before changing offensive coordinators after his Junior season, Evans played his best collegiate football in 2015, tossing 25 TD's and just 8 INT's with a 62.9% completion percentage.
While there was no NFL combine invite for Evans, he managed to stand out at his pro day, registering a radar gun reading of 63 MPH which would have placed him at the top of this year's class by 3 MPH (Pat Mahomes 60 MPH), while impressing onlookers with a crisp throwing session that reportedly included a strong 2-minute drill.
DANE EVANS-PRO DAY WITH A VERY AGGRESSIVE SCRIPT-53% OF OUR FIELD THROWS WERE 14 PLUS YARDS AND DESTROYED IT IN 45 DEGREES AND 22 MPH WIND@ pic.twitter.com/Q1JBRwIovQ

— OldSchoolQB (@OldSchoolQB) March 11, 2017
As is the case with any udrafted free agent, Evans is a longshot to make the Jets roster, but with such a dismal quarterback situation, he chose wisely in coming to the Jets, because if he will make a 53-man roster somewhere, it would likely be with Gang Green.
However, even if Evans isn't ready to stick on an active roster, a spot on the practice squad could be a nice fit for him and the Jets, who carried four quarterbacks last season but would prefer not to do so again in 2017.
In discussing the likelihood of making it in the pro's, Evans was fast to point out the fact that 33 undrafted free agents took part in last year's Super Bowl.  He may be, actually, he IS a million miles from any such goals right now, but it may not be long before Jets fans find themselves asking who the kid from Tulsa is, and before he knows it, Evans is going to get a chance to show us.
Videos
Aaron Rodgers Injury Fallout & Jets/Bills Recap