Featured Editorials Home Slider
Petty and Mauldin Enter Year Three as Biggest Questions From Mac's First Draft Class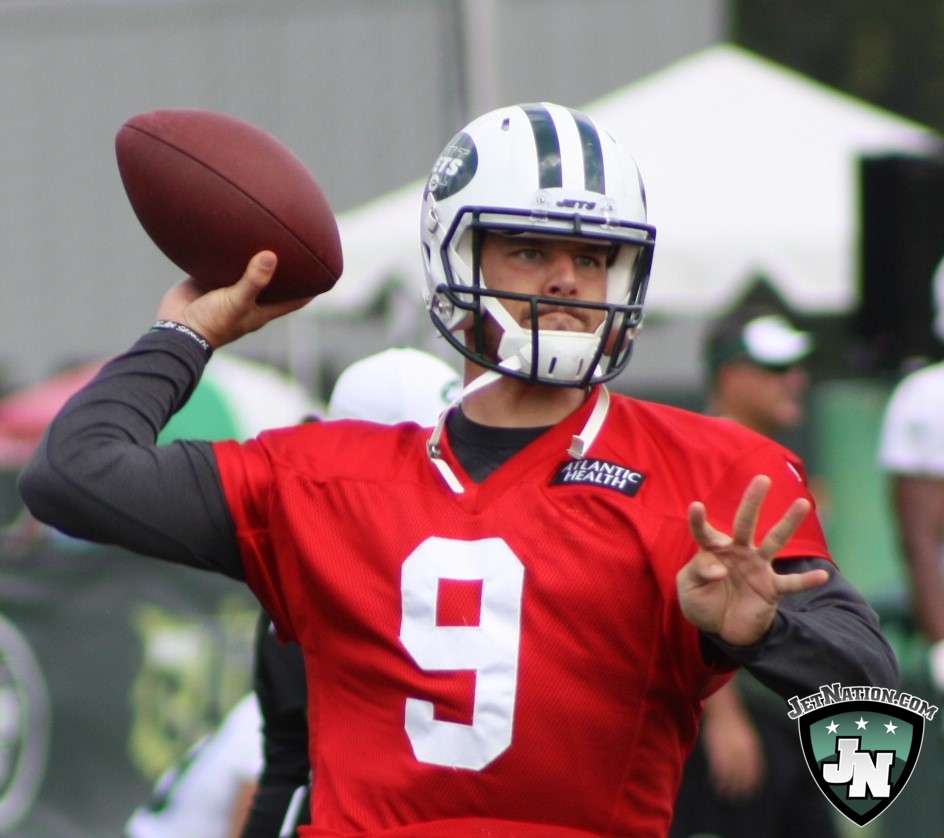 By Glenn Naughton
The universally accepted standard for grading a team's draft class is to give them three full seasons in the pro's to determine whether or not that class was a success or failure.  For Jets GM Mike Maccagnan, that means his first class is about to start a season that pundits, fans and likely his boss, Woody Johnson, will have under the microscope like never before.  Where does this class appear to be headed?  Let's take a look.
Even having not played their third season yet, it's fair to say the verdict is in on Maccagnan's first two picks in defensive lineman Leonard Williams and wide receiver Devin Smith.  Williams appears to be destined for greatness as perhaps the best defensive player the team has drafted since Darrelle Revis.
Smith, on the other hand hasn't been able to stay on the field.  The speedster from Ohio State who was expected to add a legitimate vertical threat has spent more time on the shelf than he has on the field.  Another recent season-ending injury is one that should have Jets fans expecting him to contribute nothing at all moving forward.
That brings us to the first of two huge question marks among Maccagnan's picks in linebacker Lorenzo Mauldin.
Mauldin's rookie season gave Jets fans plenty of reason for hope and optimism as he managed to pick up four sacks in limited action.  Expectations were higher in year two, but they weren't met.
Head coach Todd Bowles appeared to put Mauldin in the dog house during the early part of the season when his snap count took a dramatic downturn.  According to pro-football-reference, Mauldin's snap counts from weeks 1-6 were 23, 22, 17, 6, 18 and 13.  Following week 6 however, Mauldin was a regular on defense once again, participating in 49, 62, 53, 35 and 56 snaps before suffering a season-ending injury.
It was recently reported that Mauldin has dropped the 10 pounds he gained between year one and year two in an effort to re-gain some quickness and cement himself as a starter among the Jets linebacking corps.  Should Mauldin grab the starting spot, that would give Maccagnan's class two starters in his first three picks.
Following the Mauldin choice, the Jets traded up to the 103rd overall spot in round four to take quarterback Bryce Petty.
Given Petty's video game offense in college, he was expected to need a minimum of two pro seasons on the bench before being ready for game action.
Injuries and ineffectiveness from Jets quarterbacks last season saw Petty thrust in to the starting role where he flashed some ability, but showed more bad than good.  In six games, Petty completed just 56.4% of his passes, tossing 3 TD's to 7 interceptions.  He'll get a chance to win the starting job this season, but even finding a way to be a quality back-up QB would make Petty a solid choice in round four.
If he were to earn the starting nod and play well, given the importance of the position, the class would instantly become a resounding success, but that's a long shot development at this point.
Texas A&M offensive lineman Jarvis Harrison was Maccagnan's next choice, and he was let go after his rookie season before catching on with the Tampa Bay Buccaneers as a member of their practice squad.
Norhtwest Louisiana State defensive tackle Deon Simon was the final choice in Maccagnan's first draft, and is currently trending upwards.  Simon saw limited snaps after sitting out year one and he impressed.  Expect Simon, a seventh rounder, to stick again in 2017 with reps at multiple spots along Todd Bowles' defensive front.
So as is the case with most draft classes, there are some hits in Williams and Simon, some misses in Smith and Harrison, and the all-important X-factors with Mauldin and Petty.
If one of the two turns in an impressive 2017, Maccagnan's first class stands to generate 2 or 3 starters and a quality back-up, with Harrison being the only wasted pick based on performance, while Smith's drawbacks were due to injury
Yes, you'll always have that fan who is an armchair GM, sitting on the couch and chugging beers, complaining that not every player drafted is pro bowl caliber after year one or two, asking "who said three years is the standard?".  For those fans who take their meds, they know that year three is the key to a class, and for Maccagnan, Petty and Mauldin will be the difference between passing with flying colors, or scraping by on the achievements of Leonard Williams and, should he continue to improve, Deon Simon.
A "boom or bust" draft class for Maccagnan with Mauldin and Petty determining whether or not Maccagnan got it right in his first chance as the man calling the shots.  It's likely one of the few reasons for Jets fans to stay tuned as the 2017 season unfolds.
Videos
New York Jets OTA Presser Takeaways, Aaron Rodgers' Impact and Summer Delusion