Featured Editorials Home Slider
Long Overdue, Powell Looks to Finally Have Respect of Jets Coaches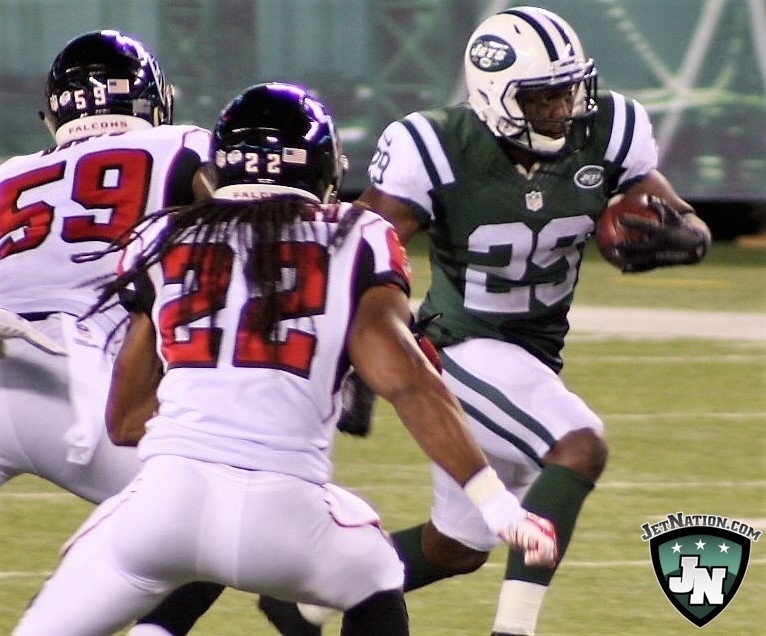 By Glenn Naughton
It's been a long time coming for Bilal Powell, the very talented and almost always underutilized running back who has spent far too much time on the bench during his NFL career, appears to finally have the attention of his coaches after being forced in to action last season when Matt Forte was injured late in the year.
The use of Powell throughout the course of the season was a mystery to those who could see very early on that he was the best running back on the roster.  No disrespect to Matt Forte, a great player in his own right, but the younger Powell, who has far fewer miles on his legs than Forte, should have been splitting carries 50/50 with Forte at the very worst.
A split somewhere along those lines is what many fans expected prior to the start of the season, but the Jets' coaching staff limited Powell to just 49 carries over the season's first 12 weeks, never seeing more than 8 carries in a single game.  When Forte went down for the season and Powell took over as the featured back, all he did was carry the ball 82 times for 411  yards (5.1 YPC) and a pair of touchdowns.  As a receiver out of the backfield, Powell hauled in 21 passes for 141 yards and another score.
The Jets parted ways with their 2016 running backs coach Marcel Shipp, and his replacement, Stump Mitchell, offered high praise of Powell according to Rich Cimini of ESPN New York.
When asked about Powell, Mitchell replied, "Bilal is a Pro Bowl back if he was playing by himself, make no doubt about that".  As Cimini notes, Powell won't be playing alone as Forte will still be part of the equation.
Even still, those words must carry a lot of weight with Powell, who, despite fast approaching senior citizen status where running backs are concerned at 28 years old, his best days may still be ahead of him.
The failure of previous coaches to maximize Powell's talents may end up paying dividends for him in the long run as his total number of carries has been extremely low in both College and the NFL.
During his time at Louisville, Powell totalled just 436 attempts in four seasons, hardly workhorse numbers.  As a pro, Powell has been called upon just 533 times in six seasons.  In all, that's 969 carries in ten seasons of big time football.  In a league where some featured backs surpass that total in two or three years, Powell is about as fresh as any six-year veteran can be.
Prior to last season, Powell had exceeded 100 carries only two other times in his career, and carried the ball just over 100 times in the previous two seasons combined.
Now getting ready to play for a coaching staff that's saying all the right things about Powell's ability early on, the back is undoubtedly hoping that his days of 15+ carries per game become more of a regular thing than the anomaly it's been up to this point.
Videos
Aaron Rodgers Injury Fallout & Jets/Bills Recap