Todd Bowles Press Conference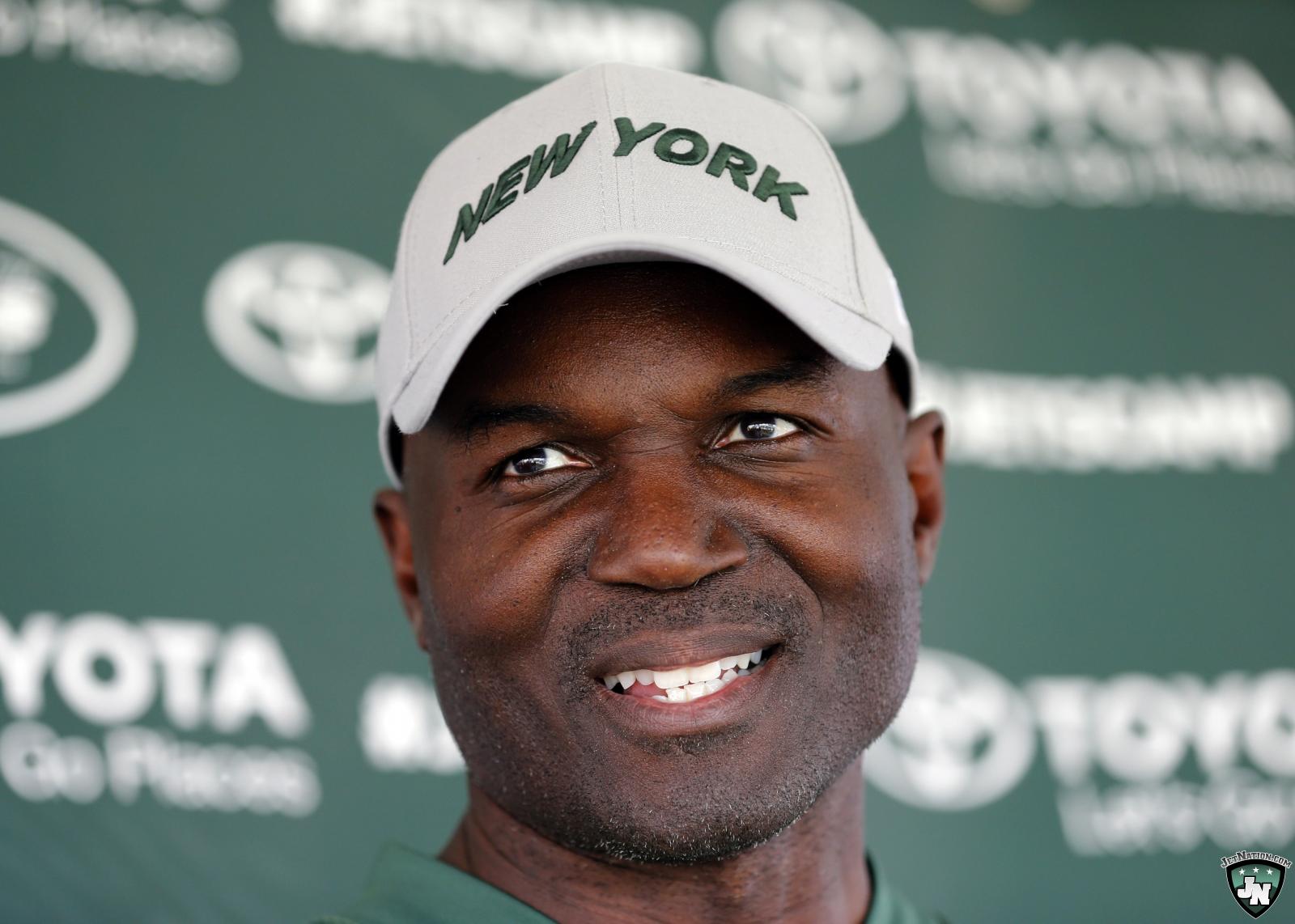 New York Jets head coach Todd Bowles spoke to the media after practice on Saturday. The full transcript appears below but here are some highlights:
No timeline on picking a starting QB, the Jets don't currently have a starter
First practice in pads will be on Monday
Offensive tackle; both spots are open competitions
Everyone passed their conditioning test
New York Jets Head Coach Todd Bowles, 7.29
On what he thought of the first day…
It was the first day. People got their feet wet. Hopefully, we stay healthy for the most part but they ran around. We'll get better every day and keep working.
On how he plans to use the quarterbacks in training camp…                                                            
I can't detail it. It will work itself out. The reps will be different every day or every week. We have a plan when the preseason games start. Right now, we're just getting our feet back wet from when we left in OTAs and minicamp. That situation will work itself out.
On if he will rotate the quarterback that receives the majority of the reps each day…
I'm not saying that. I'm saying it will sort itself out. We don't have a starter. Regardless of who goes first, who goes second, who goes third, they'll all get a chance to play. We have a lot of evaluating to do. Once the preseason starts when we get in pads and play some games, we'll go from there.
On his confidence level in the quarterback position…
Mine is good. They've been working hard. They've all been learning and studying. We just have to see them play.
On if the quarterbacks will get equal reps between now and the first preseason game…
I don't think you can equal anything in training camp. They may be unequal during the days but when we add them up at the end, I'm sure they'll be close.
On when he wants to decide on a starting quarterback…
I don't have a timetable on it. As soon as it sorts itself out, I'll give you a decision.
On if he anticipates it eventually being a two-man quarterback competition…
You hope it's three, but obviously somebody's going to play better than the others. It will sort itself out again.
On if it's possible for the three quarterbacks to have the same amount of reps…
No, it's not possible. But you have to make plays at the position like any other position so once we see everybody play, it will work itself out.
On what he saw from Christian Hackenberg today…
It's only the first day. Obviously, he's going to have butterflies like everyone else the first day. As practice goes on and the week goes on, we'll see.
On the nature of the restrictions on ArDarius Stewart and Chad Hansen…
We're taking it easy on them right now – just letting them go through individuals. They probably could've practiced but the trainers are just taking it day-by-day and we'll increase the load as it goes on.
On the restrictions on Ben Ijalana…
Same thing. We'll increase it as it goes.
On if he will give Kelvin Beachum and Brian Winters any rest during camp…
Depending how they feel, they may get a rest day here or there.
On the competition at the tackle positions…
There's competition at all spots, especially both tackle spots. There's competition there. There's nobody starting yet. We haven't even put on pads. When the pads come on, as the practices go, we'll see.
On if he's happy with the progress of Juston Burris…
As much as you could be in t-shirts and shorts, yes.
On if it's hot enough out here for him…
It's kind of like winter out here.
On if Ijalana will be involved in the competition at right tackle…
Yes, he'll be involved in that. We're working everybody both sides right now. When we put the pads on, depending on who's better where, we may move someone to the other side, we may not.
On if he thinks Quincy Enunwa is ready to be a number one receiver…
He's working hard every day. That's all I can tell you. He got better last year from the year before and we hope he makes a jump from last year to this year.
On where Enunwa can improve from last year…
He just has to continue to be a pro. He has to get better blocking. Obviously, route-running, catching, concentration – just the normal, standard stuff. But he works hard at it.
On if anyone came back in exceptional shape…
No, they were all in pretty good shape.
On if everyone passed the conditioning test…
Yes.
On Morris Claiborne today at practice…
We're in t-shirt and shorts. We're playing two-hand touch right now. You have to put it all together and put the physical part with the mental part, but he's quick. Obviously, he had two picks today. He just has to continue to work and keep getting better.
On how much Claiborne can help the secondary if healthy…
He could help if he's healthy, that's why we signed him. He's a good player. He just has to stay healthy.
On hiring Collette Smith as a training camp intern…
I met Collette over a year ago. She came to a few practices. Just talking to her over the course of time, her football knowledge was outstanding. Interns, it's all male interns so far. I thought it would be a good idea to bring in a female intern, strictly off of her skillset. Not because she's a female or anything else. She's a hell of a football coach. We talked a lot and she fits in with the guys so we gave her a chance.
On if he had any reservations on hiring Smith because she was a female …
None.
On if the report that 99 percent of former NFL players have signs of CTE is a concern for him as a former player as he gets older…
I don't want it to be. I hope it isn't. Right now, I can say no but I don't think so. I can't answer that question. I'm healthy in my head I think. Maybe I'm not healthy because I'm coaching football. (joking) I hope it doesn't become a problem.
On if he understands why current players would quit football after reading this study…
I understand it. Obviously back then, it was a great thing to knock somebody out. That's how you grew up. That's how a lot of guys got in the Hall of Fame. Now, the game is changing and player's safety with medical being more advanced than it was back when I played, you see a lot more things coming up from an injury standpoint so I understand the concern.
On if any players have expressed concerns to him about their long-term health…
No, I mean it's a tough game. We all grew up playing it. We understand that when we walk on the field. It's a tough game. You can get hurt doing anything. It's a tough game. We just have to play it as safe as possible and then try to make the best of it.
On if there's a possibility for Josh Martin to increase his role on the defense…
It's possible. It's early. Everybody looks good in shorts and t-shirts. Until the pads come on and we start evaluating these guys, everybody has an edge in shorts and t-shirts.
On when the first practice in pads is scheduled…
Monday will be the first day in pads.
On his message when he addressed the team at the first team meeting last night…
Obviously, I'm glad they came back in shape. We just have to get better every day. Keep our heads down and keep working. We understand what's been said but that doesn't concern us because we just worry about what we can worry about inside this building and as a team. We just keep moving forward and working towards opening day.
On if he uses any of the outside noise as motivation…
It's extra motivation. It's not the motivation. Obviously, you're motivated and we're trying to win a Super Bowl anyway no matter what. When you have adversity and people say you can't do things as an athlete or as a competitor, you love challenges. You come to work every day intent on getting better and proving everybody wrong. That's not why we're trying to win. Is it extra added incentive for some people? Yes, it is. But motivation is because we didn't play well and we're trying to win anyway.
On his expectations for Leonard Williams in his third season…
Hopefully, he can continue to get better. That's hard to do when he's already very good. As long as he works on his craft and gets his fundamentals down and his hand placement gets a little better, I think he'll be fine.
On why the Lombardi Trophy was moved closer to the locker room…
We had a bunch of alterations in the building and that was one of them, moving it down that way – seeing the players having a goal for what we're shooting for everyday when they walk in the building. We put it down the other end because that's where the player's entrance is and they walk in every day. We rarely see it down on the other end because there's (not where we spend much time).
On what he takes from everyone reporting on time and passing their conditioning test…
It's a good start. Everybody has been working. No one just sat down and took a couple of weeks off. People did some type of training. They're ready to come back and work. That's a good start.
On his reaction to David Harris signing with the Patriots…
I think David's a great person and he's a good player. I'm happy as long as he's happy.
Videos
NY Jets Phase 3 OTAs, Expectations and a Minor Calf Tweak with Greg Renoff