Camp Report 08/03/17; Offense Out Of Sync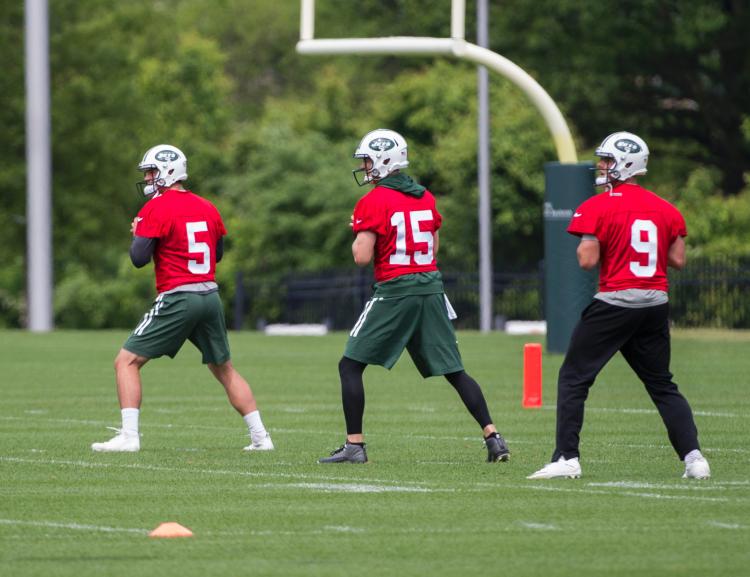 My final day at camp and I want to thank Phil Sullivan (Maxman) and the site for getting me access. Also a huge shout out to the Jets kitchen staff for the "restaurant quality" lunches they provide on a daily basis to the members of the media.
General Notes
– Players in full pads.
– Practice runs 2 hours 40 minutes.
– Matt Forte, Connor Harris (ILB) and Marcus Murphy (RB) sat out.
– Today was "red zone" day and the offense was out of sync. John Morton (OC) had his "cranky pants" on and I wouldn't want to be attending any of his meetings tonight. Very weird day for the offense, the OLine and RB's performed well but the QB's and WR's weren't on the same page. Also, strangely the TE's weren't thrown to as much as the first four days and the offense stalled.
– Todd Bowles also wasn't satisfied because after practice the whole team had to run gassers.
Player Notes
– Jamal Adams practiced but about half way through he was on the sideline and didn't participate  in any 11 on 11 periods. This left Marcus Maye in charge of the secondary and he had another good day. In 1 on 1 drills he showed CB coverage skills and during one red zone period he almost had an INT of Josh McCown.
– Ardarius Stewart "flashed" in 1 on 1 drills with acrobatic catches from McCown and Christian Hackenberg. He showed good ability to adjust to the ball in the air and make difficult catches.
– Chad Hansen unfortunately wasn't as lucky as he probably had the "practice from hell". In one period of 11 on 11 he was told to run laps on three consecutive reps. In two reps he made assignment mistakes and in the other he dropped a pass. Hopefully someone gives him a hug and some ice cream tonight.
– Elijah McGuire continues to impress with his ability / willingness to run through the middle of the line. And today he flashed his receiving ability as he was excellent in "wheel routes".
– The OLine during the 11 on 11 periods provided enough time for the QB's to throw and was able to get movement in the running game. In 1 on 1 drills they were able to battle the DLine to a draw in the reps. Props to Brent Qvale, Brian Winters, Wesley Johnson, James Carpenter, Kelvin Beachum and Brandon Shell.
– Frank Beltre (OLB) the LB signed out of the CFL "flashed" today with some Dwight Freeney type spin moves as he impressed in 1 on 1 drills. Let's see if that continues.
– Morris Claiborne continued his good camp with excellent coverage throughout all the drills. He almost had an acrobatic INT of McCown in 1 on 1 drills but the ball came out when he hit the ground.
– Julian Stanford (ILB) had an impressive day showing physicality in the 9 on 7 running drills. Then in an 11 on 11 period he had a "sack" with a well timed blitz.
– In the kicking competition Chandler Catanzaro was only 3 of 6 where Ross Martin was a perfect 6 of 6. And on his 55 yard attempt Martin hit it with plenty of room to spare.
– The more reps Dylan Donahue gets the more you see his pass rush ability. Today he got a "sack" during team periods.
– Demario Davis had another "pad cracking" hit that led to a sack during team periods. Will he keep this up?
QB's
– With them being out of sync with the WR's no one can be "applauded". There were some nice throws from Bryce Petty and Christian Hackenberg in various 1 on 1 and 7 on 7 periods but the goal is to be consistent and that didn't happen today.
– Hackenberg continues to maintain the technical improvements that I saw the first four days. But to be a #1 QB you don't get a "trophy" for maintaining your fundamentals. He needs to be judged on production just like any other QB.
Standouts
– Elijah McGuire
– Marcus Maye
– Morris Claborne
Concerns
– Out of sync offense.
– Did the WR's have trouble with press coverage again.
– Morton wants them to pick up the tempo in running plays.
You can continue the conversation by visiting our NY Jets Forum.
Videos
New York Jets OTA Presser Takeaways, Aaron Rodgers' Impact and Summer Delusion