Jets Linebackers in Competition of Their own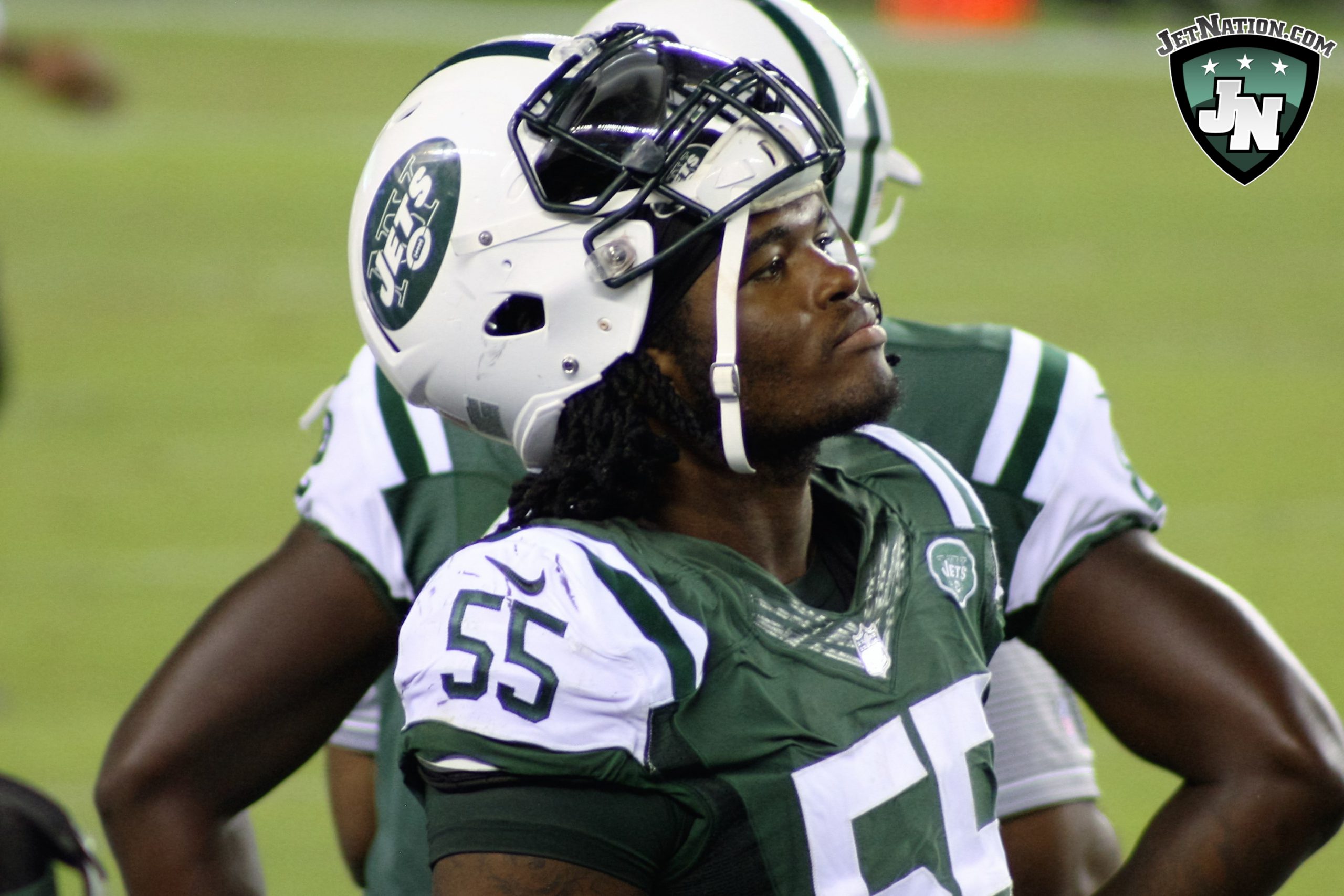 While all the focus in Jets training camp is seemingly revolving around the quarterback competition, as it should be, there's another another fierce competition under way for the outside linebacker spot opposite second year strong side linebacker Jordan Jenkins.
Jenkins is all but cemented in as the edge setter in Todd Bowles' defense as he showed he belonged during his rookie year.  A season in which Jenkins showed steady improvement as the year dragged on.  So who are the candidates to win the weak side job?  Let's take a look.
Lorenzo Mauldin- Mauldin is in a puzzing situiation.  Last season there were high hopes for the former Lousiville product who flashed as a rookie, but he was seemingly in and out of Todd Bowles' dog house.  Mauldin played in roughly 40% of the team's defensive snaps in weeks 1 and 2 but never played more than 27% from weeks 3-6. Between weeks 7-11, he would be a regular once again, playing 75% or more in 4 of his final five games before an injury ended his season.   Now, Mauldin is facing a legal battle off the field after being accused of assault in a Queens night club.  In the end, it will come down to production for Mauldin, meaning he'll have to do a lot better than the seven solo tackles in had in 2016.
Dylan Donahue- Despite having yet to step on the field for so much as a pre-season game, Donahue's training camp reviews from onlookers, and the fact that Kevin Greene is believed to be his biggest supporter, Jets fans are excited to see what Donahue brings to the table.  Giving him an edge in the competition could be his ability to cover in space.  After being drafted, the emphasis from most analysts was that Donahue is a relentless pass rusher, which he is.  However, there have been more than a few observers who have noted his ability to drop back and play the pass, something Greene says is critical in what he'll ask his 'backers to do.
Corey Lemonier- A dark horse to win the competition, Lemonier has failed to produce much since being drafted in the third round (88th overall) of the 2013 draft by the San Francisco 49ers.  With a chance to work with Hall of Fame linebacker Kevin Greene, will Lemonier finally realize his full potential?  An explosive defender, Lemonier racked up 15 sacks and 19 tackles for loss over his final two college seasons.
Freddie Bishop- The Canadian import spent the majority of 2016 on the team's practice squad before being elevated to the active roster over the season's final few games.  Bishop had his ups and downs and showed the ability to hang in there against the run better than advertised, but he didn't generate much pressure on the quarterback; the main reason he was brought in for a look by Mike Maccagnan.
Josh Martin- A special teams standout for the Jets last season, Martin inked a two-year deal worth $3.8 million.  Not exactly breaking the bank, but more than what you'd expect to see if the Jets were planning to use Martin solely on special teams once again.  There's been a heavy rotation at the weak side linebacker position throughout camp with Martin getting a long look to fill the spot.  If Martin can find a way to put his excellent speed to good use, he'll have a good shot to steal the job.
Frank Beltre- Like Bishop, Beltre is a CFL import with no NFL resume, but he bears watching as he's also been getting regular reps and has stood out at times, picking up a "sack" during the team's Green & White scrimmage this past Saturday.
Six players for one spot, and one could argue seven, but free agent addition Spencer Paysinger is likely looking at a utility role as an OLB/ILB insurance policy.
When the games kick off this weekend, when you're not focusing on the quarterback battle with the offense on the field, the linebacker spot should be one worth watching.
Videos
Aaron Rodgers Injury Fallout & Jets/Bills Recap